Bible Verses about the Word of God
«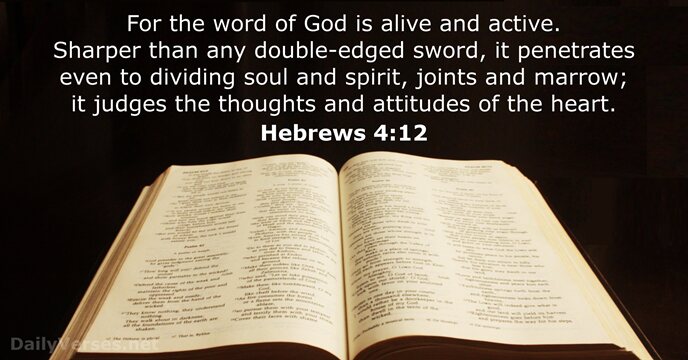 »
For the word of God is alive and active. Sharper than any double-edged sword, it penetrates even to dividing soul and spirit, joints and marrow; it judges the thoughts and attitudes of the heart.

Jumalan sana on elävä ja väkevä. Se on terävämpi kuin mikään kaksiteräinen miekka, se iskee syvään ja viiltää halki sielun ja hengen, nivelet ja luiden ytimet, se paljastaa sisimmät aikeemme ja ajatuksemme.

All Scripture is God-breathed and is useful for teaching, rebuking, correcting and training in righteousness, so that the servant of God may be thoroughly equipped for every good work.

Jokainen pyhä, Jumalan Hengestä syntynyt kirjoitus on hyödyllinen opetukseksi, nuhteeksi, ojennukseksi ja kasvatukseksi Jumalan tahdon mukaiseen elämään. Näin Jumalan ihmisestä tulee täydellinen ja kaikkeen hyvään kykenevä.

Your word is a lamp for my feet, a light on my path.

Sinun sanasi on lamppu, joka valaisee askeleeni, se on valo minun matkallani.

Do not merely listen to the word, and so deceive yourselves. Do what it says.

Toteuttakaa sana tekoina, älkää pelkästään kuunnelko sitä – älkää pettäkö itseänne.

How can a young person stay on the path of purity? By living according to your word.

Miten nuorukainen pysyy oikealla tiellä? Siten, että noudattaa sinun sanaasi.

He replied, "Blessed rather are those who hear the word of God and obey it."

Siihen Jeesus sanoi: »Niin, autuaita ovat kaikki, jotka kuulevat Jumalan sanan ja noudattavat sitä.»

The grass withers and the flowers fall, but the word of our God endures forever.

Ruoho kuivuu, kukka lakastuu, mutta meidän Jumalamme sana pysyy iäti.

As for God, his way is perfect: The L

ord

's word is flawless; he shields all who take refuge in him.

Jumalan ohjeet ovat täydelliset, Herran sana on kirkas ja puhdas. Kuin kilpi hän suojaa niitä, jotka hakevat hänestä turvaa.

Therefore everyone who hears these words of mine and puts them into practice is like a wise man who built his house on the rock.

Jokainen, joka kuulee nämä sanani ja tekee niiden mukaan, on kuin järkevä mies, joka rakensi talonsa kalliolle.

Heaven and earth will pass away, but my words will never pass away.

Taivas ja maa katoavat, mutta minun sanani eivät katoa.

Do everything without grumbling or arguing, so that you may become blameless and pure, children of God without fault in a warped and crooked generation. Then you will shine among them like stars in the sky as you hold firmly to the word of life.

Tehkää kaikki nurisematta ja empimättä, jotta olisitte moitteettomia ja puhtaita, nuhteettomia Jumalan lapsia tämän kieroutuneen ja turmeltuneen sukukunnan keskellä. Te loistatte siinä kuin tähdet taivaalla, kun pidätte esillä elämän sanaa.

The unfolding of your words gives light; it gives understanding to the simple.

Kun sinun sanasi avautuu, se valaisee, tyhmäkin saa siitä ymmärrystä.

Jesus answered, "It is written: 'Man shall not live on bread alone, but on every word that comes from the mouth of God.'"

Mutta Jeesus vastasi: »On kirjoitettu: 'Ei ihminen elä ainoastaan leivästä, vaan jokaisesta sanasta, joka lähtee Jumalan suusta.'»

In the beginning was the Word, and the Word was with God, and the Word was God.

Alussa oli Sana. Sana oli Jumalan luona, ja Sana oli Jumala.

For the word of the L

ord

is right and true; he is faithful in all he does.

Herran sana on tosi ja varma. Hän on uskollinen ja osoittaa sen teoissaan.

Whoever believes in me, as Scripture has said, rivers of living water will flow from within them.

Joka uskoo minuun, 'hänen sisimmästään kumpuavat elävän veden virrat', niin kuin kirjoituksissa sanotaan.

In God, whose word I praise— in God I trust and am not afraid. What can mere mortals do to me?

Sinun sanaasi, Jumala, minä ylistän, sinuun minä luotan, en pelkää mitään. Mitä voi minulle kukaan kuolevainen?

Like newborn babies, crave pure spiritual milk, so that by it you may grow up in your salvation.

Niin kuin vastasyntyneet lapset tavoitelkaa puhdasta sanan maitoa, jotta sen ravitsemina kasvaisitte pelastukseen.

For the L

ord

gives wisdom; from his mouth come knowledge and understanding.

Sillä viisaus tulee Herralta, hän antaa tiedon ja ymmärryksen.

To the Jews who had believed him, Jesus said, "If you hold to my teaching, you are really my disciples. Then you will know the truth, and the truth will set you free."

Niille juutalaisille, jotka nyt uskoivat häneen, Jeesus sanoi: »Jos te pysytte uskollisina minun sanalleni, te olette todella opetuslapsiani. Te opitte tuntemaan totuuden, ja totuus tekee teistä vapaita.»

Therefore, get rid of all moral filth and the evil that is so prevalent and humbly accept the word planted in you, which can save you.

Olkaa siis sävyisiä ja pankaa pois kaikki saasta ja pahuus. Ottakaa vastaan sana, joka on teihin istutettu ja joka voi pelastaa teidän sielunne.

You make your saving help my shield, and your right hand sustains me; your help has made me great. You provide a broad path for my feet, so that my ankles do not give way.

Herra, sinä asetut kilveksi eteeni, sinun oikea kätesi tukee minua, sinun apusi tekee minut vahvaksi. Sinä teet varmoiksi askeleeni, polveni eivät horju.

He humbled you, causing you to hunger and then feeding you with manna, which neither you nor your ancestors had known, to teach you that man does not live on bread alone but on every word that comes from the mouth of the L

ord

.

Tehdäkseen teidät nöyriksi hän piti teitä nälässä ja ruokki teitä sitten mannalla, jota ette olleet ennen maistaneet, eivät myöskään teidän isänne. Hän halusi osoittaa teille, ettei ihminen elä ainoastaan leivästä, vaan kaikesta mitä Herra sanoo.

The Son is the radiance of God's glory and the exact representation of his being, sustaining all things by his powerful word. After he had provided purification for sins, he sat down at the right hand of the Majesty in heaven.

Poika on Jumalan sädehtivä kirkkaus, hänen olemuksensa kuva, ja hän ylläpitää kaikkea olemassa olevaa sanansa voimalla. Toimitettuaan puhdistuksen synneistä hän on asettunut korkeuksissa istuimelleen Majesteetin oikealle puolelle.

The Word became flesh and made his dwelling among us. We have seen his glory, the glory of the one and only Son, who came from the Father, full of grace and truth.

Sana tuli lihaksi ja asui meidän keskellämme. Me saimme katsella hänen kirkkauttaan, kirkkautta, jonka Isä ainoalle Pojalle antaa. Hän oli täynnä armoa ja totuutta.
Call to me and I will answer you and tell you great and unsearchable things you do not know.
Personal Bible reading plan
Create an account to configure your Bible reading plan and you will see your progress and the next chapter to read here!
Read more...