Bible Verses about the Word of God
«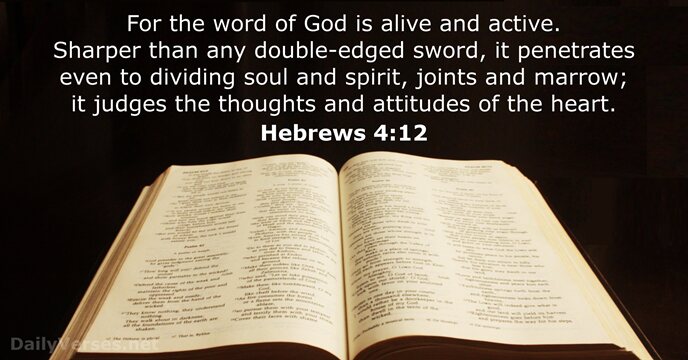 »
For the word of God is alive and active. Sharper than any double-edged sword, it penetrates even to dividing soul and spirit, joints and marrow; it judges the thoughts and attitudes of the heart.

En effet, la parole de Dieu est vivante et efficace, plus tranchante que toute épée à deux tranchants, pénétrante jusqu'à séparer âme et esprit, jointures et moelles; elle juge les sentiments et les pensées du cœur.

All Scripture is God-breathed and is useful for teaching, rebuking, correcting and training in righteousness, so that the servant of God may be thoroughly equipped for every good work.

Toute l'Ecriture est inspirée de Dieu et utile pour enseigner, pour convaincre, pour corriger, pour instruire dans la justice, afin que l'homme de Dieu soit formé et équipé pour toute œuvre bonne.

Your word is a lamp for my feet, a light on my path.

Ta parole est une lampe à mes pieds et une lumière sur mon sentier.

Do not merely listen to the word, and so deceive yourselves. Do what it says.

Mettez en pratique la parole et ne vous contentez pas de l'écouter en vous trompant vous-mêmes par de faux raisonnements.

How can a young person stay on the path of purity? By living according to your word.

Comment le jeune homme rendra-t-il pur son sentier? En se conformant à ta parole.

He replied, "Blessed rather are those who hear the word of God and obey it."

Il répondit: «Heureux plutôt ceux qui écoutent la parole de Dieu et qui la gardent!»

The grass withers and the flowers fall, but the word of our God endures forever.

L'herbe sèche et la fleur tombe, mais la parole de notre Dieu subsiste éternellement.

As for God, his way is perfect: The L

ord

's word is flawless; he shields all who take refuge in him.

Les voies de Dieu sont parfaites, la parole de l'Eternel est pure; il est un bouclier pour tous ceux qui se confient en lui.

Therefore everyone who hears these words of mine and puts them into practice is like a wise man who built his house on the rock.

C'est pourquoi, toute personne qui entend ces paroles que je dis et les met en pratique, je la comparerai à un homme prudent qui a construit sa maison sur le rocher.

Heaven and earth will pass away, but my words will never pass away.

Le ciel et la terre disparaîtront, mais mes paroles ne disparaîtront pas.

Do everything without grumbling or arguing, so that you may become blameless and pure, "children of God without fault in a warped and crooked generation." Then you will shine among them like stars in the sky as you hold firmly to the word of life.

Faites tout sans murmures ni contestations afin d'être irréprochables et purs, des enfants de Dieu sans défaut au milieu d'une génération perverse et corrompue. C'est comme des flambeaux dans le monde que vous brillez parmi eux en portant la parole de vie.

The unfolding of your words gives light; it gives understanding to the simple.

La révélation de tes paroles éclaire, elle donne de l'intelligence à ceux qui manquent d'expérience.

Jesus answered, "It is written: 'Man shall not live on bread alone, but on every word that comes from the mouth of God.'"

Jésus répondit: «Il est écrit: L'homme ne vivra pas de pain seulement, mais de toute parole qui sort de la bouche de Dieu.»

In the beginning was the Word, and the Word was with God, and the Word was God.

Au commencement, la Parole existait déjà. La Parole était avec Dieu et la Parole était Dieu.

For the word of the L

ord

is right and true; he is faithful in all he does.

Car la parole de l'Eternel est droite et toute son œuvre s'accomplit avec fidélité!

Whoever believes in me, as Scripture has said, rivers of living water will flow from within them.

Celui qui croit en moi, des fleuves d'eau vive couleront de lui, comme l'a dit l'Ecriture.

In God, whose word I praise— in God I trust and am not afraid. What can mere mortals do to me?

Je loue Dieu pour sa parole. Je me confie en Dieu, je n'ai peur de rien: que peuvent me faire des créatures?

Like newborn babies, crave pure spiritual milk, so that by it you may grow up in your salvation.

Et comme des enfants nouveau-nés désirez le lait pur de la parole. Ainsi, grâce à lui vous grandirez pour le salut.
For the L

ord

gives wisdom; from his mouth come knowledge and understanding.

En effet, c'est l'Eternel qui donne la sagesse, c'est de sa bouche que sortent la connaissance et l'intelligence.

To the Jews who had believed him, Jesus said, "If you hold to my teaching, you are really my disciples. Then you will know the truth, and the truth will set you free."

Alors il dit aux Juifs qui avaient cru en lui: «Si vous demeurez dans ma parole, vous êtes vraiment mes disciples, vous connaîtrez la vérité, et la vérité vous rendra libres.»

Therefore, get rid of all moral filth and the evil that is so prevalent and humbly accept the word planted in you, which can save you.

C'est pourquoi, rejetez toute souillure et tout débordement dû à la méchanceté, et accueillez avec douceur la parole qui a été plantée en vous et qui peut sauver votre âme.

You are my refuge and my shield; I have put my hope in your word.

Mon refuge et mon bouclier, c'est toi. J'espère en ta promesse.

He humbled you, causing you to hunger and then feeding you with manna, which neither you nor your ancestors had known, to teach you that man does not live on bread alone but on every word that comes from the mouth of the L

ord

.

Il t'a humilié, il t'a fait connaître la faim et il t'a nourri de la manne, que tu ne connaissais pas et que tes ancêtres non plus n'avaient pas connue, afin de t'apprendre que l'homme ne vit pas de pain seulement, mais de tout ce qui sort de la bouche de l'Eternel.

You make your saving help my shield, and your right hand sustains me; your help has made me great. You provide a broad path for my feet, so that my ankles do not give way.

Tu me donnes le bouclier de ton salut, ta main droite me soutient, et je deviens grand par ta bonté. Tu élargis le chemin sous mes pas, et mes pieds ne trébuchent pas.

The Word became flesh and made his dwelling among us. We have seen his glory, the glory of the one and only Son, who came from the Father, full of grace and truth.

Et la Parole s'est faite homme, elle a habité parmi nous, pleine de grâce et de vérité, et nous avons contemplé sa gloire, une gloire comme celle du Fils unique venu du Père.
So that, just as sin reigned in death, so also grace might reign through righteousness to bring eternal life through Jesus Christ our Lord.
Personal Bible reading plan
Create an account to configure your Bible reading plan and you will see your progress and the next chapter to read here!
Read more...