«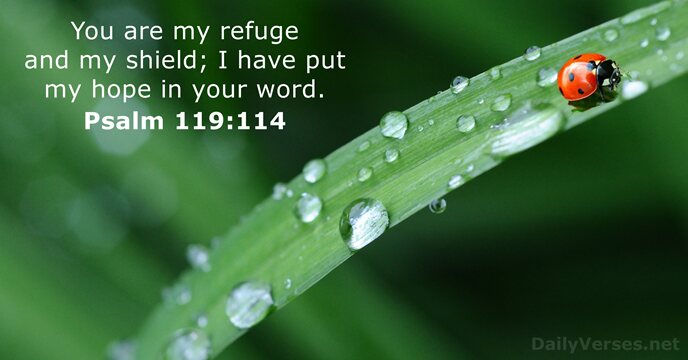 »
You are my refuge and my shield; I have put my hope in your word.

Mon refuge et mon bouclier, c'est toi. J'espère en ta promesse.

So is my word that goes out from my mouth: It will not return to me empty, but will accomplish what I desire and achieve the purpose for which I sent it.

Il en va de même pour ma parole, celle qui sort de ma bouche: elle ne revient pas à moi sans effet, sans avoir fait ce que je désire et rempli la mission que je lui ai confiée.

If you remain in me and my words remain in you, ask whatever you wish, and it will be done for you.

Si vous demeurez en moi et que mes paroles demeurent en vous, vous demanderez ce que vous voudrez et cela vous sera accordé.

Every word of God is flawless; he is a shield to those who take refuge in him.

Toute parole de Dieu est pure. Il est un bouclier pour ceux qui cherchent refuge en lui.

My son, pay attention to what I say; turn your ear to my words. Do not let them out of your sight, keep them within your heart.

Mon fils, sois attentif à mes paroles, tends l'oreille vers mes discours! Qu'ils ne s'éloignent pas de tes yeux! Garde-les au fond de ton cœur.

Let the message of Christ dwell among you richly as you teach and admonish one another with all wisdom through psalms, hymns, and songs from the Spirit, singing to God with gratitude in your hearts.

Que la parole de Christ habite en vous dans toute sa richesse! Instruisez-vous et avertissez-vous les uns les autres en toute sagesse par des psaumes, par des hymnes, par des cantiques spirituels, chantez pour le Seigneur de tout votre cœur sous l'inspiration de la grâce.

All your words are true; all your righteous laws are eternal.

Le fondement de ta parole, c'est la vérité, et toutes tes justes sentences sont éternelles.

I have hidden your word in my heart that I might not sin against you.

Je serre ta parole dans mon cœur afin de ne pas pécher contre toi.

I wait for the L

ord

, my whole being waits, and in his word I put my hope.

J'espère en l'Eternel de toute mon âme et je m'attends à sa promesse.

As for God, his way is perfect: The L

ord

's word is flawless; he shields all who take refuge in him.

Les voies de Dieu sont droites, la parole de l'Eternel est pure; il est un bouclier pour tous ceux qui se confient en lui.

As Scripture says, "Anyone who believes in him will never be put to shame."

Celui qui croit en lui ne sera pas couvert de honte.

For you have been born again, not of perishable seed, but of imperishable, through the living and enduring word of God.

En effet, vous êtes nés de nouveau, non pas d'une semence corruptible, mais d'une semence incorruptible, grâce à la parole vivante et permanente de Dieu.

The one who calls you is faithful, and he will do it.

Celui qui vous appelle est fidèle, c'est aussi lui qui le fera.

The law of the L

ord

is perfect, refreshing the soul. The statutes of the L

ord

are trustworthy, making wise the simple.

La loi de l'Eternel est parfaite, elle donne du réconfort; le témoignage de l'Eternel est vrai, il rend sage celui qui manque d'expérience.

Therefore say to them, 'This is what the Sovereign L

ord

says: None of my words will be delayed any longer; whatever I say will be fulfilled, declares the Sovereign L

ord

.'

C'est pourquoi, annonce-leur: 'Voici ce que dit le Seigneur, l'Eternel: Il n'y aura plus de délai pour aucune de mes paroles. La parole que je prononcerai s'accomplira, déclare le Seigneur, l'Eternel.'

Get wisdom, get understanding; do not forget my words or turn away from them.

Acquiers la sagesse, acquiers l'intelligence! N'oublie pas les paroles de ma bouche et ne t'en détourne pas!

The seed falling among the thorns refers to someone who hears the word, but the worries of this life and the deceitfulness of wealth choke the word, making it unfruitful.

Celui qui a reçu la semence parmi les ronces, c'est celui qui entend la parole, mais les préoccupations de ce monde et l'attrait trompeur des richesses étouffent cette parole et la rendent infructueuse.

Listen, my son, accept what I say, and the years of your life will be many.

Ecoute-moi, mon fils, fais bon accueil à mes paroles et les années de ta vie seront nombreuses.

You are already clean because of the word I have spoken to you.

Déjà vous êtes purs à cause de la parole que je vous ai annoncée.

Moses was there with the L

ord

forty days and forty nights without eating bread or drinking water. And he wrote on the tablets the words of the covenant—the Ten Commandments.

Moïse resta là avec l'Eternel 40 jours et 40 nuits. Il ne mangea pas de pain et ne but pas d'eau. Et l'Eternel écrivit sur les tables les paroles de l'alliance, les dix paroles.

I have not departed from the commands of his lips; I have treasured the words of his mouth more than my daily bread.

Je n'ai pas abandonné les commandements sortis de ses lèvres, j'ai fait plier ma volonté aux paroles de sa bouche.

He sent out his word and healed them; he rescued them from the grave.

Il a envoyé sa parole et les a guéris, il les a fait échapper à la tombe.

Here is a trustworthy saying: If we died with him, we will also live with him.

Cette parole est certaine: si nous sommes morts avec lui, nous vivrons aussi avec lui.

Jesus answered, "My teaching is not my own. It comes from the one who sent me."

Jésus leur répondit: «Mon enseignement ne vient pas de moi mais de celui qui m'a envoyé.»

For truly I tell you, until heaven and earth disappear, not the smallest letter, not the least stroke of a pen, will by any means disappear from the Law until everything is accomplished.

En effet, je vous le dis en vérité, tant que le ciel et la terre n'auront pas disparu, pas une seule lettre ni un seul trait de lettre ne disparaîtra de la loi avant que tout ne soit arrivé.
My dear brothers and sisters, take note of this: Everyone should be quick to listen, slow to speak and slow to become angry.
Personal Bible reading plan
Create an account to configure your Bible reading plan and you will see your progress and the next chapter to read here!
Read more...