Bible Verses about Thoughts
«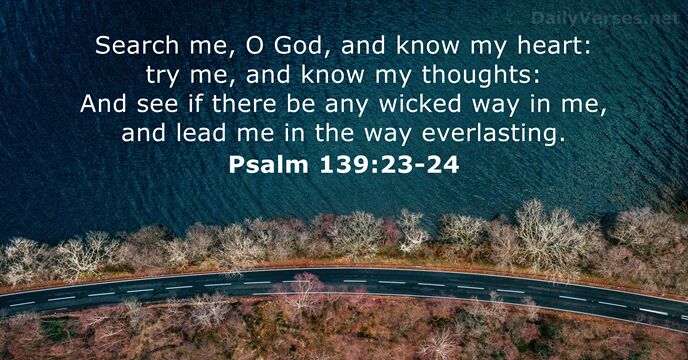 »
Search me, O God, and know my heart: try me, and know my thoughts: And see if there be any wicked way in me, and lead me in the way everlasting.

Tutki minut, Jumala, katso sydämeeni. Koettele minua, katso ajatuksiini. Katso, olenko vieraalla, väärällä tiellä, ja ohjaa minut ikiaikojen tielle.

And he said, That which cometh out of the man, that defileth the man. For from within, out of the heart of men, proceed evil thoughts, adulteries, fornications, murders, Thefts, covetousness, wickedness, deceit, lasciviousness, an evil eye, blasphemy, pride, foolishness: All these evil things come from within, and defile the man.

Ja hän jatkoi: »Se mikä tulee ihmisestä ulos, se saastuttaa ihmisen. Juuri ihmisen sisältä, sydämestä, lähtevät pahat ajatukset, ja niiden mukana siveettömyys, varkaudet, murhat, aviorikokset, ahneus, häijyys, vilppi, irstaus, pahansuopuus, herjaus, ylpeys ja uhmamieli. Kaikki tämä paha tulee ihmisen sisältä ja saastuttaa hänet.»

Commit thy works unto the L

ord

, and thy thoughts shall be established.

Tuo kaikki hankkeesi Herran eteen, niin suunnitelmasi menestyvät.

For my thoughts are not your thoughts, neither are your ways my ways, saith the L

ord

.

Minun ajatukseni eivät ole teidän ajatuksianne eivätkä teidän tienne ole minun teitäni, sanoo Herra.

Keep thy heart with all diligence; for out of it are the issues of life.

Ennen muuta varjele sitä, mikä on sydämessäsi – siellä on koko elämäsi lähde.

And be not conformed to this world: but be ye transformed by the renewing of your mind, that ye may prove what is that good, and acceptable, and perfect, will of God.

Älkää mukautuko tämän maailman menoon, vaan muuttukaa, uudistukaa mieleltänne, niin että osaatte arvioida, mikä on Jumalan tahto, mikä on hyvää, hänen mielensä mukaista ja täydellistä.

Finally, brethren, whatsoever things are true, whatsoever things are honest, whatsoever things are just, whatsoever things are pure, whatsoever things are lovely, whatsoever things are of good report; if there be any virtue, and if there be any praise, think on these things.

Lopuksi, veljet, ajatelkaa kaikkea mikä on totta, mikä on kunnioitettavaa, mikä oikeaa, puhdasta, rakastettavaa ja kaunista, mikä vain on hyvää ja ansaitsee kiitoksen.

O L

ord

, thou hast searched me, and known me. Thou knowest my downsitting and mine uprising, thou understandest my thought afar off.

Herra, sinä olet minut tutkinut, sinä tunnet minut. Missä olenkin, minne menenkin, sen sinä tiedät, jo kaukaa sinä näet aikeeni.

Every way of a man is right in his own eyes: but the L

ord

pondereth the hearts.

Ihminen pitää oikeina kaikkia teitään, mutta Herra punnitsee sydämet.

For the word of God is quick, and powerful, and sharper than any twoedged sword, piercing even to the dividing asunder of soul and spirit, and of the joints and marrow, and is a discerner of the thoughts and intents of the heart.

Jumalan sana on elävä ja väkevä. Se on terävämpi kuin mikään kaksiteräinen miekka, se iskee syvään ja viiltää halki sielun ja hengen, nivelet ja luiden ytimet, se paljastaa sisimmät aikeemme ja ajatuksemme.

Now I beseech you, brethren, by the name of our Lord Jesus Christ, that ye all speak the same thing, and that there be no divisions among you; but that ye be perfectly joined together in the same mind and in the same judgment.

Veljet, Herramme Jeesuksen Kristuksen nimeen kehotan teitä kaikkia pitämään keskenänne yhtä, välttämään hajaannusta ja elämään yksimielisinä.

Ponder the path of thy feet, and let all thy ways be established.

Laske harkiten jalkasi polulle, niin olet varmalla pohjalla, missä ikinä kuljet.

For what man knoweth the things of a man, save the spirit of man which is in him? even so the things of God knoweth no man, but the Spirit of God.

Kuka muu kuin ihmisen oma henki tietää, mitä ihmisessä on? Samoin vain Jumalan Henki tietää, mitä Jumalassa on.

Let no man deceive himself. If any man among you seemeth to be wise in this world, let him become a fool, that he may be wise.

Älköön vain kukaan pettäkö itseään. Jos joku teistä on olevinaan viisas tässä maailmassa, hänestä täytyy ensin tulla hullu, jotta hänestä tulisi viisas.

I made a covenant with mine eyes; why then should I think upon a maid?

Olen tehnyt silmieni kanssa sopimuksen: koskaan en katsele naisten puoleen.

There is a way which seemeth right unto a man, but the end thereof are the ways of death.

Moni luulee omaa tietään oikeaksi, vaikka se on kuoleman tie.

Wherefore gird up the loins of your mind, be sober, and hope to the end for the grace that is to be brought unto you at the revelation of Jesus Christ.

Vyöttäytykää siis, olkaa raittiit. Pitäkää ajatuksenne kirkkaina ja pankaa täysi toivonne siihen armoon, joka teille annetaan Jeesuksen Kristuksen ilmestyessä.

But when ye pray, use not vain repetitions, as the heathen do: for they think that they shall be heard for their much speaking.

Rukoillessanne älkää hokeko tyhjää niin kuin pakanat, jotka kuvittelevat tulevansa kuulluiksi, kun vain latelevat sanoja.

Therefore I say unto you, Take no thought for your life, what ye shall eat, or what ye shall drink; nor yet for your body, what ye shall put on. Is not the life more than meat, and the body than raiment?

Sen tähden minä sanon teille: älkää huolehtiko hengestänne, siitä mitä söisitte tai joisitte, älkää ruumiistanne, siitä millä sen vaatettaisitte. Eikö henki ole enemmän kuin ruoka ja ruumis enemmän kuin vaatteet?

Let the wicked forsake his way, and the unrighteous man his thoughts: and let him return unto the L

ord

, and he will have mercy upon him; and to our God, for he will abundantly pardon.

Hylätköön jumalaton tiensä ja väärintekijä juonensa, kääntyköön takaisin Herran luo, sillä hän armahtaa, turvautukoon Jumalaan, sillä hänen anteeksiantonsa on runsas.

For I say, through the grace given unto me, to every man that is among you, not to think of himself more highly than he ought to think; but to think soberly, according as God hath dealt to every man the measure of faith.

Sen armon perusteella, joka minulle on annettu, sanon teille jokaiselle: älkää ajatelko itsestänne liikoja, enempää kuin on aihetta ajatella, vaan pitäkää ajatuksenne kohtuuden rajoissa, kukin sen uskon määrän mukaan, jonka Jumala on hänelle antanut.

Take no thought for your life, what ye shall eat; neither for the body, what ye shall put on. The life is more than meat, and the body is more than raiment.

Älkää kantako huolta hengestänne, siitä mitä söisitte, älkää ruumiistanne, siitä millä sen vaatettaisitte. Onhan henki enemmän kuin ruoka ja ruumis enemmän kuin vaatteet.

Now unto him that is able to do exceeding abundantly above all that we ask or think, according to the power that worketh in us, Unto him be glory in the church by Christ Jesus throughout all ages, world without end. Amen.

Jumalalle, joka meissä vaikuttavalla voimallaan kykenee tekemään monin verroin enemmän kuin osaamme pyytää tai edes ajatella, olkoon ylistys seurakunnassa ja Kristuksessa Jeesuksessa kautta kaikkien sukupolvien, aina ja ikuisesti. Aamen.
Whither shall I go from thy spirit? or whither shall I flee from thy presence? If I ascend up into heaven, thou art there: if I make my bed in hell, behold, thou art there.
Personal Bible reading plan
Create an account to configure your Bible reading plan and you will see your progress and the next chapter to read here!
Read more...