100 Most Popular Bible Verses
«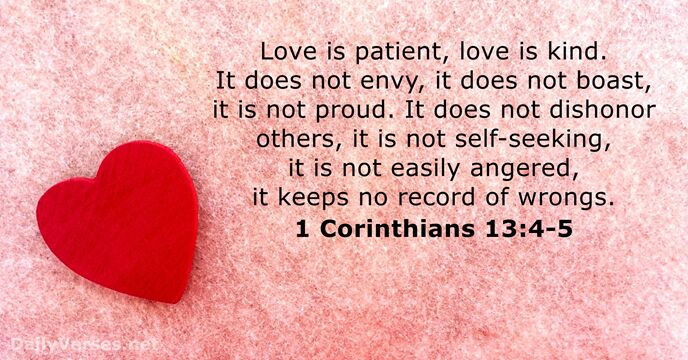 »
Love is patient, love is kind. It does not envy, it does not boast, it is not proud. It does not dishonor others, it is not self-seeking, it is not easily angered, it keeps no record of wrongs.

愛 是 恆 久 忍 耐 , 又 有 恩 慈 ; 愛 是 不 嫉 妒 ; 愛 是 不 自 誇 , 不 張 狂 , 不 做 害 羞 的 事 , 不 求 自 己 的 益 處 , 不 輕 易 發 怒 , 不 計 算 人 的 惡 。

Rejoice always, pray continually, give thanks in all circumstances; for this is God's will for you in Christ Jesus.

要 常 常 喜 樂 , 不 住 的 禱 告 , 凡 事 謝 恩 ; 因 為 這 是 神 在 基 督 耶 穌 裡 向 你 們 所 定 的 旨 意 。

Do not be anxious about anything, but in every situation, by prayer and petition, with thanksgiving, present your requests to God. And the peace of God, which transcends all understanding, will guard your hearts and your minds in Christ Jesus.

應 當 一 無 罣 慮 , 只 要 凡 事 藉 著 禱 告 、 祈 求 , 和 感 謝 , 將 你 們 所 要 的 告 訴 神 。 神 所 賜 、 出 人 意 外 的 平 安 必 在 基 督 耶 穌 裡 保 守 你 們 的 心 懷 意 念 。

These commandments that I give you today are to be on your hearts. Impress them on your children. Talk about them when you sit at home and when you walk along the road, when you lie down and when you get up.

我 今 日 所 吩 咐 你 的 話 都 要 記 在 心 上 , 也 要 殷 勤 教 訓 你 的 兒 女 。 無 論 你 坐 在 家 裡 , 行 在 路 上 , 躺 下 , 起 來 , 都 要 談 論 。

But blessed is the one who trusts in the L

ord

, whose confidence is in him. They will be like a tree planted by the water that sends out its roots by the stream. It does not fear when heat comes; its leaves are always green. It has no worries in a year of drought and never fails to bear fruit.

倚 靠 耶 和 華 、 以 耶 和 華 為 可 靠 的 , 那 人 有 福 了 ! 他 必 像 樹 栽 於 水 旁 , 在 河 邊 扎 根 , 炎 熱 來 到 , 並 不 懼 怕 , 葉 子 仍 必 青 翠 , 在 乾 旱 之 年 毫 無 掛 慮 , 而 且 結 果 不 止 。

Therefore I tell you, whatever you ask for in prayer, believe that you have received it, and it will be yours.

所 以 我 告 訴 你 們 , 凡 你 們 禱 告 祈 求 的 , 無 論 是 甚 麼 , 只 要 信 是 得 著 的 , 就 必 得 著 。

The L

ord

bless you and keep you; the L

ord

make his face shine on you and be gracious to you; the L

ord

turn his face toward you and give you peace.

願 耶 和 華 賜 福 給 你 , 保 護 你 。 願 耶 和 華 使 他 的 臉 光 照 你 , 賜 恩 給 你 。 願 耶 和 華 向 你 仰 臉 , 賜 你 平 安 。

Do everything in love.

凡 你 們 所 做 的 都 要 憑 愛 心 而 做 。

I pray that out of his glorious riches he may strengthen you with power through his Spirit in your inner being, so that Christ may dwell in your hearts through faith. And I pray that you, being rooted and established in love.

求 他 按 著 他 豐 盛 的 榮 耀 , 藉 著 他 的 靈 , 叫 你 們 心 裡 的 力 量 剛 強 起 來 , 使 基 督 因 你 們 的 信 , 住 在 你 們 心 裡 , 叫 你 們 的 愛 心 有 根 有 基 。

Commit to the L

ord

whatever you do, and he will establish your plans.

你 所 做 的 , 要 交 託 耶 和 華 , 你 所 謀 的 , 就 必 成 立 。

Let the morning bring me word of your unfailing love, for I have put my trust in you. Show me the way I should go, for to you I entrust my life.

求 你 使 我 清 晨 得 聽 你 慈 愛 之 言 , 因 我 倚 靠 你 ; 求 你 使 我 知 道 當 行 的 路 , 因 我 的 心 仰 望 你 。

But those who hope in the L

ord

will renew their strength. They will soar on wings like eagles; they will run and not grow weary, they will walk and not be faint.

但 那 等 候 耶 和 華 的 必 從 新 得 力 。 他 們 必 如 鷹 展 翅 上 騰 ; 他 們 奔 跑 卻 不 困 倦 , 行 走 卻 不 疲 乏 。

So do not fear, for I am with you; do not be dismayed, for I am your God. I will strengthen you and help you; I will uphold you with my righteous right hand.

你 不 要 害 怕 , 因 為 我 與 你 同 在 ; 不 要 驚 惶 , 因 為 我 是 你 的 神 。 我 必 堅 固 你 , 我 必 幫 助 你 ; 我 必 用 我 公 義 的 右 手 扶 持 你 。

For I know the plans I have for you, declares the L

ord

, plans to prosper you and not to harm you, plans to give you hope and a future.

耶 和 華 說 : 我 知 道 我 向 你 們 所 懷 的 意 念 是 賜 平 安 的 意 念 , 不 是 降 災 禍 的 意 念 , 要 叫 你 們 末 後 有 指 望 。

Worship the L

ord

your God, and his blessing will be on your food and water. I will take away sickness from among you.

你 們 要 事 奉 耶 和 華 你 們 的 神 , 他 必 賜 福 與 你 的 糧 與 你 的 水 , 也 必 從 你 們 中 間 除 去 疾 病 。

They replied, "Believe in the Lord Jesus, and you will be saved—you and your household."

他 們 說 : 當 信 主 耶 穌 , 你 和 你 一 家 都 必 得 救 。

May the God of hope fill you with all joy and peace as you trust in him, so that you may overflow with hope by the power of the Holy Spirit.

但 願 使 人 有 盼 望 的 神 , 因 信 將 諸 般 的 喜 樂 、 平 安 充 滿 你 們 的 心 , 使 你 們 藉 著 聖 靈 的 能 力 大 有 盼 望 。

Be completely humble and gentle; be patient, bearing with one another in love.

凡 事 謙 虛 、 溫 柔 、 忍 耐 , 用 愛 心 互 相 寬 容 。

Whatever you do, work at it with all your heart, as working for the Lord, not for human masters, since you know that you will receive an inheritance from the Lord as a reward. It is the Lord Christ you are serving.

無 論 做 甚 麼 , 都 要 從 心 裡 做 , 像 是 給 主 做 的 , 不 是 給 人 做 的 , 因 你 們 知 道 從 主 那 裡 必 得 著 基 業 為 賞 賜 ; 你 們 所 事 奉 的 乃 是 主 基 督 。

For we live by faith, not by sight.

因 我 們 行 事 為 人 是 憑 著 信 心 , 不 是 憑 著 眼 見 。

Now faith is confidence in what we hope for and assurance about what we do not see.

信 就 是 所 望 之 事 的 實 底 , 是 未 見 之 事 的 確 據 。

Trust in the L

ord

with all your heart and lean not on your own understanding; in all your ways submit to him, and he will make your paths straight.

你 要 專 心 仰 賴 耶 和 華 , 不 可 倚 靠 自 己 的 聰 明 , 在 你 一 切 所 行 的 事 上 都 要 認 定 他 , 他 必 指 引 你 的 路 。

Let love and faithfulness never leave you; bind them around your neck, write them on the tablet of your heart. Then you will win favor and a good name in the sight of God and man.

不 可 使 慈 愛 、 誠 實 離 開 你 , 要 繫 在 你 頸 項 上 , 刻 在 你 心 版 上 。 這 樣 , 你 必 在 神 和 世 人 眼 前 蒙 恩 寵 , 有 聰 明 。

May he give you the desire of your heart and make all your plans succeed.

將 你 心 所 願 的 賜 給 你 , 成 就 你 的 一 切 籌 算 。

And over all these virtues put on love, which binds them all together in perfect unity.

在 這 一 切 之 外 , 要 存 著 愛 心 , 愛 心 就 是 聯 絡 全 德 的 。
An overview of the 100 most popular Bible verses on DailyVerses.net.
Humble yourselves, therefore, under God's mighty hand, that he may lift you up in due time.
Personal Bible reading plan
Create an account to configure your Bible reading plan and you will see your progress and the next chapter to read here!
Read more...