Bible Verses about Truth
«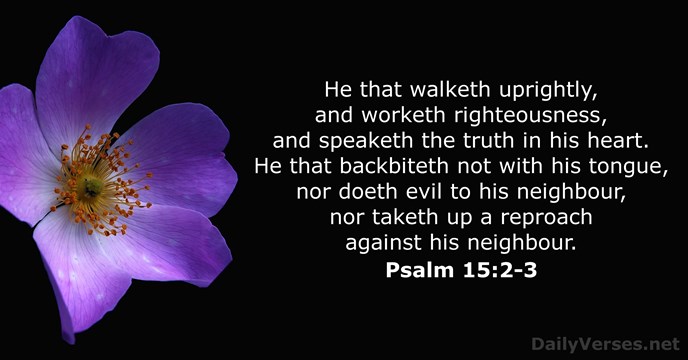 »
He that walketh uprightly, and worketh righteousness, and speaketh the truth in his heart. He that backbiteth not with his tongue, nor doeth evil to his neighbour, nor taketh up a reproach against his neighbour.

Se, joka on rehellinen ja tekee oikein, jonka sydän on vilpitön ja puheet totta. Se, joka ei panettele, joka ei tee lähimmäiselleen pahaa eikä saata naapuriaan huonoon huutoon.

My little children, let us not love in word, neither in tongue; but in deed and in truth.

Lapseni, älkäämme rakastako sanoin ja puheessa, vaan teoin ja totuudessa.

If we say that we have fellowship with him, and walk in darkness, we lie, and do not the truth.

Jos sanomme elävämme hänen yhteydessään mutta vaellamme pimeässä, me valehtelemme emmekä seuraa totuutta.

I have no greater joy than to hear that my children walk in truth.

Mikään ei tuota minulle suurempaa iloa kuin se, että kuulen lasteni elävän totuudessa.

Then said Jesus to those Jews which believed on him, If ye continue in my word, then are ye my disciples indeed; And ye shall know the truth, and the truth shall make you free.

Niille juutalaisille, jotka nyt uskoivat häneen, Jeesus sanoi: »Jos te pysytte uskollisina minun sanalleni, te olette todella opetuslapsiani. Te opitte tuntemaan totuuden, ja totuus tekee teistä vapaita.»

Finally, brethren, whatsoever things are true, whatsoever things are honest, whatsoever things are just, whatsoever things are pure, whatsoever things are lovely, whatsoever things are of good report; if there be any virtue, and if there be any praise, think on these things.

Lopuksi, veljet, ajatelkaa kaikkea mikä on totta, mikä on kunnioitettavaa, mikä oikeaa, puhdasta, rakastettavaa ja kaunista, mikä vain on hyvää ja ansaitsee kiitoksen.

But speaking the truth in love, may grow up into him in all things, which is the head, even Christ.

Silloin me noudatamme totuutta ja rakkautta ja kasvamme kaikin tavoin kiinni Kristukseen, häneen, joka on pää.

Jesus saith unto him, I am the way, the truth, and the life: no man cometh unto the Father, but by me.

Jeesus vastasi: »Minä olen tie, totuus ja elämä. Ei kukaan pääse Isän luo muuten kuin minun kauttani.»

Study to shew thyself approved unto God, a workman that needeth not to be ashamed, rightly dividing the word of truth.

Pyri kaikin voimin osoittautumaan Jumalan silmissä luotettavaksi työntekijäksi, joka ei häpeä työtään ja joka opettaa totuuden sanaa oikein.

Lead me in thy truth, and teach me: for thou art the God of my salvation; on thee do I wait all the day.

Ohjaa minut totuuteesi ja opeta minua, sinä Jumalani, auttajani! Sinuun minä luotan aina.

The lips of the righteous know what is acceptable: but the mouth of the wicked speaketh frowardness.

Hurskaan sanat ovat rakkauden sanoja, jumalattoman puhe valhetta ja vimmaa.

Keep thy tongue from evil, and thy lips from speaking guile.

Niin varo kieltäsi, älä päästä huulillesi petoksen sanaa.

Now faith is the substance of things hoped for, the evidence of things not seen.

Usko on sen todellisuutta, mitä toivotaan, sen näkemistä, mitä ei nähdä.

God is a Spirit: and they that worship him must worship him in spirit and in truth.

Jumala on henki, ja siksi niiden, jotka häntä rukoilevat, tulee rukoilla hengessä ja totuudessa.

I have chosen the way of truth: thy judgments have I laid before me.

Minä olen valinnut totuuden tien, sinun päätöksesi ovat aina silmieni edessä.

Every word of God is pure: he is a shield unto them that put their trust in him.

Jumalan jokainen sana on tulessa koeteltu, hän on niiden kilpi, jotka häneen turvaavat.

But above all things, my brethren, swear not, neither by heaven, neither by the earth, neither by any other oath: but let your yea be yea; and your nay, nay; lest ye fall into condemnation.

Ennen kaikkea, veljeni, älkää vannoko, älkää taivaan, älkää maan älkääkä minkään muunkaan kautta. Kun myönnätte, sanokaa vain: »Kyllä», kun kiellätte, sanokaa: »Ei.» Muutoin teitä kohtaa tuomio.

But the anointing which ye have received of him abideth in you, and ye need not that any man teach you: but as the same anointing teacheth you of all things, and is truth, and is no lie, and even as it hath taught you, ye shall abide in him.

Teissä kyllä pysyy se voitelu, jonka olette Pyhältä saaneet, ettekä te tarvitse kenenkään opetusta. Hänen Henkensä opettaa teitä kaikessa ja on tosi, hänessä ei ole petosta. Niin kuin hän on teitä opettanut, niin pysykää hänessä.

Of his own will begat he us with the word of truth, that we should be a kind of firstfruits of his creatures.

Päätöksensä mukaan hän synnytti meidät totuuden sanalla, että olisimme hänen luomistekojensa ensi hedelmä.

And we know that the Son of God is come, and hath given us an understanding, that we may know him that is true, and we are in him that is true, even in his Son Jesus Christ. This is the true God, and eternal life.

Me tiedämme myös, että Jumalan Poika on tullut ja antanut meille ymmärryksen, jotta tuntisimme hänet, joka on Todellinen. Ja tässä Todellisessa me elämme, kun olemme hänen pojassaan Jeesuksessa Kristuksessa. Hän on tosi Jumala ja iankaikkinen elämä.

Put away from thee a froward mouth, and perverse lips put far from thee.

Älä päästä suuhusi petollisia puheita, pidä vilppi loitolla huuliltasi.

For the word of the L

ord

is right; and all his works are done in truth.

Herran sana on tosi ja varma. Hän on uskollinen ja osoittaa sen teoissaan.

And the Word was made flesh, and dwelt among us, (and we beheld his glory, the glory as of the only begotten of the Father,) full of grace and truth.

Sana tuli lihaksi ja asui meidän keskellämme. Me saimme katsella hänen kirkkauttaan, kirkkautta, jonka Isä ainoalle Pojalle antaa. Hän oli täynnä armoa ja totuutta.

But when the Comforter is come, whom I will send unto you from the Father, even the Spirit of truth, which proceedeth from the Father, he shall testify of me.

Te saatte puolustajan; minä lähetän hänet Isän luota. Hän, Totuuden Henki, lähtee Isän luota ja todistaa minusta.

Nevertheless I tell you the truth; It is expedient for you that I go away: for if I go not away, the Comforter will not come unto you; but if I depart, I will send him unto you.

Mutta minä sanon teille totuuden: teille on hyödyksi, että minä menen pois. Ellen mene, ei Puolustaja voi tulla luoksenne. Mutta mentyäni pois minä lähetän hänet luoksenne.
Judge not, that ye be not judged.
Personal Bible reading plan
Create an account to configure your Bible reading plan and you will see your progress and the next chapter to read here!
Read more...