Bible Verses about Truth
«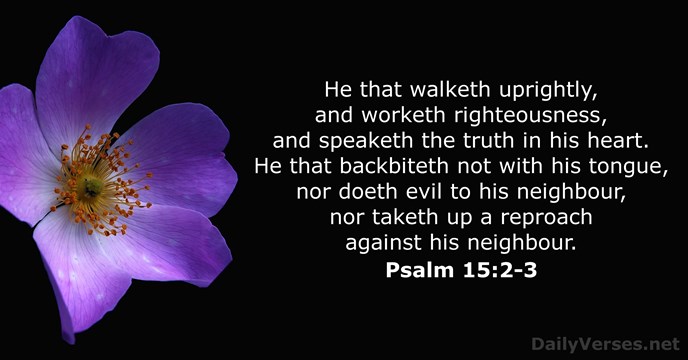 »
He that walketh uprightly, and worketh righteousness, and speaketh the truth in his heart. He that backbiteth not with his tongue, nor doeth evil to his neighbour, nor taketh up a reproach against his neighbour.

Wer untadelig lebt und recht tut und redet die Wahrheit von Herzen; wer mit seiner Zunge nicht verleumdet, wer seinem Nächsten nichts Arges tut und seinen Nachbarn nicht schmäht.

My little children, let us not love in word, neither in tongue; but in deed and in truth.

Meine Kinder, lasst uns nicht lieben mit Worten noch mit der Zunge, sondern mit der Tat und mit der Wahrheit.

I have no greater joy than to hear that my children walk in truth.

Ich habe keine größere Freude als die, zu hören, dass meine Kinder in der Wahrheit wandeln.

If we say that we have fellowship with him, and walk in darkness, we lie, and do not the truth.

Wenn wir sagen, dass wir Gemeinschaft mit ihm haben, und wandeln doch in der Finsternis, so lügen wir und tun nicht die Wahrheit.

Then said Jesus to those Jews which believed on him, If ye continue in my word, then are ye my disciples indeed; And ye shall know the truth, and the truth shall make you free.

Da sprach nun Jesus zu den Juden, die an ihn glaubten: Wenn ihr bleiben werdet an meinem Wort, so seid ihr wahrhaftig meine Jünger und werdet die Wahrheit erkennen, und die Wahrheit wird euch frei machen.

Finally, brethren, whatsoever things are true, whatsoever things are honest, whatsoever things are just, whatsoever things are pure, whatsoever things are lovely, whatsoever things are of good report; if there be any virtue, and if there be any praise, think on these things.

Weiter, Brüder und Schwestern: Was wahrhaftig ist, was ehrbar, was gerecht, was rein, was liebenswert, was einen guten Ruf hat, sei es eine Tugend, sei es ein Lob – darauf seid bedacht!

Jesus saith unto him, I am the way, the truth, and the life: no man cometh unto the Father, but by me.

Jesus spricht zu ihm: Ich bin der Weg und die Wahrheit und das Leben; niemand kommt zum Vater denn durch mich.

But speaking the truth in love, may grow up into him in all things, which is the head, even Christ.

Lasst uns aber wahrhaftig sein in der Liebe und wachsen in allen Stücken zu dem hin, der das Haupt ist, Christus.

Study to shew thyself approved unto God, a workman that needeth not to be ashamed, rightly dividing the word of truth.

Bemühe dich darum, dich vor Gott zu erweisen als ein angesehener und untadeliger Arbeiter, der das Wort der Wahrheit recht vertritt.

Lead me in thy truth, and teach me: for thou art the God of my salvation; on thee do I wait all the day.

Leite mich in deiner Wahrheit und lehre mich! Denn du bist der Gott, der mir hilft; täglich harre ich auf dich.

The lips of the righteous know what is acceptable: but the mouth of the wicked speaketh frowardness.

Die Lippen der Gerechten wissen, was wohlgefällt; aber der Mund des Frevlers weiß Dinge zu verdrehen.

Keep thy tongue from evil, and thy lips from speaking guile.

Behüte deine Zunge vor Bösem und deine Lippen, dass sie nicht Trug reden.

Now faith is the substance of things hoped for, the evidence of things not seen.

Es ist aber der Glaube eine feste Zuversicht dessen, was man hofft, und ein Nichtzweifeln an dem, was man nicht sieht.

God is a Spirit: and they that worship him must worship him in spirit and in truth.

Gott ist Geist, und die ihn anbeten, die müssen ihn im Geist und in der Wahrheit anbeten.

I have chosen the way of truth: thy judgments have I laid before me.

Ich habe erwählt den Weg der Wahrheit, deine Urteile habe ich vor mich gestellt.

Every word of God is pure: he is a shield unto them that put their trust in him.

Alle Worte Gottes sind im Feuer geläutert; er ist ein Schild denen, die auf ihn trauen.

But above all things, my brethren, swear not, neither by heaven, neither by the earth, neither by any other oath: but let your yea be yea; and your nay, nay; lest ye fall into condemnation.

Vor allen Dingen aber, Brüder und Schwestern, schwört nicht, weder bei dem Himmel noch bei der Erde noch mit einem andern Eid. Es sei aber euer Ja ein Ja und euer Nein ein Nein, damit ihr nicht dem Gericht verfallt.

But the anointing which ye have received of him abideth in you, and ye need not that any man teach you: but as the same anointing teacheth you of all things, and is truth, and is no lie, and even as it hath taught you, ye shall abide in him.

Und die Salbung, die ihr von ihm empfangen habt, bleibt in euch, und ihr habt nicht nötig, dass euch jemand belehre; sondern wie euch seine Salbung alles lehrt, so ist's wahr und ist keine Lüge, und wie sie euch gelehrt hat, so bleibt in ihm.

Of his own will begat he us with the word of truth, that we should be a kind of firstfruits of his creatures.

Er hat uns geboren nach seinem Willen durch das Wort der Wahrheit, damit wir die Erstlinge seiner Geschöpfe seien.

And we know that the Son of God is come, and hath given us an understanding, that we may know him that is true, and we are in him that is true, even in his Son Jesus Christ. This is the true God, and eternal life.

Wir wissen aber, dass der Sohn Gottes gekommen ist und uns Einsicht gegeben hat, damit wir den Wahrhaftigen erkennen. Und wir sind in dem Wahrhaftigen, in seinem Sohn Jesus Christus. Dieser ist der wahrhaftige Gott und das ewige Leben.

Put away from thee a froward mouth, and perverse lips put far from thee.

Tu von dir die Falschheit des Mundes und sei kein Lästermaul.

For the word of the L

ord

is right; and all his works are done in truth.
Denn des

HERRN

Wort ist wahrhaftig, und was er zusagt, das hält er gewiss.
Lying lips are abomination to the L

ord

: but they that deal truly are his delight.
Lügenmäuler sind dem

HERRN

ein Gräuel; die aber treulich handeln, gefallen ihm.

And the Word was made flesh, and dwelt among us, (and we beheld his glory, the glory as of the only begotten of the Father,) full of grace and truth.

Und das Wort ward Fleisch und wohnte unter uns, und wir sahen seine Herrlichkeit, eine Herrlichkeit als des eingeborenen Sohnes vom Vater, voller Gnade und Wahrheit.

But when the Comforter is come, whom I will send unto you from the Father, even the Spirit of truth, which proceedeth from the Father, he shall testify of me.

Wenn aber der Tröster kommen wird, den ich euch senden werde vom Vater, der Geist der Wahrheit, der vom Vater ausgeht, der wird Zeugnis geben von mir.
The thief cometh not, but for to steal, and to kill, and to destroy: I am come that they might have life, and that they might have it more abundantly.
Personal Bible reading plan
Create an account to configure your Bible reading plan and you will see your progress and the next chapter to read here!
Read more...