Bible Verses about Truth
«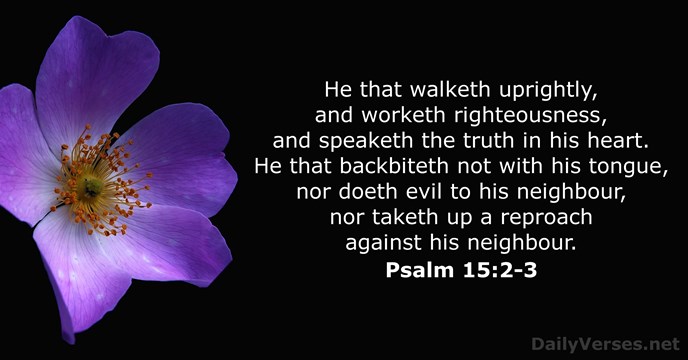 »
He that walketh uprightly, and worketh righteousness, and speaketh the truth in his heart. He that backbiteth not with his tongue, nor doeth evil to his neighbour, nor taketh up a reproach against his neighbour.

Wer vorbildlich lebt und tut, was richtig ist vor dir; wer durch und durch wahrhaftig ist und andere nicht schlechtmacht; wer seinem Freund nichts Böses antut und seinen Nachbarn nicht kränkt.

My little children, let us not love in word, neither in tongue; but in deed and in truth.

Meine Kinder, unsere Liebe darf nicht nur in schönen Worten bestehen; unser Tun muss ein echter Beweis dafür sein.

If we say that we have fellowship with him, and walk in darkness, we lie, and do not the truth.

Wenn wir behaupten, mit Gott Gemeinschaft zu haben und trotzdem in der Finsternis leben, dann lügen wir: Unser Tun steht im Widerspruch zur Wahrheit.

I have no greater joy than to hear that my children walk in truth.

Es gibt keine größere Freude für mich, als zu hören, dass meine Kinder der Wahrheit gemäß leben.

Then said Jesus to those Jews which believed on him, If ye continue in my word, then are ye my disciples indeed; And ye shall know the truth, and the truth shall make you free.

Zu den Juden, die an ihn geglaubt hatten, sagte Jesus nun: "Wenn ihr bei dem bleibt, was ich euch gesagt habe, seid ihr wirklich meine Jünger. Dann werdet ihr die Wahrheit erkennen, und die Wahrheit wird euch frei machen."

Finally, brethren, whatsoever things are true, whatsoever things are honest, whatsoever things are just, whatsoever things are pure, whatsoever things are lovely, whatsoever things are of good report; if there be any virtue, and if there be any praise, think on these things.

Ansonsten denkt über das nach, meine Geschwister, was wahr, was anständig und gerecht ist! Richtet eure Gedanken auf das Reine, das Liebenswerte und Bewundernswürdige; auf alles, was Auszeichnung und Lob verdient!

But speaking the truth in love, may grow up into him in all things, which is the head, even Christ.

Lasst uns also in Liebe wahrhaftig sein und in jeder Hinsicht zu Christus hinwachsen, unserem Haupt.

Jesus saith unto him, I am the way, the truth, and the life: no man cometh unto the Father, but by me.

"Ich bin der Weg!", antwortete Jesus. "Ich bin die Wahrheit und das Leben! Zum Vater kommt man nur durch mich."

Study to shew thyself approved unto God, a workman that needeth not to be ashamed, rightly dividing the word of truth.

Setze alles daran, dich Gott als bewährter Mitarbeiter zur Verfügung zu stellen, der sich für sein Tun nicht schämen muss und das Wort der Wahrheit klar und unverkürzt vertritt.

The lips of the righteous know what is acceptable: but the mouth of the wicked speaketh frowardness.

Die Worte des Gerechten tun dir wohl, doch der Mund des Gottlosen verbreitet Verkehrtes.

Lead me in thy truth, and teach me: for thou art the God of my salvation; on thee do I wait all the day.

Leite mich durch deine Wahrheit und lehre mich, denn du bist der Gott, der mir hilft. Täglich hoffe ich auf dich.

Keep thy tongue from evil, and thy lips from speaking guile.

Der passe auf, was er sagt, dass er nicht lügt und mit Worten betrügt.

Now faith is the substance of things hoped for, the evidence of things not seen.

Was ist also der Glaube? Er ist die Grundlage unserer Hoffnung, ein Überführtsein von Wirklichkeiten, die man nicht sieht.

God is a Spirit: and they that worship him must worship him in spirit and in truth.

Gott ist Geist, und die, die ihn anbeten wollen, müssen dabei von seinem Geist bestimmt und von Wahrheit erfüllt sein.

I have chosen the way of truth: thy judgments have I laid before me.

Ich habe mich für die Wahrheit entschieden, habe vor mich gestellt dein göttliches Recht.

Every word of God is pure: he is a shield unto them that put their trust in him.

Alles, was Gott sagt, ist klar und rein. Wer Zuflucht bei ihm sucht, wird in Sicherheit sein.

But above all things, my brethren, swear not, neither by heaven, neither by the earth, neither by any other oath: but let your yea be yea; and your nay, nay; lest ye fall into condemnation.

Vor allem aber lasst das Schwören, liebe Geschwister. Schwört weder beim Himmel noch bei der Erde noch sonst einen Eid. Lasst vielmehr euer Ja ein Ja sein und euer Nein ein Nein! Ihr wollt doch nicht dem Gericht verfallen!

But the anointing which ye have received of him abideth in you, and ye need not that any man teach you: but as the same anointing teacheth you of all things, and is truth, and is no lie, and even as it hath taught you, ye shall abide in him.

Für euch aber gilt: Der Heilige Geist, mit dem Christus euch gesalbt hat, bleibt in euch! Deshalb braucht ihr keinen, der euch darüber belehrt, sondern der Geist lehrt euch das alles. Und was er lehrt, ist wahr, es ist keine Lüge. Bleibt also bei dem, was er euch lehrt, und lebt mit Christus vereint.

Of his own will begat he us with the word of truth, that we should be a kind of firstfruits of his creatures.

Aus freiem Liebeswillen hat er uns durch das Wort der Wahrheit neues Leben geschenkt, damit wir gewissermaßen die ersten Geschöpfe seiner neuen Schöpfung wären.

And we know that the Son of God is come, and hath given us an understanding, that we may know him that is true, and we are in him that is true, even in his Son Jesus Christ. This is the true God, and eternal life.

Und wir wissen, dass der Sohn Gottes gekommen ist und uns fähig gemacht hat, den wahren Gott zu erkennen. Mit ihm, dem Wahrhaftigen, sind wir in seinem Sohn Jesus Christus verbunden, der selbst der wahre Gott und das ewige Leben ist.

For the word of the L

ord

is right; and all his works are done in truth.

Auf Jahwes Wort ist Verlass und in all seinem Tun ist er treu.

Put away from thee a froward mouth, and perverse lips put far from thee.

Entferne Unwahrheit aus deinem Mund, die Falschheit von deinen Lippen!

And the Word was made flesh, and dwelt among us, (and we beheld his glory, the glory as of the only begotten of the Father,) full of grace and truth.

Er, das Wort, wurde Mensch und wohnte unter uns. Und wir haben seine Herrlichkeit gesehen, eine Herrlichkeit wie sie nur der Eine und Einzige vom Vater hat, erfüllt mit Gnade und Wahrheit.

But when the Comforter is come, whom I will send unto you from the Father, even the Spirit of truth, which proceedeth from the Father, he shall testify of me.

Wenn dann der Beistand gekommen ist, wird er mein Zeuge sein. Es ist der Geist der Wahrheit, der vom Vater ausgeht. Ich werde ihn zu euch senden, wenn ich beim Vater bin.

Nevertheless I tell you the truth; It is expedient for you that I go away: for if I go not away, the Comforter will not come unto you; but if I depart, I will send him unto you.

Doch glaubt mir: Es ist wirklich das Beste für euch, wenn ich fortgehe. Denn wenn ich nicht wegginge, käme der Beistand nicht zu euch. Wenn ich jedoch fortgehe, werde ich ihn zu euch senden.
But Jesus beheld them, and said unto them, With men this is impossible; but with God all things are possible.
Personal Bible reading plan
Create an account to configure your Bible reading plan and you will see your progress and the next chapter to read here!
Read more...