Bible Verses about Truth
«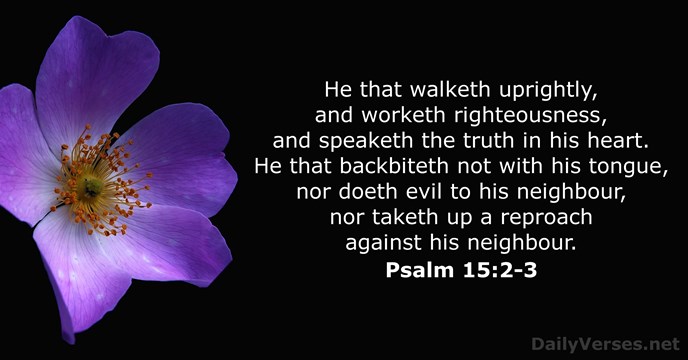 »
He that walketh uprightly, and worketh righteousness, and speaketh the truth in his heart. He that backbiteth not with his tongue, nor doeth evil to his neighbour, nor taketh up a reproach against his neighbour.

Celui qui marche dans l'intégrité, pratique la justice et dit ce qu'il pense vraiment. Il ne calomnie pas avec sa langue, il ne fait pas de mal à son semblable, et il ne jette pas le déshonneur sur son prochain.

My little children, let us not love in word, neither in tongue; but in deed and in truth.

Petits enfants, n'aimons pas en paroles et avec la langue, mais en actes et avec vérité.

If we say that we have fellowship with him, and walk in darkness, we lie, and do not the truth.

Si nous disons que nous sommes en communion avec lui tout en marchant dans les ténèbres, nous mentons et nous ne mettons pas la vérité en pratique.

I have no greater joy than to hear that my children walk in truth.

Je n'ai pas de plus grande joie que d'apprendre que mes enfants marchent dans la vérité.

Then said Jesus to those Jews which believed on him, If ye continue in my word, then are ye my disciples indeed; And ye shall know the truth, and the truth shall make you free.

Alors il dit aux Juifs qui avaient cru en lui: «Si vous demeurez dans ma parole, vous êtes vraiment mes disciples, vous connaîtrez la vérité, et la vérité vous rendra libres.»

Finally, brethren, whatsoever things are true, whatsoever things are honest, whatsoever things are just, whatsoever things are pure, whatsoever things are lovely, whatsoever things are of good report; if there be any virtue, and if there be any praise, think on these things.

Enfin, frères et sœurs, portez vos pensées sur tout ce qui est vrai, tout ce qui est honorable, tout ce qui est juste, tout ce qui est pur, tout ce qui est digne d'être aimé, tout ce qui mérite l'approbation, ce qui est synonyme de qualité morale et ce qui est digne de louange.

But speaking the truth in love, may grow up into him in all things, which is the head, even Christ.

Mais en disant la vérité dans l'amour, nous grandirons à tout point de vue vers celui qui est la tête, Christ.

Jesus saith unto him, I am the way, the truth, and the life: no man cometh unto the Father, but by me.

Jésus lui dit: «C'est moi qui suis le chemin, la vérité et la vie. On ne vient au Père qu'en passant par moi.»

Study to shew thyself approved unto God, a workman that needeth not to be ashamed, rightly dividing the word of truth.

Efforce-toi de te présenter devant Dieu comme un homme qui a fait ses preuves, un ouvrier qui n'a pas à rougir mais qui expose avec droiture la parole de la vérité.

Lead me in thy truth, and teach me: for thou art the God of my salvation; on thee do I wait all the day.

Conduis-moi dans ta vérité et instruis-moi, car tu es le Dieu de mon salut: je m'attends à toi chaque jour.

The lips of the righteous know what is acceptable: but the mouth of the wicked speaketh frowardness.

Les lèvres du juste connaissent la grâce, et la bouche des méchants la perversité.

Keep thy tongue from evil, and thy lips from speaking guile.

Alors préserve ta langue du mal et tes lèvres des paroles trompeuses.

Now faith is the substance of things hoped for, the evidence of things not seen.

Or la foi, c'est la ferme assurance des choses qu'on espère, la démonstration de celles qu'on ne voit pas.

God is a Spirit: and they that worship him must worship him in spirit and in truth.

Dieu est Esprit et il faut que ceux qui l'adorent l'adorent en esprit et en vérité.

I have chosen the way of truth: thy judgments have I laid before me.

Je choisis la voie de la fidélité, je place tes lois sous mes yeux.

Every word of God is pure: he is a shield unto them that put their trust in him.

Toute parole de Dieu est pure. Il est un bouclier pour ceux qui cherchent refuge en lui.

But above all things, my brethren, swear not, neither by heaven, neither by the earth, neither by any other oath: but let your yea be yea; and your nay, nay; lest ye fall into condemnation.

Avant tout, mes frères et sœurs, ne jurez pas, que ce soit par le ciel, par la terre ou par une autre forme de serment. Mais que votre oui soit oui, et que votre non soit non, afin que vous ne tombiez pas sous le jugement.

But the anointing which ye have received of him abideth in you, and ye need not that any man teach you: but as the same anointing teacheth you of all things, and is truth, and is no lie, and even as it hath taught you, ye shall abide in him.

Quant à vous, l'onction que vous avez reçue de Christ demeure en vous et vous n'avez pas besoin qu'on vous enseigne. Au contraire, puisque la même onction vous enseigne sur toute chose, qu'elle est véridique et dépourvue de mensonge, vous demeurerez en lui comme elle vous l'a appris.

Of his own will begat he us with the word of truth, that we should be a kind of firstfruits of his creatures.

Conformément à sa volonté, il nous a donné la vie par la parole de vérité afin que nous soyons en quelque sorte les premières de ses créatures.

And we know that the Son of God is come, and hath given us an understanding, that we may know him that is true, and we are in him that is true, even in his Son Jesus Christ. This is the true God, and eternal life.

Mais nous savons aussi que le Fils de Dieu est venu et nous a donné l'intelligence pour connaître le vrai Dieu; et nous sommes unis au vrai Dieu si nous sommes unis à son Fils Jésus-Christ. C'est lui qui est le vrai Dieu et la vie éternelle.

Put away from thee a froward mouth, and perverse lips put far from thee.

Ecarte de ta bouche la fausseté, éloigne de tes lèvres les détours!

For the word of the L

ord

is right; and all his works are done in truth.

Car la parole de l'Eternel est droite et toute son œuvre s'accomplit avec fidélité!

And the Word was made flesh, and dwelt among us, (and we beheld his glory, the glory as of the only begotten of the Father,) full of grace and truth.

Et la Parole s'est faite homme, elle a habité parmi nous, pleine de grâce et de vérité, et nous avons contemplé sa gloire, une gloire comme celle du Fils unique venu du Père.

But when the Comforter is come, whom I will send unto you from the Father, even the Spirit of truth, which proceedeth from the Father, he shall testify of me.

Quand sera venu le défenseur que je vous enverrai de la part du Père, l'Esprit de la vérité qui vient du Père, il rendra témoignage de moi.

Nevertheless I tell you the truth; It is expedient for you that I go away: for if I go not away, the Comforter will not come unto you; but if I depart, I will send him unto you.

Cependant, je vous dis la vérité: il vaut mieux pour vous que je m'en aille. En effet, si je ne m'en vais pas, le défenseur ne viendra pas vers vous; mais, si je m'en vais, je vous l'enverrai.
Like as a father pitieth his children, so the Lord pitieth them that fear him.
Personal Bible reading plan
Create an account to configure your Bible reading plan and you will see your progress and the next chapter to read here!
Read more...