Bible Verses about Understanding
«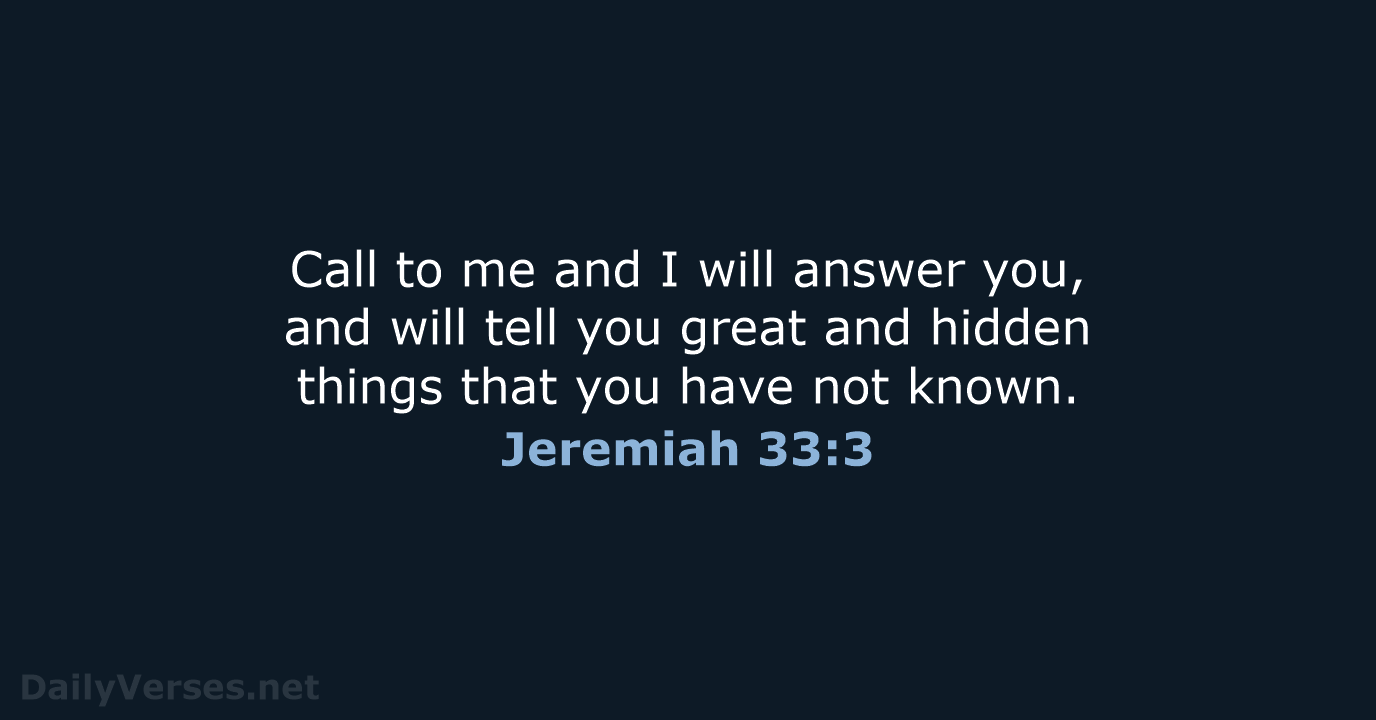 »
Call to me and I will answer you, and will tell you great and hidden things that you have not known.

Rufe mich an, dann antworte ich dir und teile dir große, unfassbare Dinge mit, von denen du nichts weißt.

As you do not know the way the spirit comes to the bones in the womb of a woman with child, so you do not know the work of God who makes everything.

Wie du den Weg des Windes nicht kennst noch das Werden des Kindes im Leib der Schwangeren, so kennst du auch das Werk Gottes nicht, der alles bewirkt.

Whoever is slow to anger has great understanding, but he who has a hasty temper exalts folly.

Wer ruhig bleibt, hat viel Verstand, doch wer aufbraust, zeigt nur seine Unvernunft.

The beginning of wisdom is this: Get wisdom, and whatever you get, get insight.

Weisheit musst du mit Weisheit erwerben. Verschaff dir Einsicht mit allem, was du hast!

I will instruct you and teach you in the way you should go; I will counsel you with my eye upon you.

Ich will dich belehren und ich zeig dir den richtigen Weg. Ich will dich beraten und ich behalte dich im Blick.

Every way of a man is right in his own eyes, but the L

ord

weighs the heart.

Der Mensch hält alles, was er tut, für gut, doch Jahwe prüft, was er im Herzen hat.

As we look not to the things that are seen but to the things that are unseen. For the things that are seen are transient, but the things that are unseen are eternal.

Uns, die nicht auf das Sichtbare starren, sondern nach dem Unsichtbaren Ausschau halten. Denn alles Sichtbare vergeht nach kurzer Zeit, das Unsichtbare aber ist ewig.

That the God of our Lord Jesus Christ, the Father of glory, may give you the Spirit of wisdom and of revelation in the knowledge of him.

Und ich bete, dass der Gott unseres Herrn Jesus Christus, der Vater der Herrlichkeit, euch durch seinen Geist Weisheit gibt und euch zeigt, wie er selbst ist, dass ihr ihn erkennen könnt.

Many are the plans in the mind of a man, but it is the purpose of the L

ord

that will stand.

Viele Dinge nimmt ein Mensch sich vor, doch zustande kommt der Ratschluss Jahwes.

But test everything; hold fast what is good. Abstain from every form of evil.

Prüft aber alles und behaltet das Gute! Meidet das Böse in jeder Gestalt!

The unfolding of your words gives light; it imparts understanding to the simple.

Wenn deine Worte sich auftun, erleuchten sie uns, dann finden selbst Unerfahrene Einsicht darin.

But Jesus looked at them and said, "With man this is impossible, but with God all things are possible."

Jesus blickte sie an und sagte: "Für Menschen ist das unmöglich, nicht aber für Gott. Für Gott ist alles möglich."

For as the heavens are higher than the earth, so are my ways higher than your ways and my thoughts than your thoughts.

Denn so hoch der Himmel über der Erde ist, so weit reichen meine Gedanken über alles hinaus, was ihr euch denkt, und meine Möglichkeiten über alles, was für euch machbar ist.

Have you not known? Have you not heard? The L

ord

is the everlasting God, the Creator of the ends of the earth. He does not faint or grow weary; his understanding is unsearchable.

Weißt du es denn nicht, oder hast du es noch nie gehört? Jahwe ist ein ewiger Gott, der die ganze weite Erde schuf. Er wird nicht müde, seine Kraft lässt nicht nach und seine Weisheit ist unerschöpflich tief.

For though we walk in the flesh, we are not waging war according to the flesh.

Natürlich sind wir auch nur Menschen, aber wir kämpfen nicht nach Menschenweise.

But grow in the grace and knowledge of our Lord and Savior Jesus Christ. To him be the glory both now and to the day of eternity. Amen.

Nehmt vielmehr in der Gnade zu und lernt unseren Herrn und Retter Jesus Christus immer besser kennen. Ihm gehört alle Herrlichkeit und Ehre, schon jetzt und auch in alle Ewigkeit! Amen.

Oh, the depth of the riches and wisdom and knowledge of God! How unsearchable are his judgments and how inscrutable his ways!

Wie unermesslich reich ist Gottes Weisheit, wie abgrundtief seine Erkenntnis! Wie unergründlich sind seine Entscheidungen, wie unerforschlich seine Wege!

Woe to him who strives with him who formed him, a pot among earthen pots! Does the clay say to him who forms it, 'What are you making?' or 'Your work has no handles'?

Wehe dem, der mit seinem Urheber hadert und doch nur eine Scherbe von vielen Tonscherben ist. Sagt der Ton vielleicht zum Töpfer: "Was machst du denn da?" Hält er ihm vielleicht vor: "Du hast kein Geschick!"?

Let no one say when he is tempted, "I am being tempted by God," for God cannot be tempted with evil, and he himself tempts no one.

Wenn jemand in Versuchung gerät, soll er nicht sagen: "Gott hat mich in Versuchung geführt." Denn Gott kann nicht vom Bösen verführt werden und verführt auch selbst niemand dazu.

There is neither Jew nor Greek, there is neither slave nor free, there is no male and female, for you are all one in Christ Jesus.

Da gibt es keine Juden oder Nichtjuden mehr, Sklaven oder Freie, Männer oder Frauen, denn in ‹Verbindung mit› Christus Jesus seid ihr alle zu Einem geworden.

Jesus answered him, "Truly, truly, I say to you, unless one is born again he cannot see the kingdom of God."

"Ich versichere dir", erwiderte Jesus, "wenn jemand nicht von neuem geboren wird, kann er das Reich Gottes nicht einmal sehen."

Get wisdom; get insight; do not forget, and do not turn away from the words of my mouth.

Erwirb dir Weisheit und Verstand! Vergiss sie nicht und richte dich nach dem, was ich sage!

For a thousand years in your sight are but as yesterday when it is past, or as a watch in the night.

Denn tausend Jahre sind für dich wie der Tag, der gestern verging, und wie eine Wache in der Nacht.

And he sat down and called the twelve. And he said to them, "If anyone would be first, he must be last of all and servant of all."

Da setzte er sich, rief die Zwölf herbei und sagte: "Wenn jemand der Erste sein will, muss er den letzten Platz einnehmen und der Diener von allen sein."

Blessed is the one who finds wisdom, and the one who gets understanding.

Wie glücklich ist der, der Weisheit fand, der Mann, der Verständnis erwarb.
Finally, brothers, rejoice. Aim for restoration, comfort one another, agree with one another, live in peace; and the God of love and peace will be with you.
Personal Bible reading plan
Create an account to configure your Bible reading plan and you will see your progress and the next chapter to read here!
Read more...