Bible Verses about Understanding
«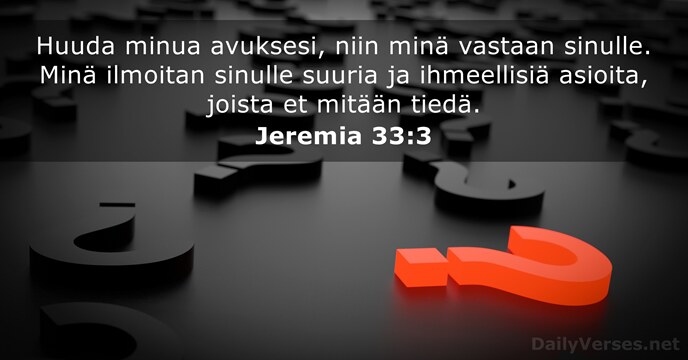 »
Call to Me, and I will answer you, and show you great and mighty things, which you do not know.

Huuda minua avuksesi, niin minä vastaan sinulle. Minä ilmoitan sinulle suuria ja ihmeellisiä asioita, joista et mitään tiedä.

As you do not know what is the way of the wind, Or how the bones grow in the womb of her who is with child, So you do not know the works of God who makes everything.

Yhtä vähän kuin tiedät, minne tuuli kääntyy tai miten luut rakentuvat raskaana olevan kohdussa, yhtä vähän tiedät Jumalan teoista, hänen, joka kaiken luo.

He who is slow to wrath has great understanding, But he who is impulsive exalts folly.

Pitkämielisyys on järkevän miehen merkki, äkkipikaisuus on hulluuden huippu.

Wisdom is the principal thing; Therefore get wisdom. And in all your getting, get understanding.

Hanki viisautta, se on aarteista kallein, hanki ymmärrystä, sijoita kaikki varasi siihen.

I will instruct you and teach you in the way you should go; I will guide you with My eye.

»Minä opetan sinua», sanoo Herra, »minä osoitan sinulle oikean tien. Minä neuvon sinua, katseeni seuraa askeleitasi.»

Every way of a man is right in his own eyes, But the L

ord

weighs the hearts.

Ihminen pitää oikeina kaikkia teitään, mutta Herra punnitsee sydämet.

While we do not look at the things which are seen, but at the things which are not seen. For the things which are seen are temporary, but the things which are not seen are eternal.

Emmekä me kiinnitä katsettamme näkyvään vaan näkymättömään, sillä näkyvä kestää vain aikansa mutta näkymätön ikuisesti.

That the God of our Lord Jesus Christ, the Father of glory, may give to you the spirit of wisdom and revelation in the knowledge of Him.

Minä rukoilen, että Herramme Jeesuksen Kristuksen Jumala, kirkkauden Isä, antaisi teille viisauden ja näkemisen hengen, niin että oppisitte tuntemaan hänet.

There are many plans in a man's heart, Nevertheless the L

ord

's counsel—that will stand.

Ihminen kaavailee monenlaista, mutta kaikki käy Herran tahdon mukaan.

Test all things; hold fast what is good. Abstain from every form of evil.

Koetelkaa kaikkea ja pitäkää se mikä on hyvää. Pysykää erossa kaikesta pahasta.

The entrance of Your words gives light; It gives understanding to the simple.

Kun sinun sanasi avautuu, se valaisee, tyhmäkin saa siitä ymmärrystä.

But Jesus looked at them and said to them, "With men this is impossible, but with God all things are possible."

Jeesus katsoi heihin ja sanoi: »Ihmiselle se on mahdotonta, mutta Jumalalle on kaikki mahdollista.»

For as the heavens are higher than the earth, So are My ways higher than your ways, And My thoughts than your thoughts.

Sillä niin korkealla kuin taivas kaartuu maan yllä, niin korkealla ovat minun tieni teidän teittenne yläpuolella ja minun ajatukseni teidän ajatustenne yläpuolella.

Have you not known? Have you not heard? The everlasting God, the L

ord

, The Creator of the ends of the earth, Neither faints nor is weary. His understanding is unsearchable.

Etkö jo ole oppinut, etkö ole kuullut, että Herra on ikuinen Jumala, koko maanpiirin luoja? Ei hän väsy, ei uuvu, tutkimaton on hänen viisautensa.

For though we walk in the flesh, we do not war according to the flesh.

Me elämme tässä maailmassa mutta emme taistele tämän maailman tavoin.

But grow in the grace and knowledge of our Lord and Savior Jesus Christ. To Him be the glory both now and forever. Amen.

Kasvakaa meidän Herramme Jeesuksen Kristuksen armossa ja tuntemisessa. Hänelle kunnia nyt ja iankaikkisuuden päivään asti. Aamen.

Oh, the depth of the riches both of the wisdom and knowledge of God! How unsearchable are His judgments and His ways past finding out!

Kuinka ääretön onkaan Jumalan rikkaus, kuinka syvä hänen viisautensa ja tietonsa! Kuinka tutkimattomat ovat hänen tuomionsa ja jäljittämättömät hänen tiensä!

Woe to him who strives with his Maker! Let the potsherd strive with the potsherds of the earth! Shall the clay say to him who forms it, 'What are you making?' Or shall your handiwork say, 'He has no hands'?

Voi ihmistä, joka riitelee luojaansa vastaan, voi ruukunsirpaletta sirpaleitten joukossa! Sanooko savi muovaajalleen: »Mitä sinä pystyt tekemään?» Sanooko teos tekijälleen: »Ei sinulla ole taitajan kättä.»

Let no one say when he is tempted, "I am tempted by God"; for God cannot be tempted by evil, nor does He Himself tempt anyone.

Älköön kukaan kiusauksiin jouduttuaan ajatelko, että kiusaus tulee Jumalalta. Jumala ei ole pahan kiusattavissa, eikä hän itse kiusaa ketään.

There is neither Jew nor Greek, there is neither slave nor free, there is neither male nor female; for you are all one in Christ Jesus.

Yhdentekevää, oletko juutalainen vai kreikkalainen, orja vai vapaa, mies vai nainen, sillä Kristuksessa Jeesuksessa te kaikki olette yksi.

Jesus answered and said to him, "Most assuredly, I say to you, unless one is born again, he cannot see the kingdom of God."

Jeesus vastasi hänelle: »Totisesti, totisesti: jos ihminen ei synny uudesti, ylhäältä, hän ei pääse näkemään Jumalan valtakuntaa.»

Get wisdom! Get understanding! Do not forget, nor turn away from the words of my mouth.

Hanki viisautta, hanki ymmärrystä, älä unohda sitä, mitä sinulle sanon, älä käännä sille selkääsi.

For a thousand years in Your sight Are like yesterday when it is past, And like a watch in the night.

Tuhat vuotta on sinulle kuin yksi päivä, kuin eilinen päivä, mailleen mennyt, kuin öinen vartiohetki.

And He sat down, called the twelve, and said to them, "If anyone desires to be first, he shall be last of all and servant of all."

Jeesus istuutui, kokosi kaksitoista opetuslastaan ympärilleen ja sanoi heille: »Jos joku tahtoo olla ensimmäinen, hänen on oltava viimeinen ja kaikkien palvelija.»

Happy is the man who finds wisdom, And the man who gains understanding.

Onnellinen se, joka on löytänyt viisauden, se, joka on tavoittanut tiedon.
Continue earnestly in prayer, being vigilant in it with thanksgiving.
Personal Bible reading plan
Create an account to configure your Bible reading plan and you will see your progress and the next chapter to read here!
Read more...