Bible Verses about Wisdom
«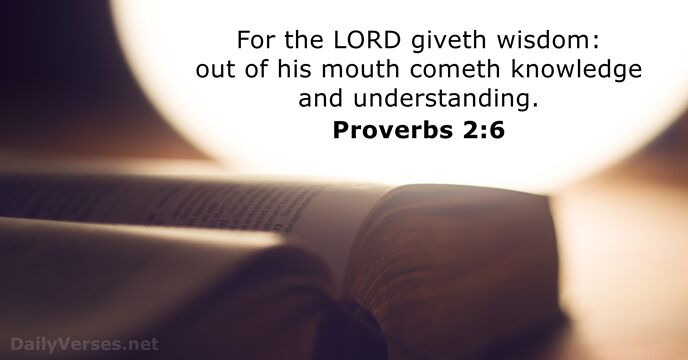 »
For the L

ord

giveth wisdom: out of his mouth cometh knowledge and understanding.

Denn Jahwe gibt Weisheit, von ihm kommen Erkenntnis und Verstand.

See then that ye walk circumspectly, not as fools, but as wise, Redeeming the time, because the days are evil.

Achtet also genau darauf, wie ihr euer Leben führt - nicht als törichte, sondern als weise Menschen! Nutzt die Gelegenheiten, die Gott euch gibt, denn wir leben in einer bösen Zeit.

If any of you lack wisdom, let him ask of God, that giveth to all men liberally, and upbraideth not; and it shall be given him.

Wenn jemand von euch nicht weiß, wie er das tun soll, dann darf er Gott um diese Weisheit bitten. Er wird sie ihm ohne weiteres geben und ihm deshalb keine Vorwürfe machen, denn er gibt allen gern.

But the wisdom that is from above is first pure, then peaceable, gentle, and easy to be intreated, full of mercy and good fruits, without partiality, and without hypocrisy.

Dagegen ist die Weisheit von oben erst einmal rein, dann friedfertig, gütig und nachgiebig. Sie ist voller Erbarmen und guter Früchte, unparteiisch und ohne Heuchelei.

How much better is it to get wisdom than gold! and to get understanding rather to be chosen than silver!

Weisheit zu erwerben ist viel besser als Gold, Verstand zu bekommen ist mehr als alles Silber wert.

Say not thou, What is the cause that the former days were better than these? for thou dost not enquire wisely concerning this.

Sag nicht: "Wie kommt es nur, dass früher alles besser war als jetzt?", denn ein Weiser fragt nicht so.

Walk in wisdom toward them that are without, redeeming the time. Let your speech be always with grace, seasoned with salt, that ye may know how ye ought to answer every man.

Seid weise im Umgang mit Menschen von draußen, und nutzt die Gelegenheiten, die Gott euch gibt! Eure Worte seien immer freundlich und angenehm gewürzt! Ihr sollt wissen, wie ihr jedem Einzelnen antworten müsst!

Only by pride cometh contention: but with the well advised is wisdom.

Übermut bringt nichts als Streit, doch wer sich beraten lässt, ist klug.

He that getteth wisdom loveth his own soul: he that keepeth understanding shall find good.

Bilde deinen Verstand, dann tust du dir Gutes; folg deiner Einsicht, dann findest du Glück!

Let no man deceive himself. If any man among you seemeth to be wise in this world, let him become a fool, that he may be wise.

Niemand soll sich etwas vormachen. Wenn jemand von euch meint, in dieser Welt weise zu sein, muss er erst einmal verstehen, wie töricht er ist, damit er wirklich weise wird.

He that keepeth his mouth keepeth his life: but he that openeth wide his lips shall have destruction.

Wer den Mund hält, bewahrt sein Leben, wer ihn aufreißt, dem droht Verderben.

Who is a wise man and endued with knowledge among you? let him shew out of a good conversation his works with meekness of wisdom.

Wer von euch ist denn weise und verständig? Er soll das durch seinen Lebenswandel zeigen, und zwar in der Bescheidenheit, die aus der Weisheit kommt.

Therefore whosoever heareth these sayings of mine, and doeth them, I will liken him unto a wise man, which built his house upon a rock.

Darum gleicht jeder, der auf meine Worte hört und tut, was ich sage, einem klugen Mann, der sein Haus auf felsigen Grund baut.

So teach us to number our days, that we may apply our hearts unto wisdom.

Lass uns begreifen, wieviel Zeit uns noch bleibt, damit Weisheit unser Wesen bestimmt.

When pride cometh, then cometh shame: but with the lowly is wisdom.

Kommt Übermut, dann kommt auch Schande, doch Weisheit ist mit Demut verknüpft.

For whoso findeth me findeth life, and shall obtain favour of the L

ord

.

Denn wer mich findet, hat Leben gefunden und das Wohlgefallen Jahwes.

For my thoughts are not your thoughts, neither are your ways my ways, saith the L

ord

.

"Meine Gedanken sind nicht wie eure Gedanken, und eure Wege nicht wie meine Wege!", spricht Jahwe.

A fool hath no delight in understanding, but that his heart may discover itself.

Ein Dummkopf will die Sache nicht verstehen, er will nur zeigen, was er meint.

The fear of the L

ord

is the instruction of wisdom; and before honour is humility.

Ehrfurcht vor Jahwe ist Erziehung zur Weisheit; und Demut geht der Ehre voraus.

The wise in heart will receive commandments: but a prating fool shall fall.

Ein weiser Mensch nimmt Weisungen an, doch wer Unsinn redet, kommt zu Fall.

This also cometh forth from the L

ord

of hosts, which is wonderful in counsel, and excellent in working.

Auch das weiß er von Jahwe, dem allmächtigen Gott. Gottes Pläne sind zum Staunen, er führt sie immer zum Erfolg.

I thank thee, and praise thee, O thou God of my fathers, who hast given me wisdom and might, and hast made known unto me now what we desired of thee: for thou hast now made known unto us the king's matter.

Dich, Gott meiner Väter, rühme und lobe ich! Denn du hast mir Weisheit und Kraft geschenkt. Und jetzt hast du mich wissen lassen, was wir von dir erbaten. Du hast uns den Traum des Königs enthüllt.

Even a fool, when he holdeth his peace, is counted wise: and he that shutteth his lips is esteemed a man of understanding.

Selbst ein Dummkopf gilt als weise, wenn er schweigt, als verständig, wenn er seine Lippen schließt.

Hast thou not known? hast thou not heard, that the everlasting God, the L

ord

, the Creator of the ends of the earth, fainteth not, neither is weary? there is no searching of his understanding.

Weißt du es denn nicht, oder hast du es noch nie gehört? Jahwe ist ein ewiger Gott, der die ganze weite Erde schuf. Er wird nicht müde, seine Kraft lässt nicht nach und seine Weisheit ist unerschöpflich tief.

He that is slow to wrath is of great understanding: but he that is hasty of spirit exalteth folly.

Wer ruhig bleibt, hat viel Verstand, doch wer aufbraust, zeigt nur seine Unvernunft.
My times are in thy hand: deliver me from the hand of mine enemies, and from them that persecute me.
Personal Bible reading plan
Create an account to configure your Bible reading plan and you will see your progress and the next chapter to read here!
Read more...