Bible Verses about Wisdom
«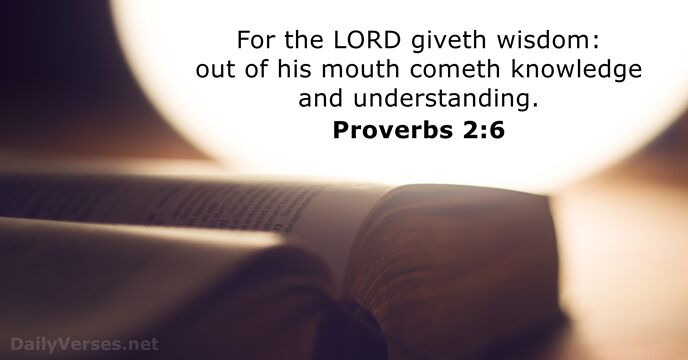 »
For the L

ord

giveth wisdom: out of his mouth cometh knowledge and understanding.
Porque el S

eñor

da la sabiduría; conocimiento y ciencia brotan de sus labios.

See then that ye walk circumspectly, not as fools, but as wise, Redeeming the time, because the days are evil.

Así que tengan cuidado de su manera de vivir. No vivan como necios, sino como sabios, aprovechando al máximo cada momento oportuno, porque los días son malos.

If any of you lack wisdom, let him ask of God, that giveth to all men liberally, and upbraideth not; and it shall be given him.

Si a alguno de ustedes le falta sabiduría, pídasela a Dios, y él se la dará, pues Dios da a todos generosamente sin menospreciar a nadie.

But the wisdom that is from above is first pure, then peaceable, gentle, and easy to be intreated, full of mercy and good fruits, without partiality, and without hypocrisy.

En cambio, la sabiduría que desciende del cielo es ante todo pura, y además pacífica, bondadosa, dócil, llena de compasión y de buenos frutos, imparcial y sincera.

How much better is it to get wisdom than gold! and to get understanding rather to be chosen than silver!

Más vale adquirir sabiduría que oro; más vale adquirir inteligencia que plata.

Say not thou, What is the cause that the former days were better than these? for thou dost not enquire wisely concerning this.

Nunca preguntes por qué todo tiempo pasado fue mejor. No es de sabios hacer tales preguntas.

Walk in wisdom toward them that are without, redeeming the time. Let your speech be always with grace, seasoned with salt, that ye may know how ye ought to answer every man.

Compórtense sabiamente con los que no creen en Cristo, aprovechando al máximo cada momento oportuno. Que su conversación sea siempre amena y de buen gusto. Así sabrán cómo responder a cada uno.

Only by pride cometh contention: but with the well advised is wisdom.

El orgullo solo genera contiendas, pero la sabiduría está con quienes oyen consejos.

He that getteth wisdom loveth his own soul: he that keepeth understanding shall find good.

El que adquiere cordura a sí mismo se ama, y el que retiene el discernimiento prospera.

Let no man deceive himself. If any man among you seemeth to be wise in this world, let him become a fool, that he may be wise.

Que nadie se engañe. Si alguno de ustedes se cree sabio según las normas de esta época, hágase ignorante para así llegar a ser sabio.

He that keepeth his mouth keepeth his life: but he that openeth wide his lips shall have destruction.

El que refrena su lengua protege su vida, pero el ligero de labios provoca su ruina.

Who is a wise man and endued with knowledge among you? let him shew out of a good conversation his works with meekness of wisdom.

¿Quién es sabio y entendido entre ustedes? Que lo demuestre con su buena conducta, mediante obras hechas con la humildad que le da su sabiduría.

Therefore whosoever heareth these sayings of mine, and doeth them, I will liken him unto a wise man, which built his house upon a rock.

Por tanto, todo el que me oye estas palabras y las pone en práctica es como un hombre prudente que construyó su casa sobre la roca.

So teach us to number our days, that we may apply our hearts unto wisdom.

Enséñanos a contar bien nuestros días, para que nuestro corazón adquiera sabiduría.

When pride cometh, then cometh shame: but with the lowly is wisdom.

Con el orgullo viene el oprobio; con la humildad, la sabiduría.

For whoso findeth me findeth life, and shall obtain favour of the L

ord

.
En verdad, quien me encuentra halla la vida y recibe el favor del S

eñor

.
For my thoughts are not your thoughts, neither are your ways my ways, saith the L

ord

.
Porque mis pensamientos no son los de ustedes, ni sus caminos son los míos —afirma el S

eñor

—.

A fool hath no delight in understanding, but that his heart may discover itself.

Al necio no le complace el discernimiento; tan solo hace alarde de su propia opinión.

The fear of the L

ord

is the instruction of wisdom; and before honour is humility.
El temor del S

eñor

imparte sabiduría; la humildad precede a la honra.

The wise in heart will receive commandments: but a prating fool shall fall.

El de sabio corazón acata las órdenes, pero el necio y rezongón va camino al desastre.

This also cometh forth from the L

ord

of hosts, which is wonderful in counsel, and excellent in working.
También esto viene del S

eñor

Todopoderoso, admirable por su consejo y magnífico por su sabiduría.

I thank thee, and praise thee, O thou God of my fathers, who hast given me wisdom and might, and hast made known unto me now what we desired of thee: for thou hast now made known unto us the king's matter.

A ti, Dios de mis padres, te alabo y te doy gracias. Me has dado sabiduría y poder, me has dado a conocer lo que te pedimos, ¡me has dado a conocer el sueño del rey!

Hast thou not known? hast thou not heard, that the everlasting God, the L

ord

, the Creator of the ends of the earth, fainteth not, neither is weary? there is no searching of his understanding.
¿Acaso no lo sabes? ¿Acaso no te has enterado? El S

eñor

es el Dios eterno, creador de los confines de la tierra. No se cansa ni se fatiga, y su inteligencia es insondable.

He that is slow to wrath is of great understanding: but he that is hasty of spirit exalteth folly.

El que es paciente muestra gran discernimiento; el que es agresivo muestra mucha insensatez.

Even a fool, when he holdeth his peace, is counted wise: and he that shutteth his lips is esteemed a man of understanding.

Hasta un necio pasa por sabio si guarda silencio; se le considera prudente si cierra la boca.
Wherefore if they shall say unto you, Behold, he is in the desert; go not forth: behold, he is in the secret chambers; believe it not. For as the lightning cometh out of the east, and shineth even unto the west; so shall also the coming of the Son of man be.
Personal Bible reading plan
Create an account to configure your Bible reading plan and you will see your progress and the next chapter to read here!
Read more...