Bible Verses about Work
«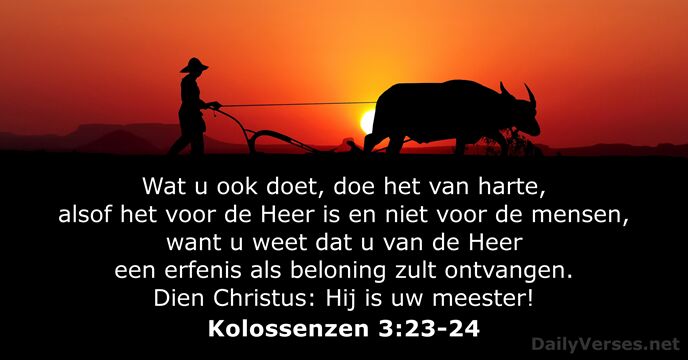 »
And whatever you do, do it heartily, as to the Lord and not to men, knowing that from the Lord you will receive the reward of the inheritance; for you serve the Lord Christ.

Wat u ook doet, doe het van harte, alsof het voor de Heer is en niet voor de mensen, want u weet dat u van de Heer een erfenis als beloning zult ontvangen - uw meester is Christus!

Commit your works to the L

ord

, And your thoughts will be established.
Vertrouw bij je werk op de

HEER

, en je plannen zullen slagen.
Let all that you do be done with love.

Alles wat u doet, moet u met liefde doen.

Therefore, my beloved brethren, be steadfast, immovable, always abounding in the work of the Lord, knowing that your labor is not in vain in the Lord.

Kortom, geliefde broeders en zusters, wees standvastig en onwankelbaar en zet u altijd volledig in voor het werk van de Heer, in het besef dat door de Heer uw inspanningen nooit tevergeefs zijn.

The blessing of the L

ord

makes one rich, And He adds no sorrow with it.
Alleen de zegen van de

HEER

maakt rijk, zwoegen voegt daar niets aan toe.
The hand of the diligent will rule, But the lazy man will be put to forced labor.

Een vlijtig mens verwerft gezag, luiheid leidt tot slavernij.

And whatever you do in word or deed, do all in the name of the Lord Jesus, giving thanks to God the Father through Him.

Doe alles wat u zegt of doet in de naam van de Heer Jezus, terwijl u God, de Vader, dankt door hem.

Wealth gained by dishonesty will be diminished, But he who gathers by labor will increase.

In de schoot geworpen rijkdom is weer snel verdwenen, gestage groei maakt rijk.

And God is able to make all grace abound toward you, that you, always having all sufficiency in all things, may have an abundance for every good work.

God heeft de macht u te overstelpen met al zijn gaven, zodat u altijd en in alle opzichten voldoende voor uzelf hebt en ook nog ruimschoots kunt bijdragen aan allerlei goed werk.

I know that nothing is better for them than to rejoice, and to do good in their lives, and also that every man should eat and drink and enjoy the good of all his labor—it is the gift of God.

Ik heb vastgesteld dat voor de mens niets goeds is weggelegd, behalve vrolijk te zijn en van het leven te genieten. Want wanneer hij zich aan eten en drinken te goed doet en geniet van al het goede dat hij moeizaam heeft verworven, is dat een geschenk van God.

And let the beauty of the L

ord

our God be upon us, And establish the work of our hands for us; Yes, establish the work of our hands.

Laat ons uw genade zien, Heer, onze God. Bevestig het werk van onze handen, het werk van onze handen, bevestig dat.

Look to yourselves, that we do not lose those things we worked for, but that we may receive a full reward.

Wees op uw hoede en verspeel niet wat we bereikt hebben, maar zorg dat u het volle loon ontvangt.

Be diligent to present yourself approved to God, a worker who does not need to be ashamed, rightly dividing the word of truth.

Span je in om voor God te staan als iemand die betrouwbaar is. Zorg dat je je niet voor je werk hoeft te schamen en verkondig regelrecht de waarheid.

Two are better than one, Because they have a good reward for their labor.

Je kunt beter met zijn tweeën dan alleen zijn, want – dat is zeker – samen zwoegen loont.

Look at the birds of the air, for they neither sow nor reap nor gather into barns; yet your heavenly Father feeds them. Are you not of more value than they?

Kijk naar de vogels in de lucht: ze zaaien niet en oogsten niet en vullen geen voorraadschuren, het is jullie hemelse Vader die ze voedt. Zijn jullie niet meer waard dan zij?

And who is he who will harm you if you become followers of what is good?

Overigens, wie zou u kwaad doen als u zich volledig inzet voor het goede?

As for every man to whom God has given riches and wealth, and given him power to eat of it, to receive his heritage and rejoice in his labor—this is the gift of God.

Wanneer een mens geniet van rijkdom en bezit, wanneer hem dat door God wordt toegestaan als zijn rechtmatig deel en hij zich verheugt in alles wat hij moeizaam heeft verworven, is dat een geschenk van God.

Here is what I have seen: It is good and fitting for one to eat and drink, and to enjoy the good of all his labor in which he toils under the sun all the days of his life which God gives him; for it is his heritage.

Het is daarom, zo heb ik ingezien, goed en weldadig voor een mens wanneer hij zich aan eten en drinken te goed doet, en geniet van alles wat hij heeft verworven. Daar zwoegt hij voor onder de zon gedurende het luttel aantal levensdagen dat hij van God gekregen heeft; dat is wat hem is toebedeeld.

Again, I saw that for all toil and every skillful work a man is envied by his neighbor. This also is vanity and grasping for the wind.

Ik heb al het gezwoeg gezien, en vastgesteld dat alles wat een mens bereikt het resultaat is van zijn afgunst op een ander. Ook dat is enkel lucht en najagen van wind.

But none of these things move me; nor do I count my life dear to myself, so that I may finish my race with joy, and the ministry which I received from the Lord Jesus, to testify to the gospel of the grace of God.

Ik hecht echter niet de minste waarde aan het behoud van mijn leven, als ik mijn levenstaak maar kan voltooien en de opdracht uitvoeren die ik van de Heer Jezus ontvangen heb: getuigen van het evangelie van Gods genade.

All Scripture is given by inspiration of God, and is profitable for doctrine, for reproof, for correction, for instruction in righteousness, that the man of God may be complete, thoroughly equipped for every good work.

Elke schrifttekst is door God geïnspireerd en kan gebruikt worden om onderricht te geven, om dwalingen en fouten te weerleggen, en om op te voeden tot een deugdzaam leven, zodat een dienaar van God voor zijn taak berekend is en voor elk goed doel volledig is toegerust.

There remains therefore a rest for the people of God. For he who has entered His rest has himself also ceased from his works as God did from His.

Er wacht het volk van God dus nog steeds een sabbatsrust. En wie is binnengegaan in zijn rust, vindt rust na zijn werk zoals God na het zijne.

Most assuredly, I say to you, he who believes in Me, the works that I do he will do also; and greater works than these he will do, because I go to My Father.

Waarachtig, ik verzeker jullie: wie op mij vertrouwt zal hetzelfde doen als ik, en zelfs meer dan dat, ik ga immers naar de Vader.

For God is not unjust to forget your work and labor of love which you have shown toward His name, in that you have ministered to the saints, and do minister.

Want God is niet zo onrechtvaardig dat hij vergeet wat u hebt gedaan, hoeveel liefde u aan zijn naam hebt betoond door sinds jaar en dag steun te verlenen aan de gelovigen.

Exhort bondservants to be obedient to their own masters, to be well pleasing in all things, not answering back, not pilfering, but showing all good fidelity, that they may adorn the doctrine of God our Savior in all things.

Slaven moeten in alles het gezag van hun meester erkennen en het hem naar de zin maken. Ze mogen hem niet tegenspreken of van hem stelen, maar moeten laten zien dat ze volkomen betrouwbaar zijn. Dan verhogen ze in alles wat ze doen het aanzien van de leer van God, onze redder.
Therefore, whether you eat or drink, or whatever you do, do all to the glory of God.
Personal Bible reading plan
Create an account to configure your Bible reading plan and you will see your progress and the next chapter to read here!
Read more...