Matthew 27 - KJV
Read this Bible chapter online, click
here
to read.
Bible Verses
And they stripped him, and put on him a scarlet robe. And when they had platted a crown of thorns, they put it upon his head, and a reed in his right hand: and they bowed the knee before him, and mocked him, saying, Hail, King of the Jews!
And set up over his head his accusation written, This Is Jesus The King Of The Jews.
Read more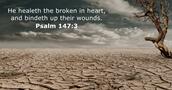 He healeth the broken in heart, and bindeth up their wounds.