33 Versetti della Bibbia sulla Conversione
«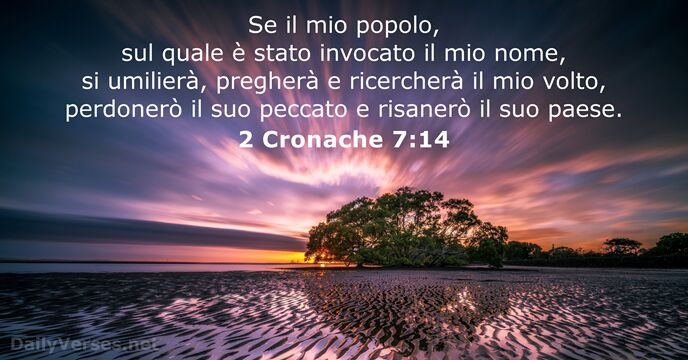 »
Se il mio popolo, sul quale è stato invocato il mio nome, si umilierà, pregherà e ricercherà il mio volto, perdonerò il suo peccato e risanerò il suo paese.

If my people, which are called by my name, shall humble themselves, and pray, and seek my face, and turn from their wicked ways; then will I hear from heaven, and will forgive their sin, and will heal their land.

Poiché il Signore vostro Dio è clemente e misericordioso e non distoglierà lo sguardo da voi, se voi farete ritorno a lui.

For the L

ord

your God is gracious and merciful, and will not turn away his face from you, if ye return unto him.

Mortificate dunque quella parte di voi che appartiene alla terra: fornicazione, impurità, passioni, desideri cattivi e quella avarizia insaziabile che è idolatria.

Mortify therefore your members which are upon the earth; fornication, uncleanness, inordinate affection, evil concupiscence, and covetousness, which is idolatry.

Il Signore non ritarda nell'adempiere la sua promessa, come certuni credono; ma usa pazienza verso di voi, non volendo che alcuno perisca, ma che tutti abbiano modo di pentirsi.

The Lord is not slack concerning his promise, as some men count slackness; but is longsuffering to us-ward, not willing that any should perish, but that all should come to repentance.

Io non godo della morte di chi muore. Parola del Signore Dio. Convertitevi e vivrete.

For I have no pleasure in the death of him that dieth, saith the Lord G

od

: wherefore turn yourselves, and live ye.

Pentitevi dunque e cambiate vita, perché siano cancellati i vostri peccati.

Repent ye therefore, and be converted, that your sins may be blotted out, when the times of refreshing shall come from the presence of the Lord.

Laceratevi il cuore e non le vesti, ritornate al Signore vostro Dio, perchè egli è misericordioso e benigno, tardo all'ira e ricco di benevolenza e si impietosisce riguardo alla sventura.

And rend your heart, and not your garments, and turn unto the L

ord

your God: for he is gracious and merciful, slow to anger, and of great kindness, and repenteth him of the evil.

E Pietro disse: «Pentitevi e ciascuno di voi si faccia battezzare nel nome di Gesù Cristo, per la remissione dei vostri peccati; dopo riceverete il dono dello Spirito Santo».

Then Peter said unto them, Repent, and be baptized every one of you in the name of Jesus Christ for the remission of sins, and ye shall receive the gift of the Holy Ghost.

Fate dunque frutti degni di conversione.

Bring forth therefore fruits meet for repentance.

Da allora Gesù cominciò a predicare e a dire: «Convertitevi, perché il regno dei cieli è vicino».

From that time Jesus began to preach, and to say, Repent: for the kingdom of heaven is at hand.

Così, vi dico, ci sarà più gioia in cielo per un peccatore convertito, che per novantanove giusti che non hanno bisogno di conversione.

I say unto you, that likewise joy shall be in heaven over one sinner that repenteth, more than over ninety and nine just persons, which need no repentance.

Perciò, deposta ogni impurità e ogni resto di malizia, accogliete con docilità la parola che è stata seminata in voi e che può salvare le vostre anime.

Wherefore lay apart all filthiness and superfluity of naughtiness, and receive with meekness the engrafted word, which is able to save your souls.

Io non sono venuto a chiamare i giusti, ma i peccatori a convertirsi.

I came not to call the righteous, but sinners to repentance.

Ho dissipato come nube le tue iniquità e i tuoi peccati come una nuvola. Ritorna a me, poiché io ti ho redento.

I have blotted out, as a thick cloud, thy transgressions, and, as a cloud, thy sins: return unto me; for I have redeemed thee.

«Or dunque - parola del Signore - ritornate a me con tutto il cuore, con digiuni, con pianti e lamenti».

Therefore also now, saith the L

ord

, turn ye even to me with all your heart, and with fasting, and with weeping, and with mourning.

«Il tempo è compiuto e il regno di Dio è vicino; convertitevi e credete al vangelo».

The time is fulfilled, and the kingdom of God is at hand: repent ye, and believe the gospel.

Io tutti quelli che amo li rimprovero e li castigo. Mostrati dunque zelante e ravvediti.

As many as I love, I rebuke and chasten: be zealous therefore, and repent.

L'empio abbandoni la sua via e l'uomo iniquo i suoi pensieri; ritorni al Signore che avrà misericordia di lui e al nostro Dio che largamente perdona.

Let the wicked forsake his way, and the unrighteous man his thoughts: and let him return unto the L

ord

, and he will have mercy upon him; and to our God, for he will abundantly pardon.

Dopo esser passato sopra ai tempi dell'ignoranza, ora Dio ordina a tutti gli uomini di tutti i luoghi di ravvedersi.

And the times of this ignorance God winked at; but now commandeth all men every where to repent.

Convertitevi a me - oracolo del Signore degli eserciti - e io mi rivolgerò a voi, dice il Signore degli eserciti.

Turn ye unto me, saith the L

ord

of hosts, and I will turn unto you, saith the L

ord

of hosts.

Fratelli, qualora uno venga sorpreso in qualche colpa, voi che avete lo Spirito correggetelo con dolcezza. E vigila su te stesso, per non cadere anche tu in tentazione.

Brethren, if a man be overtaken in a fault, ye which are spiritual, restore such an one in the spirit of meekness; considering thyself, lest thou also be tempted.

Convertitevi e desistete da tutte le vostre iniquità, e l'iniquità non sarà più causa della vostra rovina.

Repent, and turn yourselves from all your transgressions; so iniquity shall not be your ruin.

Non offrite le vostre membra come strumenti di ingiustizia al peccato, ma offrite voi stessi a Dio come vivi tornati dai morti e le vostre membra come strumenti di giustizia per Dio.

Neither yield ye your members as instruments of unrighteousness unto sin: but yield yourselves unto God, as those that are alive from the dead, and your members as instruments of righteousness unto God.

Ma se il malvagio si ritrae da tutti i peccati che ha commessi e osserva tutti i miei decreti e agisce con giustizia e rettitudine, egli vivrà, non morirà.

But if the wicked will turn from all his sins that he hath committed, and keep all my statutes, and do that which is lawful and right, he shall surely live, he shall not die.

Così, vi dico, c'è gioia davanti agli angeli di Dio per un solo peccatore che si converte.

Likewise, I say unto you, there is joy in the presence of the angels of God over one sinner that repenteth.
Ma io con voce di lode offrirò a te un sacrificio
e adempirò il voto che ho fatto;
la salvezza viene dal Signore.
«Mia parte è il Signore - io esclamo -
per questo in lui voglio sperare».
Leggi altro
Ma io con voce di lode offrirò a te un sacrificio e adempirò il voto che ho fatto; la salvezza viene dal Signore.
Piano di lettura personale della Bibbia
Crea un account per configurare il tuo piano di lettura della Bibbia, potrai vedere i tuoi progressi e il prossimo capitolo da leggere qui!
Consigliati
Consigliati