22 Versetti della Bibbia sulla Ricerca
«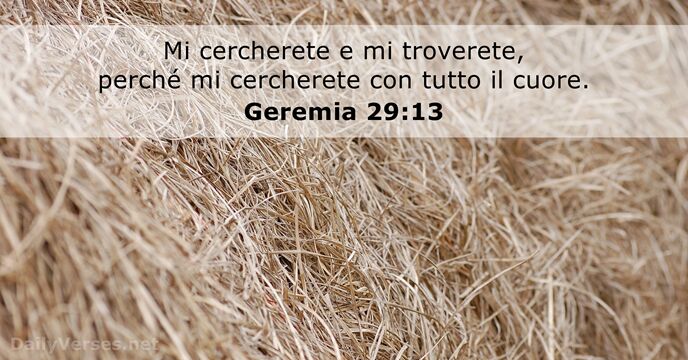 »
Mi cercherete e mi troverete, perché mi cercherete con tutto il cuore.

And ye shall seek me, and find me, when ye shall search for me with all your heart.

Il Signore sarà con voi, se voi sarete con lui; se lo ricercherete, si lascerà trovare da voi, ma se lo abbandonerete, vi abbandonerà.

The L

ord

is with you, while ye be with him; and if ye seek him, he will be found of you; but if ye forsake him, he will forsake you.

Cercate il Signore e la sua forza, ricercate sempre il suo volto.

Seek the L

ord

and his strength, seek his face continually.

O Dio, tu sei il mio Dio, all'aurora ti cerco, di te ha sete l'anima mia, a te anela la mia carne, come terra deserta, arida, senz'acqua.

O God, thou art my God; early will I seek thee: my soul thirsteth for thee, my flesh longeth for thee in a dry and thirsty land, where no water is.

Chiedete e vi sarà dato; cercate e troverete; bussate e vi sarà aperto.

Ask, and it shall be given you; seek, and ye shall find; knock, and it shall be opened unto you.

Cerca la gioia del Signore, esaudirà i desideri del tuo cuore.

Delight thyself also in the L

ord

: and he shall give thee the desires of thine heart.

Ho cercato il Signore e mi ha risposto e da ogni timore mi ha liberato.

I sought the L

ord

, and he heard me, and delivered me from all my fears.

Confidino in te quanti conoscono il tuo nome, perché non abbandoni chi ti cerca, Signore.

And they that know thy name will put their trust in thee: for thou, L

ord

, hast not forsaken them that seek thee.

Cercate il Signore e la sua potenza, cercate sempre il suo volto.

Seek the L

ord

, and his strength: seek his face evermore.

Cercate il Signore, mentre si fa trovare, invocatelo, mentre è vicino.

Seek ye the L

ord

while he may be found, call ye upon him while he is near.

Poiché così dice il Signore alla casa d'Israele: Cercate me e vivrete!

For thus saith the L

ord

unto the house of Israel, Seek ye me, and ye shall live.

Il Figlio dell'uomo infatti è venuto a cercare e a salvare ciò che era perduto.

For the Son of man is come to seek and to save that which was lost.

Beato chi è fedele ai suoi insegnamenti e lo cerca con tutto il cuore.

Blessed are they that keep his testimonies, and that seek him with the whole heart.

Mi feci ricercare da chi non mi interrogava, mi feci trovare da chi non mi cercava. Dissi: «Eccomi, eccomi» a gente che non invocava il mio nome.

I am sought of them that asked not for me; I am found of them that sought me not: I said, Behold me, behold me, unto a nation that was not called by my name.

Chi ha trovato una moglie ha trovato una fortuna, ha ottenuto il favore del Signore.

Whoso findeth a wife findeth a good thing, and obtaineth favour of the L

ord

.

I ricchi impoveriscono e hanno fame, ma chi cerca il Signore non manca di nulla.

The young lions do lack, and suffer hunger: but they that seek the L

ord

shall not want any good thing.

Signore, tu mi scruti e mi conosci, tu sai quando seggo e quando mi alzo. Penetri da lontano i miei pensieri.

O L

ord

, thou hast searched me, and known me. Thou knowest my downsitting and mine uprising, thou understandest my thought afar off.

Cercate il bene e non il male, se volete vivere, e così il Signore, Dio degli eserciti, sia con voi, come voi dite.

Seek good, and not evil, that ye may live: and so the L

ord

, the God of hosts, shall be with you, as ye have spoken.

Per il resto, attingete forza nel Signore e nel vigore della sua potenza.

Finally, my brethren, be strong in the Lord, and in the power of his might.

Senza la fede però è impossibile essergli graditi; chi infatti s'accosta a Dio deve credere che egli esiste e che egli ricompensa coloro che lo cercano.

But without faith it is impossible to please him: for he that cometh to God must believe that he is, and that he is a rewarder of them that diligently seek him.

Sappi che tale è la sapienza per te: se l'acquisti, avrai un avvenire e la tua speranza non sarà stroncata.

So shall the knowledge of wisdom be unto thy soul: when thou hast found it, then there shall be a reward, and thy expectation shall not be cut off.

Sarò sicuro nel mio cammino, perché ho ricercato i tuoi voleri.

And I will walk at liberty: for I seek thy precepts.
Al mattino fammi sentire la tua grazia,
poiché in te confido.
Fammi conoscere la strada da percorrere,
perché a te si innalza l'anima mia.
Il Signore è lo Spirito e dove c'è lo Spirito del Signore c'è libertà.
Leggi altro
Al mattino fammi sentire la tua grazia, poiché in te confido. Fammi conoscere la strada da percorrere, perché a te si innalza l'anima mia.
Piano di lettura personale della Bibbia
Crea un account per configurare il tuo piano di lettura della Bibbia, potrai vedere i tuoi progressi e il prossimo capitolo da leggere qui!
Consigliati
Consigliati