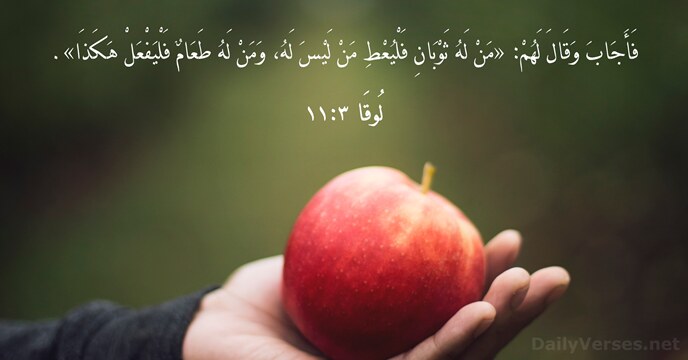 | | |
| --- | --- |
| And he answered them, "Whoever has two tunics is to share with him who has none, and whoever has food is to do likewise." | فَأَجَابَ وَقَالَ لَهُمْ: «مَنْ لَهُ ثَوْبَانِ فَلْيُعْطِ مَنْ لَيْسَ لَهُ، وَمَنْ لَهُ طَعَامٌ فَلْيَفْعَلْ هَكَذَا». |
| Now when all the people were baptized, and when Jesus also had been baptized and was praying, the heavens were opened, and the Holy Spirit descended on him in bodily form, like a dove; and a voice came from heaven, "You are my beloved Son; with you I am well pleased." | وَلَمَّا ٱعْتَمَدَ جَمِيعُ ٱلشَّعْبِ ٱعْتَمَدَ يَسُوعُ أَيْضًا. وَإِذْ كَانَ يُصَلِّي ٱنْفَتَحَتِ ٱلسَّمَاءُ، وَنَزَلَ عَلَيْهِ ٱلرُّوحُ ٱلْقُدُسُ بِهَيْئَةٍ جِسْمِيَّةٍ مِثْلِ حَمَامَةٍ. وَكَانَ صَوْتٌ مِنَ ٱلسَّمَاءِ قَائِلًا: «أَنْتَ ٱبْنِي ٱلْحَبِيبُ، بِكَ سُرِرْتُ». |
Do not be deceived: God is not mocked, for whatever one sows, that will he also reap.
Personal Bible reading plan
Create an account to configure your Bible reading plan and you will see your progress and the next chapter to read here!
Read more...