<

December 20, 2012
Do not wear yourself out to get rich;
do not trust your own cleverness.
Read this Bible chapter online, click
here
to read.
King James Version (KJV)
Labour not to be rich:
cease from thine own wisdom.
English Standard Version (ESV)
Do not toil to acquire wealth;
be discerning enough to desist.
New King James Version (NKJV)
Do not overwork to be rich;
Because of your own understanding, cease!
Bible verse of the day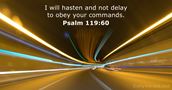 I will hasten and not delay to obey your commands.