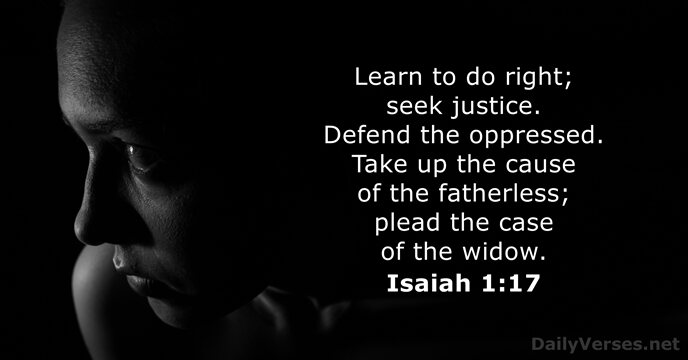 Learn to do right; seek justice.
Defend the oppressed.
Take up the cause of the fatherless;
plead the case of the widow.
Read this Bible chapter online, click
here
to read.
King James Version (KJV)
Learn to do well; seek judgment,
relieve the oppressed,
judge the fatherless,
plead for the widow.
English Standard Version (ESV)
Learn to do good;
seek justice,
correct oppression;
bring justice to the fatherless,
plead the widow's cause.
New King James Version (NKJV)
Learn to do good;
Seek justice,
Rebuke the oppressor;
Defend the fatherless,
Plead for the widow.
Receive the Daily Bible Verse:
Personal Bible reading plan
Have you always wanted to read the Bible entirely, but are you having difficulty keeping up with other reading plans?
Our personal Bible reading plan is the solution! For every day of the week you can configure how much you want to read and from which Bible book. A reminder in your mailbox every day.
Read more
!
Subscribe for the Bible verse of the day and the personal bible read plan at the
subscription
page.
Bible verses by topic
Old Testament
New Testament