<

Verse of the Day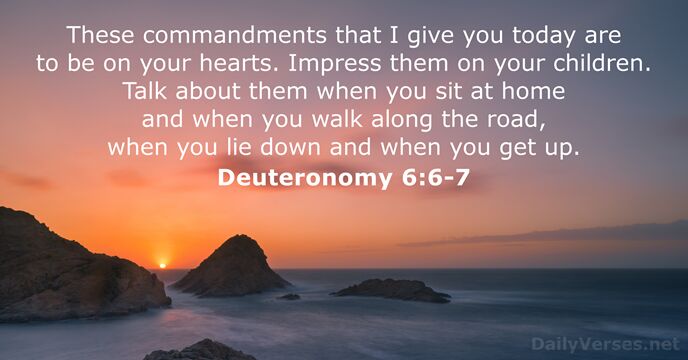 These commandments that I give you today are to be on your hearts. Impress them on your children. Talk about them when you sit at home and when you walk along the road, when you lie down and when you get up.
Read this Bible chapter online, click
here
to read.
King James Version
And these words, which I command thee this day, shall be in thine heart: And thou shalt teach them diligently unto thy children, and shalt talk of them when thou sittest in thine house, and when thou walkest by the way, and when thou liest down, and when thou risest up.
English Standard Version
And these words that I command you today shall be on your heart. You shall teach them diligently to your children, and shall talk of them when you sit in your house, and when you walk by the way, and when you lie down, and when you rise.
Receive the Daily Bible Verse:
Personal Bible reading plan
Have you always wanted to read the Bible entirely, but are you having difficulty keeping up with other reading plans?
Our personal Bible reading plan is the solution! For every day of the week you can configure how much you want to read and from which Bible book. A reminder in your mailbox every day.
Read more
!
Subscribe for the Bible verse of the day and the personal bible read plan at the
subscription
page.
Bible verses by topic
Old Testament
New Testament