Versículos de la Biblia sobre la Alegría
«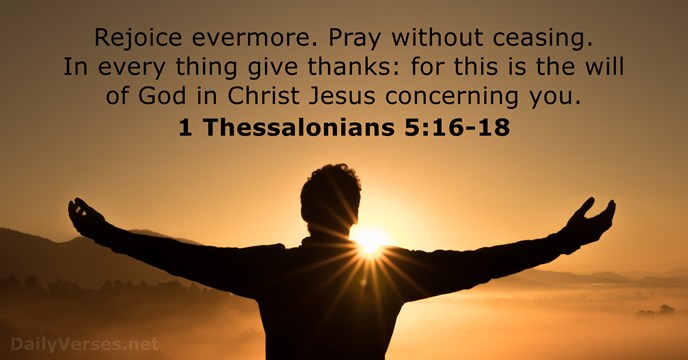 »
Estad siempre gozosos. Orad sin cesar. Dad gracias en todo, porque esta es la voluntad de Dios para con vosotros en Cristo Jesús.

Rejoice evermore. Pray without ceasing. In every thing give thanks: for this is the will of God in Christ Jesus concerning you.

Jehová está en medio de ti, poderoso, él salvará; se gozará sobre ti con alegría, callará de amor, se regocijará sobre ti con cánticos.

The L

ord

thy God in the midst of thee is mighty; he will save, he will rejoice over thee with joy; he will rest in his love, he will joy over thee with singing.

Gozosos en la esperanza; sufridos en la tribulación; constantes en la oración.

Rejoicing in hope; patient in tribulation; continuing instant in prayer.

Regocijaos en el Señor siempre. Otra vez digo: !!Regocijaos!

Rejoice in the Lord always: and again I say, Rejoice.

En la multitud de mis pensamientos dentro de mí, Tus consolaciones alegraban mi alma.

In the multitude of my thoughts within me thy comforts delight my soul.

Este es el día que hizo Jehová; Nos gozaremos y alegraremos en él.

This is the day which the L

ord

hath made; we will rejoice and be glad in it.

Aunque la higuera no florezca, Ni en las vides haya frutos, Aunque falte el producto del olivo, Y los labrados no den mantenimiento, Y las ovejas sean quitadas de la majada, Y no haya vacas en los corrales; Con todo, yo me alegraré en Jehová, Y me gozaré en el Dios de mi salvación.

Although the fig tree shall not blossom, neither shall fruit be in the vines; the labour of the olive shall fail, and the fields shall yield no meat; the flock shall be cut off from the fold, and there shall be no herd in the stalls: Yet I will rejoice in the L

ord

, I will joy in the God of my salvation.

Me mostrarás la senda de la vida; En tu presencia hay plenitud de gozo; Delicias a tu diestra para siempre.

Thou wilt shew me the path of life: in thy presence is fulness of joy; at thy right hand there are pleasures for evermore.

A quien amáis sin haberle visto, en quien creyendo, aunque ahora no lo veáis, os alegráis con gozo inefable y glorioso; obteniendo el fin de vuestra fe, que es la salvación de vuestras almas.

Whom having not seen, ye love; in whom, though now ye see him not, yet believing, ye rejoice with joy unspeakable and full of glory: Receiving the end of your faith, even the salvation of your souls.

En gran manera me gozaré en Jehová, mi alma se alegrará en mi Dios; porque me vistió con vestiduras de salvación, me rodeó de manto de justicia, como a novio me atavió, y como a novia adornada con sus joyas.

I will greatly rejoice in the L

ord

, my soul shall be joyful in my God; for he hath clothed me with the garments of salvation, he hath covered me with the robe of righteousness, as a bridegroom decketh himself with ornaments, and as a bride adorneth herself with her jewels.

Hasta ahora nada habéis pedido en mi nombre; pedid, y recibiréis, para que vuestro gozo sea cumplido.

Hitherto have ye asked nothing in my name: ask, and ye shall receive, that your joy may be full.

Por lo cual, por amor a Cristo me gozo en las debilidades, en afrentas, en necesidades, en persecuciones, en angustias; porque cuando soy débil, entonces soy fuerte.

Therefore I take pleasure in infirmities, in reproaches, in necessities, in persecutions, in distresses for Christ's sake: for when I am weak, then am I strong.

El hombre se alegra con la respuesta de su boca; Y la palabra a su tiempo, !!cuán buena es!

A man hath joy by the answer of his mouth: and a word spoken in due season, how good is it!

Cada uno dé como propuso en su corazón: no con tristeza, ni por necesidad, porque Dios ama al dador alegre.

Every man according as he purposeth in his heart, so let him give; not grudgingly, or of necessity: for God loveth a cheerful giver.

Tú eres mi refugio; me guardarás de la angustia; Con cánticos de liberación me rodearás. Selah
Thou art my hiding place; thou shalt preserve me from trouble; thou shalt compass me about with songs of deliverance. Selah.

Mas el fruto del Espíritu es amor, gozo, paz, paciencia, benignidad, bondad, fe, mansedumbre, templanza; contra tales cosas no hay ley.

But the fruit of the Spirit is love, joy, peace, longsuffering, gentleness, goodness, faith, Meekness, temperance: against such there is no law.

Gozaos con los que se gozan; llorad con los que lloran.

Rejoice with them that do rejoice, and weep with them that weep.

Para que con gozo llegue a vosotros por la voluntad de Dios, y que sea recreado juntamente con vosotros.

That I may come unto you with joy by the will of God, and may with you be refreshed.

Estas cosas os he hablado, para que mi gozo esté en vosotros, y vuestro gozo sea cumplido.

These things have I spoken unto you, that my joy might remain in you, and that your joy might be full.

Por heredad he tomado tus testimonios para siempre, Porque son el gozo de mi corazón.

Thy testimonies have I taken as an heritage for ever: for they are the rejoicing of my heart.

Pero sin fe es imposible agradar a Dios; porque es necesario que el que se acerca a Dios crea que le hay, y que es galardonador de los que le buscan.

But without faith it is impossible to please him: for he that cometh to God must believe that he is, and that he is a rewarder of them that diligently seek him.

Porque Jehová tiene contentamiento en su pueblo; Hermoseará a los humildes con la salvación.

For the L

ord

taketh pleasure in his people: he will beautify the meek with salvation.

Pero gran ganancia es la piedad acompañada de contentamiento.

But godliness with contentment is great gain.

El corazón alegre constituye buen remedio; Mas el espíritu triste seca los huesos.

A merry heart doeth good like a medicine: but a broken spirit drieth the bones.

Me he gozado en el camino de tus testimonios Más que de toda riqueza.

I have rejoiced in the way of thy testimonies, as much as in all riches.
La dádiva del hombre le ensancha el camino Y le lleva delante de los grandes.
Plan de lectura de la Biblia
Registrar y configurar su plan de lectura de la Biblia que desea ver su progreso y el siguiente capítulo para leer aquí!