95 Versículos de la Biblia sobre Dios
«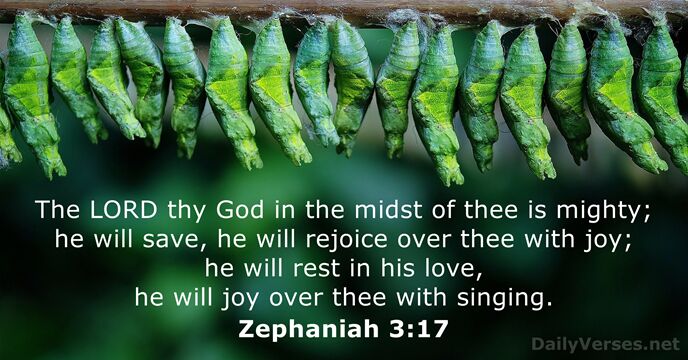 »
Jehová está en medio de ti, poderoso, él salvará; se gozará sobre ti con alegría, callará de amor, se regocijará sobre ti con cánticos.

The L

ord

thy God in the midst of thee is mighty; he will save, he will rejoice over thee with joy; he will rest in his love, he will joy over thee with singing.

Mira que te mando que te esfuerces y seas valiente; no temas ni desmayes, porque Jehová tu Dios estará contigo en dondequiera que vayas.

Have not I commanded thee? Be strong and of a good courage; be not afraid, neither be thou dismayed: for the L

ord

thy God is with thee whithersoever thou goest.

Porque yo Jehová soy tu Dios, quien te sostiene de tu mano derecha, y te dice: No temas, yo te ayudo.

For I the L

ord

thy God will hold thy right hand, saying unto thee, Fear not; I will help thee.

Mas si desde allí buscares a Jehová tu Dios, lo hallarás, si lo buscares de todo tu corazón y de toda tu alma.

But if from thence thou shalt seek the L

ord

thy God, thou shalt find him, if thou seek him with all thy heart and with all thy soul.

¿A quién tengo yo en los cielos sino a ti? Y fuera de ti nada deseo en la tierra.

Whom have I in heaven but thee? and there is none upon earth that I desire beside thee.

En el día que temo, Yo en ti confío.

What time I am afraid, I will trust in thee.

Jehová, tú eres mi Dios; te exaltaré, alabaré tu nombre, porque has hecho maravillas; tus consejos antiguos son verdad y firmeza.

O Lord, thou art my God; I will exalt thee, I will praise thy name; for thou hast done wonderful things; thy counsels of old are faithfulness and truth.

Porque tú eres mi roca y mi castillo; Por tu nombre me guiarás y me encaminarás.

For thou art my rock and my fortress; therefore for thy name's sake lead me, and guide me.

Todo lo puedo en Cristo que me fortalece.

I can do all things through Christ which strengtheneth me.

Nosotros le amamos a él, porque él nos amó primero.

We love him, because he first loved us.

Y nosotros hemos conocido y creído el amor que Dios tiene para con nosotros. Dios es amor; y el que permanece en amor, permanece en Dios, y Dios en él.

And we have known and believed the love that God hath to us. God is love; and he that dwelleth in love dwelleth in God, and God in him.

Por tanto, tú te has engrandecido, Jehová Dios; por cuanto no hay como tú, ni hay Dios fuera de ti, conforme a todo lo que hemos oído con nuestros oídos.

Wherefore thou art great, O L

ord

God: for there is none like thee, neither is there any God beside thee, according to all that we have heard with our ears.

Porque toda casa es hecha por alguno; pero el que hizo todas las cosas es Dios.

For every house is builded by some man; but he that built all things is God.

Gustad, y ved que es bueno Jehová; Dichoso el hombre que confía en él.

O taste and see that the L

ord

is good: blessed is the man that trusteth in him.

Levántate, resplandece; porque ha venido tu luz, y la gloria de Jehová ha nacido sobre ti.

Arise, shine; for thy light is come, and the glory of the L

ord

is risen upon thee.

No os engañéis; Dios no puede ser burlado: pues todo lo que el hombre sembrare, eso también segará.

Be not deceived; God is not mocked: for whatsoever a man soweth, that shall he also reap.

Si alguno dice: Yo amo a Dios, y aborrece a su hermano, es mentiroso. Pues el que no ama a su hermano a quien ha visto, ¿cómo puede amar a Dios a quien no ha visto?

If a man say, I love God, and hateth his brother, he is a liar: for he that loveth not his brother whom he hath seen, how can he love God whom he hath not seen?

Nadie ha visto jamás a Dios. Si nos amamos unos a otros, Dios permanece en nosotros, y su amor se ha perfeccionado en nosotros.

No man hath seen God at any time. If we love one another, God dwelleth in us, and his love is perfected in us.

Porque el que me halle, hallará la vida, Y alcanzará el favor de Jehová.

For whoso findeth me findeth life, and shall obtain favour of the L

ord

.

Porque mis pensamientos no son vuestros pensamientos, ni vuestros caminos mis caminos, dijo Jehová.

For my thoughts are not your thoughts, neither are your ways my ways, saith the L

ord

.

Oh alma mía, dijiste a Jehová: Tú eres mi Señor; No hay para mí bien fuera de ti.

O my soul, thou hast said unto the L

ord

, Thou art my Lord: my goodness extendeth not to thee.

Regocijaos en el Señor siempre. Otra vez digo: !!Regocijaos!

Rejoice in the Lord always: and again I say, Rejoice.

No hay santo como Jehová; Porque no hay ninguno fuera de ti, Y no hay refugio como el Dios nuestro.

There is none holy as the L

ord

: for there is none beside thee: neither is there any rock like our God.

Humillaos delante del Señor, y él os exaltará.

Humble yourselves in the sight of the Lord, and he shall lift you up.

Honra a tu padre y a tu madre, para que tus días se alarguen en la tierra que Jehová tu Dios te da.

Honour thy father and thy mother: that thy days may be long upon the land which the L

ord

thy God giveth thee.
El necio da rienda suelta a toda su ira,
Mas el sabio al fin la sosiega.
Para que con gozo llegue a vosotros por la voluntad de Dios, y que sea recreado juntamente con vosotros.
El necio da rienda suelta a toda su ira, Mas el sabio al fin la sosiega.
Plan de lectura de la Biblia
Registrar y configurar su plan de lectura de la Biblia que desea ver su progreso y el siguiente capítulo para leer aquí!