Versículos de la Biblia sobre la Obediencia
«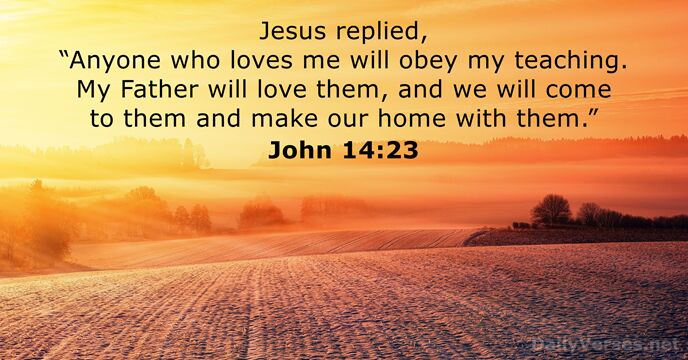 »
Respondió Jesús y le dijo: El que me ama, mi palabra guardará; y mi Padre le amará, y vendremos a él, y haremos morada con él.

Jesus replied, "Anyone who loves me will obey my teaching. My Father will love them, and we will come to them and make our home with them."

Acontecerá que si oyeres atentamente la voz de Jehová tu Dios, para guardar y poner por obra todos sus mandamientos que yo te prescribo hoy, también Jehová tu Dios te exaltará sobre todas las naciones de la tierra.

If you fully obey the L

ord

your God and carefully follow all his commands I give you today, the L

ord

your God will set you high above all the nations on earth.

Guarda, hijo mío, el mandamiento de tu padre, Y no dejes la enseñanza de tu madre.

My son, keep your father's command and do not forsake your mother's teaching.

Andad en todo el camino que Jehová vuestro Dios os ha mandado, para que viváis y os vaya bien, y tengáis largos días en la tierra que habéis de poseer.

Walk in obedience to all that the L

ord

your God has commanded you, so that you may live and prosper and prolong your days in the land that you will possess.

Pero sed hacedores de la palabra, y no tan solamente oidores, engañándoos a vosotros mismos.

Do not merely listen to the word, and so deceive yourselves. Do what it says.

Camino a la vida es guardar la instrucción; Pero quien desecha la reprensión, yerra.

Whoever heeds discipline shows the way to life, but whoever ignores correction leads others astray.

No me elegisteis vosotros a mí, sino que yo os elegí a vosotros, y os he puesto para que vayáis y llevéis fruto, y vuestro fruto permanezca; para que todo lo que pidiereis al Padre en mi nombre, él os lo dé.

You did not choose me, but I chose you and appointed you so that you might go and bear fruit—fruit that will last—and so that whatever you ask in my name the Father will give you.

Así que, hermanos míos amados, estad firmes y constantes, creciendo en la obra del Señor siempre, sabiendo que vuestro trabajo en el Señor no es en vano.

Therefore, my dear brothers and sisters, stand firm. Let nothing move you. Always give yourselves fully to the work of the Lord, because you know that your labor in the Lord is not in vain.

No os conforméis a este siglo, sino transformaos por medio de la renovación de vuestro entendimiento, para que comprobéis cuál sea la buena voluntad de Dios, agradable y perfecta.

Do not conform to the pattern of this world, but be transformed by the renewing of your mind. Then you will be able to test and approve what God's will is—his good, pleasing and perfect will.

Guarda los preceptos de Jehová tu Dios, andando en sus caminos, y observando sus estatutos y mandamientos, sus decretos y sus testimonios, de la manera que está escrito en la ley de Moisés, para que prosperes en todo lo que hagas y en todo aquello que emprendas.

Observe what the L

ord

your God requires: Walk in obedience to him, and keep his decrees and commands, his laws and regulations, as written in the Law of Moses. Do this so that you may prosper in all you do and wherever you go.

Amados, si nuestro corazón no nos reprende, confianza tenemos en Dios; y cualquiera cosa que pidiéremos la recibiremos de él, porque guardamos sus mandamientos, y hacemos las cosas que son agradables delante de él.

Dear friends, if our hearts do not condemn us, we have confidence before God and receive from him anything we ask, because we keep his commands and do what pleases him.

Porque así como por la desobediencia de un hombre los muchos fueron constituidos pecadores, así también por la obediencia de uno, los muchos serán constituidos justos.

For just as through the disobedience of the one man the many were made sinners, so also through the obedience of the one man the many will be made righteous.

Pero a vosotros los que oís, os digo: Amad a vuestros enemigos, haced bien a los que os aborrecen; bendecid a los que os maldicen, y orad por los que os calumnian.

But to you who are listening I say: Love your enemies, do good to those who hate you, bless those who curse you, pray for those who mistreat you.

Someteos, pues, a Dios; resistid al diablo, y huirá de vosotros.

Submit yourselves, then, to God. Resist the devil, and he will flee from you.

Nunca se apartará de tu boca este libro de la ley, sino que de día y de noche meditarás en él, para que guardes y hagas conforme a todo lo que en él está escrito; porque entonces harás prosperar tu camino, y todo te saldrá bien.

Keep this Book of the Law always on your lips; meditate on it day and night, so that you may be careful to do everything written in it. Then you will be prosperous and successful.

Si no oyereis, y si no decidís de corazón dar gloria a mi nombre, ha dicho Jehová de los ejércitos, enviaré maldición sobre vosotros, y maldeciré vuestras bendiciones; y aun las he maldecido, porque no os habéis decidido de corazón.

"If you do not listen, and if you do not resolve to honor my name," says the L

ord

Almighty, "I will send a curse on you, and I will curse your blessings. Yes, I have already cursed them, because you have not resolved to honor me."

Sométase toda persona a las autoridades superiores; porque no hay autoridad sino de parte de Dios, y las que hay, por Dios han sido establecidas.

Let everyone be subject to the governing authorities, for there is no authority except that which God has established. The authorities that exist have been established by God.

En lo que requiere diligencia, no perezosos; fervientes en espíritu, sirviendo al Señor.

Never be lacking in zeal, but keep your spiritual fervor, serving the Lord.

Aquél, respondiendo, dijo: Amarás al Señor tu Dios con todo tu corazón, y con toda tu alma, y con todas tus fuerzas, y con toda tu mente; y a tu prójimo como a ti mismo.

He answered, 'Love the Lord your God with all your heart and with all your soul and with all your strength and with all your mind'; and, 'Love your neighbor as yourself.'

Y decía a todos: Si alguno quiere venir en pos de mí, niéguese a sí mismo, tome su cruz cada día, y sígame.

Then he said to them all: "Whoever wants to be my disciple must deny themselves and take up their cross daily and follow me."

Bienaventurado todo aquel que teme a Jehová, Que anda en sus caminos.

Blessed are all who fear the L

ord

, who walk in obedience to him.

Porque todos los que son guiados por el Espíritu de Dios, éstos son hijos de Dios.

For those who are led by the Spirit of God are the children of God.

Y nosotros somos testigos suyos de estas cosas, y también el Espíritu Santo, el cual ha dado Dios a los que le obedecen.

We are witnesses of these things, and so is the Holy Spirit, whom God has given to those who obey him.

Así que, hermanos, os ruego por las misericordias de Dios, que presentéis vuestros cuerpos en sacrificio vivo, santo, agradable a Dios, que es vuestro culto racional.

Therefore, I urge you, brothers and sisters, in view of God's mercy, to offer your bodies as a living sacrifice, holy and pleasing to God—this is your true and proper worship.

Y toda lengua confiese que Jesucristo es el Señor, para gloria de Dios Padre.

And every tongue acknowledge that Jesus Christ is Lord, to the glory of God the Father.
Jesús les respondió: De cierto, de cierto os digo, que todo aquel que hace pecado, esclavo es del pecado.
Plan de lectura de la Biblia
Registrar y configurar su plan de lectura de la Biblia que desea ver su progreso y el siguiente capítulo para leer aquí!