Bible Verses about Friendship
«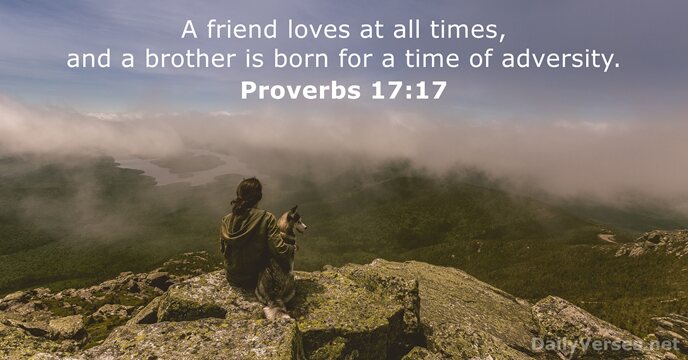 »
| | |
| --- | --- |
| A friend loves at all times, and a brother is born for adversity. | A friend loves at all times, and a brother is born for a time of adversity. |
| Greater love has no one than this, that someone lay down his life for his friends. | Greater love has no one than this: to lay down one's life for one's friends. |
| A man of many companions may come to ruin, but there is a friend who sticks closer than a brother. | One who has unreliable friends soon comes to ruin, but there is a friend who sticks closer than a brother. |
| Whoever covers an offense seeks love, but he who repeats a matter separates close friends. | Whoever would foster love covers over an offense, but whoever repeats the matter separates close friends. |
| Behold, how good and pleasant it is when brothers dwell in unity! | How good and pleasant it is when God's people live together in unity! |
| For if they fall, one will lift up his fellow. But woe to him who is alone when he falls and has not another to lift him up! | If either of them falls down, one can help the other up. But pity anyone who falls and has no one to help them up. |
| Beloved, let us love one another, for love is from God, and whoever loves has been born of God and knows God. | Dear friends, let us love one another, for love comes from God. Everyone who loves has been born of God and knows God. |
| And though a man might prevail against one who is alone, two will withstand him—a threefold cord is not quickly broken. | Though one may be overpowered, two can defend themselves. A cord of three strands is not quickly broken. |
| A dishonest man spreads strife, and a whisperer separates close friends. | A perverse person stirs up conflict, and a gossip separates close friends. |
| He who withholds kindness from a friend forsakes the fear of the Almighty. | Anyone who withholds kindness from a friend forsakes the fear of the Almighty. |
| And this commandment we have from him: whoever loves God must also love his brother. | And he has given us this command: Anyone who loves God must also love their brother and sister. |
| Iron sharpens iron, and one man sharpens another. | As iron sharpens iron, so one person sharpens another. |
| Two are better than one, because they have a good reward for their toil. | Two are better than one, because they have a good return for their labor. |
| Do not be deceived: "Bad company ruins good morals." | Do not be misled: "Bad company corrupts good character." |
| Do not forsake your friend and your father's friend, and do not go to your brother's house in the day of your calamity. Better is a neighbor who is near than a brother who is far away. | Do not forsake your friend or a friend of your family, and do not go to your relative's house when disaster strikes you— better a neighbor nearby than a relative far away. |
| You adulterous people! Do you not know that friendship with the world is enmity with God? Therefore whoever wishes to be a friend of the world makes himself an enemy of God. | You adulterous people, don't you know that friendship with the world means enmity against God? Therefore, anyone who chooses to be a friend of the world becomes an enemy of God. |
| For I long to see you, that I may impart to you some spiritual gift to strengthen you— that is, that we may be mutually encouraged by each other's faith, both yours and mine. | I long to see you so that I may impart to you some spiritual gift to make you strong— that is, that you and I may be mutually encouraged by each other's faith. |
| Honor your father and mother, and, You shall love your neighbor as yourself. | 'Honor your father and mother,' and 'love your neighbor as yourself.' |
| God settles the solitary in a home; he leads out the prisoners to prosperity, but the rebellious dwell in a parched land. | God sets the lonely in families, he leads out the prisoners with singing; but the rebellious live in a sun-scorched land. |
Look at the birds of the air: they neither sow nor reap nor gather into barns, and yet your heavenly Father feeds them. Are you not of more value than they?
Personal Bible reading plan
Create an account to configure your Bible reading plan and you will see your progress and the next chapter to read here!
Read more...