Versetti della Bibbia sulla Giustizia
«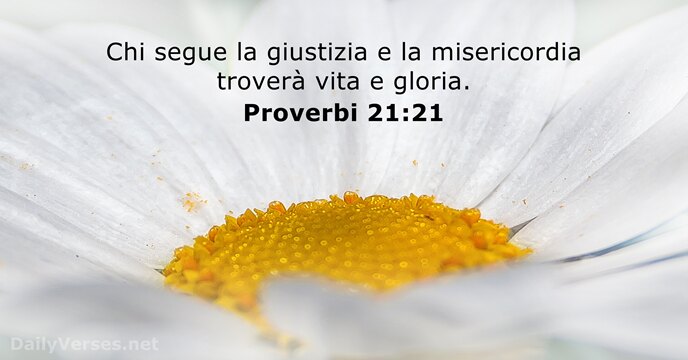 »
Chi segue la giustizia e la misericordia troverà vita e gloria.

He who follows righteousness and mercy Finds life, righteousness, and honor.

Il quale renderà a ciascuno secondo le sue opere.

Who "will render to each one according to his deeds"

Ma tu, uomo di Dio, fuggi queste cose; tendi alla giustizia, alla pietà, alla fede, alla carità, alla pazienza, alla mitezza.

But you, O man of God, flee these things and pursue righteousness, godliness, faith, love, patience, gentleness.

Perché il Signore ama la giustizia e non abbandona i suoi fedeli; gli empi saranno distrutti per sempre e la loro stirpe sarà sterminata.

For the L

ord

loves justice, And does not forsake His saints; They are preserved forever, But the descendants of the wicked shall be cut off.

Non vi fate illusioni; non ci si può prendere gioco di Dio. Ciascuno raccoglierà quello che avrà seminato.

Do not be deceived, God is not mocked; for whatever a man sows, that he will also reap.

Agli occhi dell'uomo tutte le sue vie sono rette, ma chi pesa i cuori è il Signore.

Every way of a man is right in his own eyes, But the L

ord

weighs the hearts.

Cercate prima il regno di Dio e la sua giustizia, e tutte queste cose vi saranno date in aggiunta.

But seek first the kingdom of God and His righteousness, and all these things shall be added to you.

Egli non vacillerà in eterno: Il giusto sarà sempre ricordato.

Surely he will never be shaken; The righteous will be in everlasting remembrance.

Praticare la giustizia e l'equità per il Signore vale più di un sacrificio.

To do righteousness and justice Is more acceptable to the L

ord

than sacrifice.
E se anche doveste soffrire per la giustizia, beati voi! Non vi sgomentate per paura di loro, né vi turbate.
But even if you should suffer for righteousness' sake, you are blessed. "And do not be afraid of their threats, nor be troubled."

Gli occhi del Signore sui giusti, i suoi orecchi al loro grido di aiuto.

The eyes of the L

ord

are on the righteous, And His ears are open to their cry.

E non stanchiamoci di fare il bene; se infatti non desistiamo, a suo tempo mieteremo.

And let us not grow weary while doing good, for in due season we shall reap if we do not lose heart.

Guardatevi dal rendere male per male ad alcuno; ma cercate sempre il bene tra voi e con tutti.

See that no one renders evil for evil to anyone, but always pursue what is good both for yourselves and for all.

Colui che non aveva conosciuto peccato, Dio lo trattò da peccato in nostro favore, perché noi potessimo diventare per mezzo di lui giustizia di Dio.

For He made Him who knew no sin to be sin for us, that we might become the righteousness of God in Him.

In conclusione, fratelli, tutto quello che è vero, nobile, giusto, puro, amabile, onorato, quello che è virtù e merita lode, tutto questo sia oggetto dei vostri pensieri.

Finally, brethren, whatever things are true, whatever things are noble, whatever things are just, whatever things are pure, whatever things are lovely, whatever things are of good report, if there is any virtue and if there is anything praiseworthy—meditate on these things.

E' apparsa infatti la grazia di Dio, apportatrice di salvezza per tutti gli uomini, che ci insegna a rinnegare l'empietà e i desideri mondani e a vivere con sobrietà, giustizia e pietà in questo mondo.

For the grace of God that brings salvation has appeared to all men, teaching us that, denying ungodliness and worldly lusts, we should live soberly, righteously, and godly in the present age.

Beato l'uomo che non segue il consiglio degli empi, non indugia nella via dei peccatori e non siede in compagnia degli stolti.

Blessed is the man Who walks not in the counsel of the ungodly, Nor stands in the path of sinners, Nor sits in the seat of the scornful.

Un frutto di giustizia viene seminato nella pace per coloro che fanno opera di pace.

Now the fruit of righteousness is sown in peace by those who make peace.

Non giovano i tesori male acquistati, mentre la giustizia libera dalla morte.

Treasures of wickedness profit nothing, But righteousness delivers from death.

L'empio realizza profitti fallaci, ma per chi semina la giustizia il salario è sicuro.

The wicked man does deceptive work, But he who sows righteousness will have a sure reward.

E se fate del bene a coloro che vi fanno del bene, che merito ne avrete? Anche i peccatori fanno lo stesso.

And if you do good to those who do good to you, what credit is that to you? For even sinners do the same.

Manifesta al Signore la tua via, confida in lui: compirà la sua opera; farà brillare come luce la tua giustizia, come il meriggio il tuo diritto.

Commit your way to the L

ord

, Trust also in Him, And He shall bring it to pass. He shall bring forth your righteousness as the light, And your justice as the noonday.

Beati quelli che hanno fame e sete della giustizia, perché saranno saziati.

Blessed are those who hunger and thirst for righteousness, For they shall be filled.

Con tutto il cuore ti cerco: non farmi deviare dai tuoi precetti.

With my whole heart I have sought You; Oh, let me not wander from Your commandments!

E' un laccio per l'uomo esclamare subito: «Sacro!» e riflettere solo dopo aver fatto il voto.

It is a snare for a man to devote rashly something as holy, And afterward to reconsider his vows.
E chi sono io e chi è il mio popolo, per essere in grado di offrirti tutto questo spontaneamente? Ora tutto proviene da te; noi, dopo averlo ricevuto dalla tua mano, te l'abbiamo ridato.
Piano di lettura personale della Bibbia
Crea un account per configurare il tuo piano di lettura della Bibbia, potrai vedere i tuoi progressi e il prossimo capitolo da leggere qui!
Consigliati