Versetti della Bibbia sulla Malvagità
«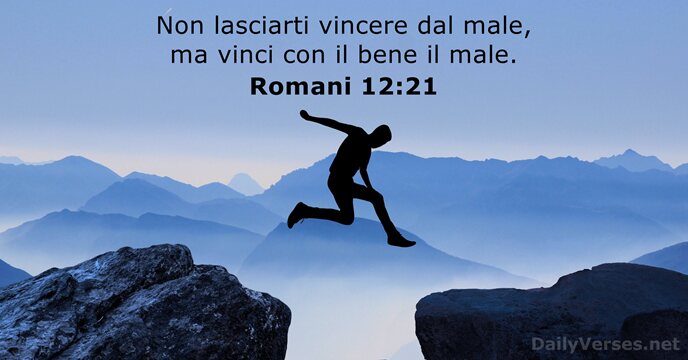 »
Non lasciarti vincere dal male, ma vinci con il bene il male.

Do not be overcome by evil, but overcome evil with good.

Il Signore ti proteggerà da ogni male, egli proteggerà la tua vita. Il Signore veglierà su di te, quando esci e quando entri, da ora e per sempre.

The L

ord

will keep you from all evil; he will keep your life. The L

ord

will keep your going out and your coming in from this time forth and forevermore.

Rivestitevi dell'armatura di Dio, per poter resistere alle insidie del diavolo.

Put on the whole armor of God, that you may be able to stand against the schemes of the devil.

Mi raccomando poi, fratelli, di ben guardarvi da coloro che provocano divisioni e ostacoli contro la dottrina che avete appreso: tenetevi lontani da loro.

I appeal to you, brothers, to watch out for those who cause divisions and create obstacles contrary to the doctrine that you have been taught; avoid them.

Quindi soggiunse: «Ciò che esce dall'uomo, questo sì contamina l'uomo. Dal di dentro infatti, cioè dal cuore degli uomini, escono le intenzioni cattive: fornicazioni, furti, omicidi, adultèri, cupidigie, malvagità, inganno, impudicizia, invidia, calunnia, superbia, stoltezza. Tutte queste cose cattive vengono fuori dal di dentro e contaminano l'uomo».

And he said, "What comes out of a person is what defiles him. For from within, out of the heart of man, come evil thoughts, sexual immorality, theft, murder, adultery, coveting, wickedness, deceit, sensuality, envy, slander, pride, foolishness. All these evil things come from within, and they defile a person."

La nostra battaglia infatti non è contro creature fatte di sangue e di carne, ma contro i Principati e le Potestà, contro i dominatori di questo mondo di tenebra, contro gli spiriti del male che abitano nelle regioni celesti.

For we do not wrestle against flesh and blood, but against the rulers, against the authorities, against the cosmic powers over this present darkness, against the spiritual forces of evil in the heavenly places.

Temere il Signore è odiare il male: io detesto la superbia, l'arroganza, la cattiva condotta e la bocca perversa.

The fear of the L

ord

is hatred of evil. Pride and arrogance and the way of evil and perverted speech I hate.

Se voi avevate pensato del male contro di me, Dio ha pensato di farlo servire a un bene, per compiere quello che oggi si avvera: far vivere un popolo numeroso.

As for you, you meant evil against me, but God meant it for good, to bring it about that many people should be kept alive, as they are today.

Guardatevi dal rendere male per male ad alcuno; ma cercate sempre il bene tra voi e con tutti.

See that no one repays anyone evil for evil, but always seek to do good to one another and to everyone.

Nell'ira, non peccate; non tramonti il sole sopra la vostra ira, e non date occasione al diavolo.

Be angry and do not sin; do not let the sun go down on your anger, and give no opportunity to the devil.

La carità non abbia finzioni: fuggite il male con orrore, attaccatevi al bene.

Let love be genuine. Abhor what is evil; hold fast to what is good.

Esaminate ogni cosa, tenete ciò che è buono. Astenetevi da ogni specie di male.

But test everything; hold fast what is good. Abstain from every form of evil.

Non credere di essere saggio, temi il Signore e stà lontano dal male. Salute sarà per il tuo corpo e un refrigerio per le tue ossa.

Be not wise in your own eyes; fear the L

ord

, and turn away from evil. It will be healing to your flesh and refreshment to your bones.

Odiate il male, voi che amate il Signore: lui che custodisce la vita dei suoi fedeli li strapperà dalle mani degli empi.

O you who love the L

ord

, hate evil! He preserves the lives of his saints; he delivers them from the hand of the wicked.

L'odio suscita litigi, l'amore ricopre ogni colpa.

Hatred stirs up strife, but love covers all offenses.

Non chiedo che tu li tolga dal mondo, ma che li custodisca dal maligno.

I do not ask that you take them out of the world, but that you keep them from the evil one.

Stà lontano dal male e fà il bene, cerca la pace e perseguila.

Turn away from evil and do good; seek peace and pursue it.

Il Signore mi libererà da ogni male e mi salverà per il suo regno eterno; a lui la gloria nei secoli dei secoli. Amen.

The Lord will rescue me from every evil deed and bring me safely into his heavenly kingdom. To him be the glory forever and ever. Amen.

Ecco ciò che dice il Signore degli eserciti: Praticate la giustizia e la fedeltà; esercitate la pietà e la misericordia ciascuno verso il suo prossimo. Non frodate la vedova, l'orfano, il pellegrino, il misero e nessuno nel cuore trami il male contro il proprio fratello.

Thus says the L

ord

of hosts, Render true judgments, show kindness and mercy to one another, do not oppress the widow, the fatherless, the sojourner, or the poor, and let none of you devise evil against another in your heart.

Lavatevi, purificatevi, togliete il male delle vostre azioni dalla mia vista. Cessate di fare il male.

Wash yourselves; make yourselves clean; remove the evil of your deeds from before my eyes; cease to do evil.

La luce splende nelle tenebre, ma le tenebre non l'hanno accolta.

The light shines in the darkness, and the darkness has not overcome it.

Perciò, deposta ogni impurità e ogni resto di malizia, accogliete con docilità la parola che è stata seminata in voi e che può salvare le vostre anime.

Therefore put away all filthiness and rampant wickedness and receive with meekness the implanted word, which is able to save your souls.

E non ci indurre in tentazione, ma liberaci dal male.

And lead us not into temptation, but deliver us from evil.

Rendi saldi i miei passi secondo la tua parola e su di me non prevalga il male.

Keep steady my steps according to your promise, and let no iniquity get dominion over me.

Se riconosciamo i nostri peccati, egli che è fedele e giusto ci perdonerà i peccati e ci purificherà da ogni colpa.

If we confess our sins, he is faithful and just to forgive us our sins and to cleanse us from all unrighteousness.
La vostra condotta sia senza avarizia; accontentatevi di quello che avete, perché Dio stesso ha detto: Non ti lascerò e non ti abbandonerò.
Piano di lettura personale della Bibbia
Crea un account per configurare il tuo piano di lettura della Bibbia, potrai vedere i tuoi progressi e il prossimo capitolo da leggere qui!
Consigliati