43 Versetti della Bibbia sulla Protezione
«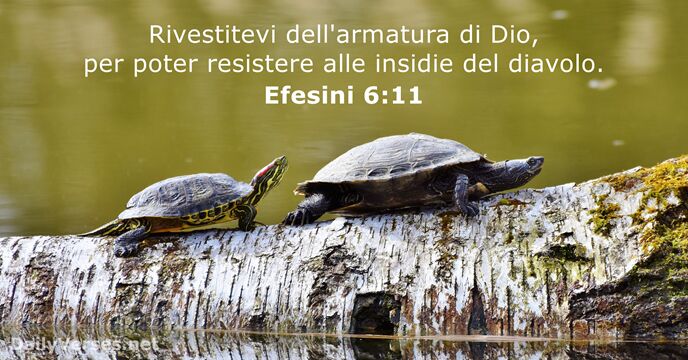 »
Rivestitevi dell'armatura di Dio, per poter resistere alle insidie del diavolo.

Put on the whole armor of God, that you may be able to stand against the schemes of the devil.

Tu sei il mio rifugio, mi preservi dal pericolo, mi circondi di esultanza per la salvezza.

You are a hiding place for me; you preserve me from trouble; you surround me with shouts of deliverance. Selah

Dio è per noi rifugio e forza, aiuto sempre vicino nelle angosce.

God is our refuge and strength, a very present help in trouble.

Siate forti, fatevi animo, non temete e non vi spaventate di loro, perché il Signore tuo Dio cammina con te; non ti lascerà e non ti abbandonerà.

Be strong and courageous. Do not fear or be in dread of them, for it is the L

ord

your God who goes with you. He will not leave you or forsake you.

Così possiamo dire con fiducia: Il Signore è il mio aiuto, non temerò. Che mi potrà fare l'uomo?

So we can confidently say, "The Lord is my helper; I will not fear; what can man do to me?"

Nessun'arma affilata contro di te avrà successo, farai condannare ogni lingua che si alzerà contro di te in giudizio. Questa è la sorte dei servi del Signore, quanto spetta a loro da parte mia. Oracolo del Signore.

No weapon that is fashioned against you shall succeed, and you shall refute every tongue that rises against you in judgment. This is the heritage of the servants of the L

ord

and their vindication from me, declares the L

ord

.

Tu mi hai dato il tuo scudo di salvezza, la tua destra mi ha sostenuto, la tua bontà mi ha fatto crescere. Hai spianato la via ai miei passi, i miei piedi non hanno vacillato.

You have given me the shield of your salvation, and your right hand supported me, and your gentleness made me great. You gave a wide place for my steps under me, and my feet did not slip.

Proteggimi, o Dio: in te mi rifugio.

Preserve me, O God, for in you I take refuge.

Il Signore combatterà per voi, e voi starete tranquilli.

The L

ord

will fight for you, and you have only to be silent.

Il Signore è con me, non ho timore; che cosa può farmi l'uomo?

The L

ord

is on my side; I will not fear. What can man do to me?

Tutto posso in colui che mi dà la forza.

I can do all things through him who strengthens me.

Tu sei mio rifugio e mio scudo, spero nella tua parola.

You are my hiding place and my shield; I hope in your word.

Fino alla vostra vecchiaia io sarò sempre lo stesso, io vi porterò fino alla canizie. Come ho gia fatto, così io vi sosterrò, vi porterò e vi salverò.

Even to your old age I am he, and to gray hairs I will carry you. I have made, and I will bear; I will carry and will save.

La via di Dio è diritta, la parola del Signore è provata al fuoco; egli è scudo per chi in lui si rifugia.

This God—his way is perfect; the word of the L

ord

proves true; he is a shield for all those who take refuge in him.

Con ogni cura vigila sul cuore perché da esso sgorga la vita.

Keep your heart with all vigilance, for from it flow the springs of life.

Ma io canterò la tua potenza, al mattino esalterò la tua grazia perché sei stato mia difesa, mio rifugio nel giorno del pericolo.

But I will sing of your strength; I will sing aloud of your steadfast love in the morning. For you have been to me a fortress and a refuge in the day of my distress.

Ma tu, Signore, sei mia difesa, tu sei mia gloria e sollevi il mio capo.

But you, O L

ord

, are a shield about me, my glory, and the lifter of my head.

Che diremo dunque in proposito? Se Dio è per noi, chi sarà contro di noi?

What then shall we say to these things? If God is for us, who can be against us?

Io pongo sempre innanzi a me il Signore, sta alla mia destra, non posso vacillare.

I have set the L

ord

always before me; because he is at my right hand, I shall not be shaken.

E' meglio rifugiarsi nel Signore che confidare nell'uomo.

It is better to take refuge in the L

ord

than to trust in man.

Ogni parola di Dio è appurata; egli è uno scudo per chi ricorre a lui.

Every word of God proves true; he is a shield to those who take refuge in him.

Torre fortissima è il nome del Signore: il giusto vi si rifugia ed è al sicuro.

The name of the L

ord

is a strong tower; the righteous man runs into it and is safe.

Imparate a fare il bene, ricercate la giustizia, soccorrete l'oppresso, rendete giustizia all'orfano, difendete la causa della vedova.

Learn to do good; seek justice, correct oppression; bring justice to the fatherless, plead the widow's cause.

Il Signore riscatta la vita dei suoi servi, chi in lui si rifugia non sarà condannato.

The L

ord

redeems the life of his servants; none of those who take refuge in him will be condemned.

C'è forse un dio come il Signore; una rupe fuori del nostro Dio?

For who is God, but the L

ord

? And who is a rock, except our God?
Il Signore è il mio pastore:
non manco di nulla;
su pascoli erbosi mi fa riposare
ad acque tranquille mi conduce.
E se avessi il dono della profezia e conoscessi tutti i misteri e tutta la scienza, e possedessi la pienezza della fede così da trasportare le montagne, ma non avessi la carità, non sono nulla.
Leggi altro
Il Signore è il mio pastore: non manco di nulla; su pascoli erbosi mi fa riposare ad acque tranquille mi conduce.
Piano di lettura personale della Bibbia
Crea un account per configurare il tuo piano di lettura della Bibbia, potrai vedere i tuoi progressi e il prossimo capitolo da leggere qui!
Consigliati
Consigliati