30 Versetti della Bibbia sul Seguire
«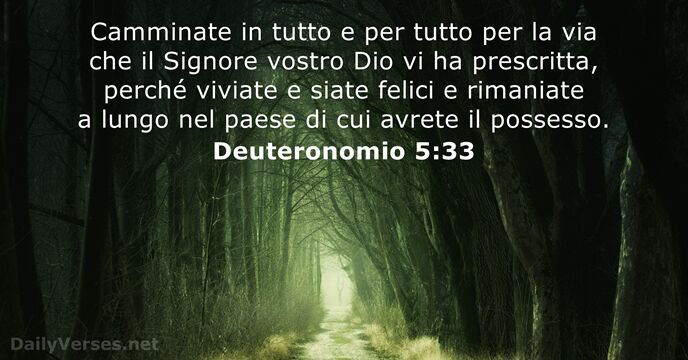 »
Camminate in tutto e per tutto per la via che il Signore vostro Dio vi ha prescritta, perché viviate e siate felici e rimaniate a lungo nel paese di cui avrete il possesso.

Walk in obedience to all that the L

ord

your God has commanded you, so that you may live and prosper and prolong your days in the land that you will possess.

Il Signore stesso cammina davanti a te; egli sarà con te, non ti lascerà e non ti abbandonerà; non temere e non ti perdere d'animo!

The L

ord

himself goes before you and will be with you; he will never leave you nor forsake you. Do not be afraid; do not be discouraged.

Rendi saldi i miei passi secondo la tua parola e su di me non prevalga il male.

Direct my footsteps according to your word; let no sin rule over me.

Di nuovo Gesù parlò loro: «Io sono la luce del mondo; chi segue me, non camminerà nelle tenebre, ma avrà la luce della vita».

When Jesus spoke again to the people, he said, "I am the light of the world. Whoever follows me will never walk in darkness, but will have the light of life."

Il Signore diriga i vostri cuori nell'amore di Dio e nella pazienza di Cristo.

May the Lord direct your hearts into God's love and Christ's perseverance.

Seguirete il Signore vostro Dio, temerete lui, osserverete i suoi comandi, obbedirete alla sua voce, lo servirete e gli resterete fedeli.

It is the L

ord

your God you must follow, and him you must revere. Keep his commands and obey him; serve him and hold fast to him.

Chi non prende la sua croce e non mi segue, non è degno di me.

Whoever does not take up their cross and follow me is not worthy of me.

Convocata la folla insieme ai suoi discepoli, disse loro: «Se qualcuno vuol venire dietro di me rinneghi se stesso, prenda la sua croce e mi segua».

Then he called the crowd to him along with his disciples and said: "Whoever wants to be my disciple must deny themselves and take up their cross and follow me."

Se pertanto viviamo dello Spirito, camminiamo anche secondo lo Spirito.

Since we live by the Spirit, let us keep in step with the Spirit.

Fatevi dunque imitatori di Dio, quali figli carissimi.

Follow God's example, therefore, as dearly loved children.

Beato l'uomo che teme il Signore e cammina nelle sue vie.

Blessed are all who fear the L

ord

, who walk in obedience to him.

Se uno mi vuol servire mi segua, e dove sono io, là sarà anche il mio servo. Se uno mi serve, il Padre lo onorerà.

Whoever serves me must follow me; and where I am, my servant also will be. My Father will honor the one who serves me.

A questo infatti siete stati chiamati, poichè anche Cristo patì per voi, lasciandovi un esempio, perché ne seguiate le orme.

To this you were called, because Christ suffered for you, leaving you an example, that you should follow in his steps.

Il Signore fa sicuri i passi dell'uomo e segue con amore il suo cammino.

The L

ord

makes firm the steps of the one who delights in him.

Siamo infatti opera sua, creati in Cristo Gesù per le opere buone che Dio ha predisposto perché noi le praticassimo.

For we are God's handiwork, created in Christ Jesus to do good works, which God prepared in advance for us to do.

E tutto quello che fate in parole ed opere, tutto si compia nel nome del Signore Gesù, rendendo per mezzo di lui grazie a Dio Padre.

And whatever you do, whether in word or deed, do it all in the name of the Lord Jesus, giving thanks to God the Father through him.

Gesù allora disse a quei Giudei che avevano creduto in lui: «Se rimanete fedeli alla mia parola, sarete davvero miei discepoli; conoscerete la verità e la verità vi farà liberi».

To the Jews who had believed him, Jesus said, "If you hold to my teaching, you are really my disciples. Then you will know the truth, and the truth will set you free."

Gli disse Gesù: «Se vuoi essere perfetto, và, vendi quello che possiedi, dallo ai poveri e avrai un tesoro nel cielo; poi vieni e seguimi».

Jesus answered, "If you want to be perfect, go, sell your possessions and give to the poor, and you will have treasure in heaven. Then come, follow me."

Non deviare né a destra né a sinistra, tieni lontano il piede dal male.

Do not turn to the right or the left; keep your foot from evil.

Così anche la fede: se non ha le opere, è morta in se stessa.

In the same way, faith by itself, if it is not accompanied by action, is dead.

Se vi dispiace di servire il Signore, scegliete oggi chi volete servire: se gli dei che i vostri padri servirono oltre il fiume oppure gli dei degli Amorrei, nel paese dei quali abitate. Quanto a me e alla mia casa, vogliamo servire il Signore.

But if serving the L

ord

seems undesirable to you, then choose for yourselves this day whom you will serve, whether the gods your ancestors served beyond the Euphrates, or the gods of the Amorites, in whose land you are living. But as for me and my household, we will serve the L

ord

.

Da questo tutti sapranno che siete miei discepoli, se avrete amore gli uni per gli altri.

"By this everyone will know that you are my disciples, if you love one another."

Il Dio della pace che ha fatto tornare dai morti il Pastore grande delle pecore, in virtù del sangue di un'alleanza eterna, il Signore nostro Gesù, vi renda perfetti in ogni bene, perché possiate compiere la sua volontà, operando in voi ciò che a lui è gradito per mezzo di Gesù Cristo, al quale sia gloria nei secoli dei secoli. Amen.

Now may the God of peace, who through the blood of the eternal covenant brought back from the dead our Lord Jesus, that great Shepherd of the sheep, equip you with everything good for doing his will, and may he work in us what is pleasing to him, through Jesus Christ, to whom be glory for ever and ever. Amen.

Sono pronto e non voglio tardare a custodire i tuoi decreti.

I will hasten and not delay to obey your commands.

In questo è glorificato il Padre mio: che portiate molto frutto e diventiate miei discepoli.

This is to my Father's glory, that you bear much fruit, showing yourselves to be my disciples.
Lo stolto dà sfogo a tutto il suo malanimo,
il saggio alla fine lo sa calmare.
Disse: «Se tu ascolterai la voce del Signore tuo Dio e farai ciò che è retto ai suoi occhi, se tu presterai orecchio ai suoi ordini e osserverai tutte le sue leggi, io non t'infliggerò nessuna delle infermità che ho inflitte agli Egiziani, perché io sono il Signore, colui che ti guarisce!».
Leggi altro
Lo stolto dà sfogo a tutto il suo malanimo, il saggio alla fine lo sa calmare.
Piano di lettura personale della Bibbia
Crea un account per configurare il tuo piano di lettura della Bibbia, potrai vedere i tuoi progressi e il prossimo capitolo da leggere qui!
Consigliati
Consigliati