«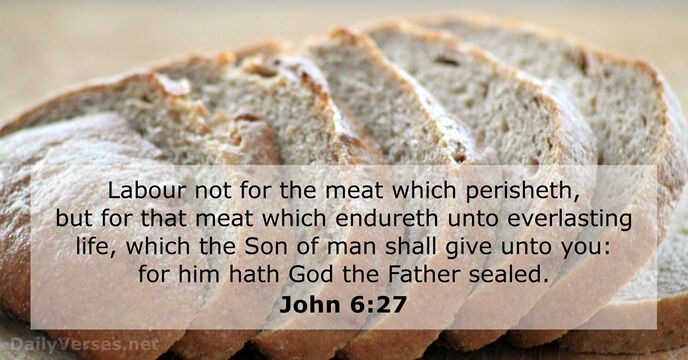 »
| | |
| --- | --- |
| Do not labor for the food which perishes, but for the food which endures to everlasting life, which the Son of Man will give you, because God the Father has set His seal on Him. | Labour not for the meat which perisheth, but for that meat which endureth unto everlasting life, which the Son of man shall give unto you: for him hath God the Father sealed. |
| Jesus answered and said to them, "This is the work of God, that you believe in Him whom He sent." | Jesus answered and said unto them, This is the work of God, that ye believe on him whom he hath sent. |
| And Jesus said to them, "I am the bread of life. He who comes to Me shall never hunger, and he who believes in Me shall never thirst." | And Jesus said unto them, I am the bread of life: he that cometh to me shall never hunger; and he that believeth on me shall never thirst. |
| I am the living bread which came down from heaven. If anyone eats of this bread, he will live forever; and the bread that I shall give is My flesh, which I shall give for the life of the world. | I am the living bread which came down from heaven: if any man eat of this bread, he shall live for ever: and the bread that I will give is my flesh, which I will give for the life of the world. |
| He who eats My flesh and drinks My blood abides in Me, and I in him. | He that eateth my flesh, and drinketh my blood, dwelleth in me, and I in him. |
| As the living Father sent Me, and I live because of the Father, so he who feeds on Me will live because of Me. | As the living Father hath sent me, and I live by the Father: so he that eateth me, even he shall live by me. |
| What then if you should see the Son of Man ascend where He was before? | What and if ye shall see the Son of man ascend up where he was before? |
Where can I go from Your Spirit? Or where can I flee from Your presence? If I ascend into heaven, You are there; If I make my bed in hell, behold, You are there.
Personal Bible reading plan
Create an account to configure your Bible reading plan and you will see your progress and the next chapter to read here!
Read more...