Bible Verses about Jesus
«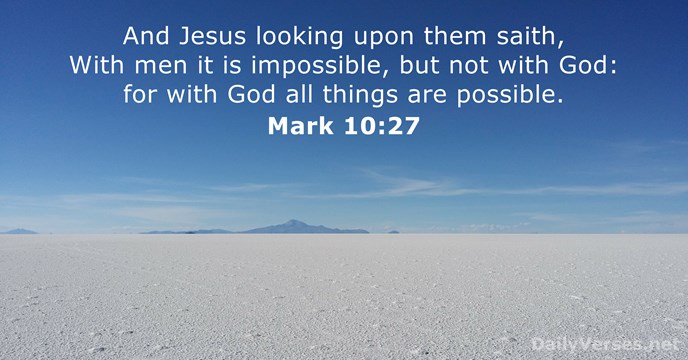 »
| | |
| --- | --- |
| But Jesus looked at them and said, "With men it is impossible, but not with God; for with God all things are possible." | And Jesus looking upon them saith, With men it is impossible, but not with God: for with God all things are possible. |
| Looking unto Jesus, the author and finisher of our faith, who for the joy that was set before Him endured the cross, despising the shame, and has sat down at the right hand of the throne of God. | Looking unto Jesus the author and finisher of our faith; who for the joy that was set before him endured the cross, despising the shame, and is set down at the right hand of the throne of God. |
| Jesus said to her, "Did I not say to you that if you would believe you would see the glory of God?" | Jesus saith unto her, Said I not unto thee, that, if thou wouldest believe, thou shouldest see the glory of God? |
| Whoever confesses that Jesus is the Son of God, God abides in him, and he in God. | Whosoever shall confess that Jesus is the Son of God, God dwelleth in him, and he in God. |
| Let this mind be in you which was also in Christ Jesus. | Let this mind be in you, which was also in Christ Jesus. |
| And I give them eternal life, and they shall never perish; neither shall anyone snatch them out of My hand. My Father, who has given them to Me, is greater than all; and no one is able to snatch them out of My Father's hand. I and My Father are one. | And I give unto them eternal life; and they shall never perish, neither shall any man pluck them out of my hand. My Father, which gave them me, is greater than all; and no man is able to pluck them out of my Father's hand. I and my Father are one. |
| But He was wounded for our transgressions, He was bruised for our iniquities; The chastisement for our peace was upon Him, And by His stripes we are healed. | But he was wounded for our transgressions, he was bruised for our iniquities: the chastisement of our peace was upon him; and with his stripes we are healed. |
| Nor is there salvation in any other, for there is no other name under heaven given among men by which we must be saved. | Neither is there salvation in any other: for there is none other name under heaven given among men, whereby we must be saved. |
| For where two or three are gathered together in My name, I am there in the midst of them. | For where two or three are gathered together in my name, there am I in the midst of them. |
| In this the love of God was manifested toward us, that God has sent His only begotten Son into the world, that we might live through Him. | In this was manifested the love of God toward us, because that God sent his only begotten Son into the world, that we might live through him. |
| But He said, "The things which are impossible with men are possible with God." | And he said, The things which are impossible with men are possible with God. |
| But thanks be to God, who gives us the victory through our Lord Jesus Christ. | But thanks be to God, which giveth us the victory through our Lord Jesus Christ. |
| This is My commandment, that you love one another as I have loved you. | This is my commandment, That ye love one another, as I have loved you. |
| And he who does not take his cross and follow after Me is not worthy of Me. | And he that taketh not his cross, and followeth after me, is not worthy of me. |
| That if you confess with your mouth the Lord Jesus and believe in your heart that God has raised Him from the dead, you will be saved. | That if thou shalt confess with thy mouth the Lord Jesus, and shalt believe in thine heart that God hath raised him from the dead, thou shalt be saved. |
| And my God shall supply all your need according to His riches in glory by Christ Jesus. | But my God shall supply all your need according to his riches in glory by Christ Jesus. |
| The grace of our Lord Jesus Christ be with your spirit. Amen. | The grace of our Lord Jesus Christ be with your spirit. Amen. |
| But sanctify the Lord God in your hearts, and always be ready to give a defense to everyone who asks you a reason for the hope that is in you, with meekness and fear. | But sanctify the Lord God in your hearts: and be ready always to give an answer to every man that asketh you a reason of the hope that is in you with meekness and fear. |
| And walk in love, as Christ also has loved us and given Himself for us, an offering and a sacrifice to God for a sweet-smelling aroma. | And walk in love, as Christ also hath loved us, and hath given himself for us an offering and a sacrifice to God for a sweetsmelling savour. |
| The grace of our Lord Jesus Christ be with you all. Amen. | The grace of our Lord Jesus Christ be with you all. Amen. |
| For we are His workmanship, created in Christ Jesus for good works, which God prepared beforehand that we should walk in them. | For we are his workmanship, created in Christ Jesus unto good works, which God hath before ordained that we should walk in them. |
| For there is one God and one Mediator between God and men, the Man Christ Jesus. | For there is one God, and one mediator between God and men, the man Christ Jesus. |
| Surely He has borne our griefs And carried our sorrows; Yet we esteemed Him stricken, Smitten by God, and afflicted. | Surely he hath borne our griefs, and carried our sorrows: yet we did esteem him stricken, smitten of God, and afflicted. |
| And let the peace of God rule in your hearts, to which also you were called in one body; and be thankful. | And let the peace of God rule in your hearts, to the which also ye are called in one body; and be ye thankful. |
| Most assuredly, I say to you, he who receives whomever I send receives Me; and he who receives Me receives Him who sent Me. | Verily, verily, I say unto you, He that receiveth whomsoever I send receiveth me; and he that receiveth me receiveth him that sent me. |
But whoever has this world's goods, and sees his brother in need, and shuts up his heart from him, how does the love of God abide in him?
Personal Bible reading plan
Create an account to configure your Bible reading plan and you will see your progress and the next chapter to read here!
Read more...