10 Bible Verses about Ascension
«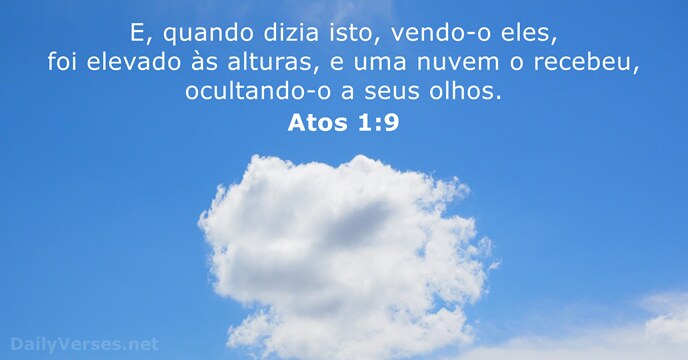 »
| | |
| --- | --- |
| And when he had said these things, as they were looking on, he was lifted up, and a cloud took him out of their sight. | E, quando dizia isto, vendo-o eles, foi elevado às alturas, e uma nuvem o recebeu, ocultando-o a seus olhos. |
| Then he led them out as far as Bethany, and lifting up his hands he blessed them. While he blessed them, he parted from them and was carried up into heaven. | E levou-os fora, até Betânia; e, levantando as mãos, os abençoou. E aconteceu que, abençoando-os ele, se apartou deles e foi elevado ao céu. |
| And while they were gazing into heaven as he went, behold, two men stood by them in white robes, and said, "Men of Galilee, why do you stand looking into heaven? This Jesus, who was taken up from you into heaven, will come in the same way as you saw him go into heaven." | E, estando com os olhos fitos no céu, enquanto ele subia, eis que junto deles se puseram dois varões vestidos de branco, os quais lhes disseram: Varões galileus, por que estais olhando para o céu? Esse Jesus, que dentre vós foi recebido em cima no céu, há de vir assim como para o céu o vistes ir. |
| So then the Lord Jesus, after he had spoken to them, was taken up into heaven and sat down at the right hand of God. | Ora, o Senhor, depois de lhes ter falado, foi recebido no céu e assentou-se à direita de Deus. |
| In my Father's house are many rooms. If it were not so, would I have told you that I go to prepare a place for you? | Na casa de meu Pai há muitas moradas; se não fosse assim, eu vo-lo teria dito, pois vou preparar-vos lugar. |
| I came from the Father and have come into the world, and now I am leaving the world and going to the Father. | Saí do Pai e vim ao mundo; outra vez, deixo o mundo e vou para o Pai. |
| Jesus said to her, "Do not cling to me, for I have not yet ascended to the Father; but go to my brothers and say to them, 'I am ascending to my Father and your Father, to my God and your God.'" | Disse-lhe Jesus: Não me detenhas, porque ainda não subi para meu Pai, mas vai para meus irmãos e dize-lhes que eu subo para meu Pai e vosso Pai, meu Deus e vosso Deus. |
| Great indeed, we confess, is the mystery of godliness: He was manifested in the flesh, vindicated by the Spirit, seen by angels, proclaimed among the nations, believed on in the world, taken up in glory. | E, sem dúvida alguma, grande é o mistério da piedade: Aquele que se manifestou em carne foi justificado em espírito, visto dos anjos, pregado aos gentios, crido no mundo e recebido acima, na glória. |
| Truly, truly, I say to you, whoever believes in me will also do the works that I do; and greater works than these will he do, because I am going to the Father. | Na verdade, na verdade vos digo que aquele que crê em mim também fará as obras que eu faço e as fará maiores do que estas, porque eu vou para meu Pai. |
| Jesus then said, "I will be with you a little longer, and then I am going to him who sent me." | Disse-lhes, pois, Jesus: Ainda um pouco de tempo estou convosco e, depois, vou para aquele que me enviou. |
I stretch out my hands to you;
my soul thirsts for you like a parched land. Selah
May the God of hope fill you with all joy and peace in believing, so that by the power of the Holy Spirit you may abound in hope.
Read more
I stretch out my hands to you; my soul thirsts for you like a parched land. Selah
Personal Bible reading plan
Create an account to configure your Bible reading plan and you will see your progress and the next chapter to read here!
Read more...