10 Bible Verses about Ascension
«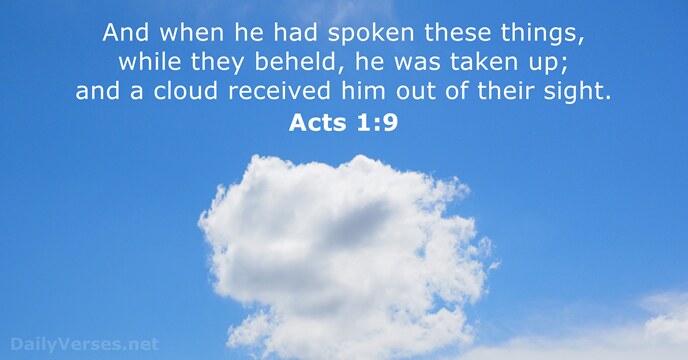 »
| | |
| --- | --- |
| And when he had spoken these things, while they beheld, he was taken up; and a cloud received him out of their sight. | Und als er das gesagt hatte, wurde er vor ihren Augen emporgehoben, und eine Wolke nahm ihn auf, weg vor ihren Augen. |
| And he led them out as far as to Bethany, and he lifted up his hands, and blessed them. And it came to pass, while he blessed them, he was parted from them, and carried up into heaven. | Er führte sie aber hinaus bis nach Betanien und hob die Hände auf und segnete sie. Und es geschah, als er sie segnete, schied er von ihnen und fuhr auf gen Himmel. |
| And while they looked stedfastly toward heaven as he went up, behold, two men stood by them in white apparel; Which also said, Ye men of Galilee, why stand ye gazing up into heaven? this same Jesus, which is taken up from you into heaven, shall so come in like manner as ye have seen him go into heaven. | Und als sie ihm nachsahen, wie er gen Himmel fuhr, siehe, da standen bei ihnen zwei Männer in weißen Gewändern. Die sagten: Ihr Männer von Galiläa, was steht ihr da und seht gen Himmel? Dieser Jesus, der von euch weg gen Himmel aufgenommen wurde, wird so wiederkommen, wie ihr ihn habt gen Himmel fahren sehen. |
| So then after the Lord had spoken unto them, he was received up into heaven, and sat on the right hand of God. | Nachdem der Herr Jesus mit ihnen geredet hatte, wurde er aufgehoben gen Himmel und setzte sich zur Rechten Gottes. |
| In my Father's house are many mansions: if it were not so, I would have told you. I go to prepare a place for you. | In meines Vaters Hause sind viele Wohnungen. Wenn's nicht so wäre, hätte ich dann zu euch gesagt: Ich gehe hin, euch die Stätte zu bereiten? |
| I came forth from the Father, and am come into the world: again, I leave the world, and go to the Father. | Ich bin vom Vater ausgegangen und in die Welt gekommen; ich verlasse die Welt wieder und gehe zum Vater. |
| Jesus saith unto her, Touch me not; for I am not yet ascended to my Father: but go to my brethren, and say unto them, I ascend unto my Father, and your Father; and to my God, and your God. | Spricht Jesus zu ihr: Rühre mich nicht an! Denn ich bin noch nicht aufgefahren zum Vater. Geh aber hin zu meinen Brüdern und sage ihnen: Ich fahre auf zu meinem Vater und eurem Vater, zu meinem Gott und eurem Gott. |
| And without controversy great is the mystery of godliness: God was manifest in the flesh, justified in the Spirit, seen of angels, preached unto the Gentiles, believed on in the world, received up into glory. | Und groß ist, wie jedermann bekennen muss, das Geheimnis des Glaubens: Er ist offenbart im Fleisch, gerechtfertigt im Geist, erschienen den Engeln, gepredigt den Heiden, geglaubt in der Welt, aufgenommen in die Herrlichkeit. |
| Verily, verily, I say unto you, He that believeth on me, the works that I do shall he do also; and greater works than these shall he do; because I go unto my Father. | Wahrlich, wahrlich, ich sage euch: Wer an mich glaubt, der wird die Werke auch tun, die ich tue, und wird größere als diese tun; denn ich gehe zum Vater. |
| Then said Jesus unto them, Yet a little while am I with you, and then I go unto him that sent me. | Da sprach Jesus: Ich bin noch eine kleine Zeit bei euch, und dann gehe ich hin zu dem, der mich gesandt hat. |
I stretch forth my hands unto thee:
my soul thirsteth after thee, as a thirsty land. Selah
But thou, O man of God, flee these things; and follow after righteousness, godliness, faith, love, patience, meekness.
Read more
I stretch forth my hands unto thee: my soul thirsteth after thee, as a thirsty land. Selah
Personal Bible reading plan
Create an account to configure your Bible reading plan and you will see your progress and the next chapter to read here!
Read more...