25 Versículos de la Biblia sobre la Familia
«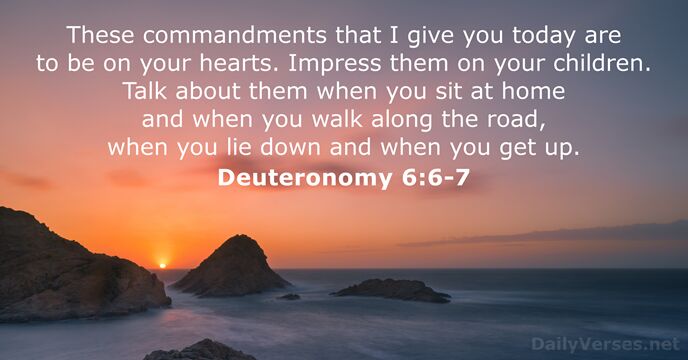 »
Y estas palabras que yo te mando hoy, estarán sobre tu corazón; y las repetirás a tus hijos, y hablarás de ellas estando en tu casa, y andando por el camino, y al acostarte, y cuando te levantes.

These commandments that I give you today are to be on your hearts. Impress them on your children. Talk about them when you sit at home and when you walk along the road, when you lie down and when you get up.

Ellos dijeron: Cree en el Señor Jesucristo, y serás salvo, tú y tu casa.

They replied, "Believe in the Lord Jesus, and you will be saved—you and your household."

Os ruego, pues, hermanos, por el nombre de nuestro Señor Jesucristo, que habléis todos una misma cosa, y que no haya entre vosotros divisiones, sino que estéis perfectamente unidos en una misma mente y en un mismo parecer.

I appeal to you, brothers and sisters, in the name of our Lord Jesus Christ, that all of you agree with one another in what you say and that there be no divisions among you, but that you be perfectly united in mind and thought.

Guarda, hijo mío, el mandamiento de tu padre, Y no dejes la enseñanza de tu madre.

My son, keep your father's command and do not forsake your mother's teaching.

Si alguno dice: Yo amo a Dios, y aborrece a su hermano, es mentiroso. Pues el que no ama a su hermano a quien ha visto, ¿cómo puede amar a Dios a quien no ha visto?

Whoever claims to love God yet hates a brother or sister is a liar. For whoever does not love their brother and sister, whom they have seen, cannot love God, whom they have not seen.

!!Mirad cuán bueno y cuán delicioso es Habitar los hermanos juntos en armonía!

How good and pleasant it is when God's people live together in unity!

¿Se olvidará la mujer de lo que dio a luz, para dejar de compadecerse del hijo de su vientre? Aunque olvide ella, yo nunca me olvidaré de ti. He aquí que en las palmas de las manos te tengo esculpida; delante de mí están siempre tus muros.

Can a mother forget the baby at her breast and have no compassion on the child she has borne? Though she may forget, I will not forget you! See, I have engraved you on the palms of my hands; your walls are ever before me.

Mas la misericordia de Jehová es desde la eternidad y hasta la eternidad sobre los que le temen, Y su justicia sobre los hijos de los hijos; Sobre los que guardan su pacto, Y los que se acuerdan de sus mandamientos para ponerlos por obra.

But from everlasting to everlasting the L

ord

's love is with those who fear him, and his righteousness with their children's children— with those who keep his covenant and remember to obey his precepts.

Y vosotros, padres, no provoquéis a ira a vuestros hijos, sino criadlos en disciplina y amonestación del Señor.

Fathers, do not exasperate your children; instead, bring them up in the training and instruction of the Lord.

Instruye al niño en su camino, Y aun cuando fuere viejo no se apartará de él.

Start children off on the way they should go, and even when they are old they will not turn from it.

Honra a tu padre y a tu madre, para que tus días se alarguen en la tierra que Jehová tu Dios te da.

Honor your father and your mother, so that you may live long in the land the L

ord

your God is giving you.

Porque si alguno no provee para los suyos, y mayormente para los de su casa, ha negado la fe, y es peor que un incrédulo.

Anyone who does not provide for their relatives, and especially for their own household, has denied the faith and is worse than an unbeliever.

En todo tiempo ama el amigo, Y es como un hermano en tiempo de angustia.

A friend loves at all times, and a brother is born for a time of adversity.

Corona de los viejos son los nietos, Y la honra de los hijos, sus padres.

Children's children are a crown to the aged, and parents are the pride of their children.

El hombre que tiene amigos ha de mostrarse amigo; Y amigo hay más unido que un hermano.

One who has unreliable friends soon comes to ruin, but there is a friend who sticks closer than a brother.

Esté con nosotros Jehová nuestro Dios, como estuvo con nuestros padres, y no nos desampare ni nos deje.

May the L

ord

our God be with us as he was with our ancestors; may he never leave us nor forsake us.

Amados, ahora somos hijos de Dios, y aún no se ha manifestado lo que hemos de ser; pero sabemos que cuando él se manifieste, seremos semejantes a él, porque le veremos tal como él es. Y todo aquel que tiene esta esperanza en él, se purifica a sí mismo, así como él es puro.

Dear friends, now we are children of God, and what we will be has not yet been made known. But we know that when Christ appears, we shall be like him, for we shall see him as he is. All who have this hope in him purify themselves, just as he is pure.

Y si mal os parece servir a Jehová, escogeos hoy a quién sirváis; si a los dioses a quienes sirvieron vuestros padres, cuando estuvieron al otro lado del río, o a los dioses de los amorreos en cuya tierra habitáis; pero yo y mi casa serviremos a Jehová.

But if serving the L

ord

seems undesirable to you, then choose for yourselves this day whom you will serve, whether the gods your ancestors served beyond the Euphrates, or the gods of the Amorites, in whose land you are living. But as for me and my household, we will serve the L

ord

.

Pues si vosotros, siendo malos, sabéis dar buenas dádivas a vuestros hijos, ¿cuánto más vuestro Padre celestial dará el Espíritu Santo a los que se lo pidan?

If you then, though you are evil, know how to give good gifts to your children, how much more will your Father in heaven give the Holy Spirit to those who ask him!

Mucho se alegrará el padre del justo, Y el que engendra sabio se gozará con él.

The father of a righteous child has great joy; a man who fathers a wise son rejoices in him.

Honra a tu padre y a tu madre; y, Amarás a tu prójimo como a ti mismo.

'Honor your father and mother,' and 'love your neighbor as yourself.'

Hijo mío, si tu corazón fuere sabio, También a mí se me alegrará el corazón.

My son, if your heart is wise, then my heart will be glad indeed.

El hijo sabio alegra al padre, Pero el hijo necio es tristeza de su madre.

A wise son brings joy to his father, but a foolish son brings grief to his mother.

No matarás. No adulterarás. No hurtarás. No dirás falso testimonio. Honra a tu padre y a tu madre; y, Amarás a tu prójimo como a ti mismo.

'You shall not murder, you shall not commit adultery, you shall not steal, you shall not give false testimony, honor your father and mother,' and 'love your neighbor as yourself.'

No dejes a tu amigo, ni al amigo de tu padre; Ni vayas a la casa de tu hermano en el día de tu aflicción. Mejor es el vecino cerca que el hermano lejos.

Do not forsake your friend or a friend of your family, and do not go to your relative's house when disaster strikes you— better a neighbor nearby than a relative far away.
Confía en Jehová, y haz el bien;
Y habitarás en la tierra, y te apacentarás de la verdad.
El que halla esposa halla el bien,
Y alcanza la benevolencia de Jehová.
Confía en Jehová, y haz el bien; Y habitarás en la tierra, y te apacentarás de la verdad.
Plan de lectura de la Biblia
Registrar y configurar su plan de lectura de la Biblia que desea ver su progreso y el siguiente capítulo para leer aquí!