Versículos de la Biblia sobre la Ley
«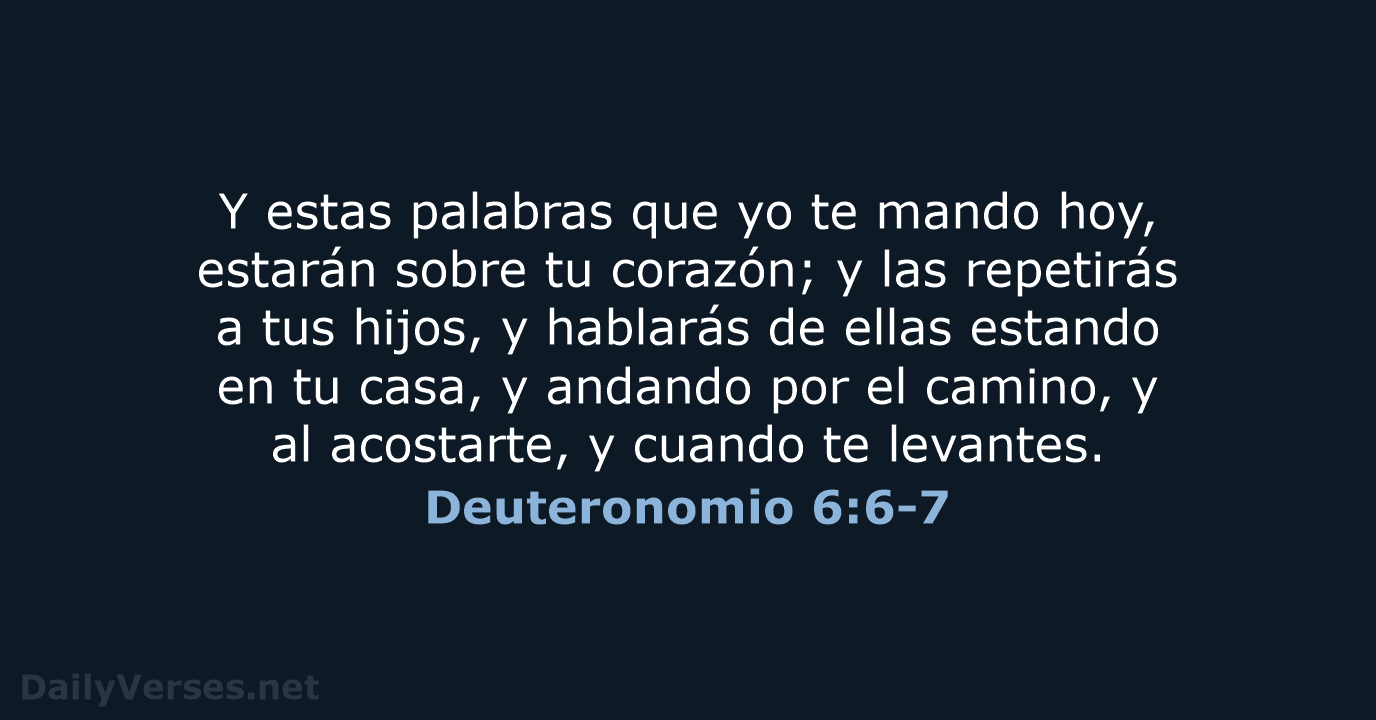 »
Y estas palabras que yo te mando hoy, estarán sobre tu corazón; y las repetirás a tus hijos, y hablarás de ellas estando en tu casa, y andando por el camino, y al acostarte, y cuando te levantes.

And these words that I command you today shall be on your heart. You shall teach them diligently to your children, and shall talk of them when you sit in your house, and when you walk by the way, and when you lie down, and when you rise.

¿Qué, pues? ¿Pecaremos, porque no estamos bajo la ley, sino bajo la gracia? En ninguna manera.

What then? Are we to sin because we are not under law but under grace? By no means!

Todo me es lícito, pero no todo conviene; todo me es lícito, pero no todo edifica.

"All things are lawful," but not all things are helpful. "All things are lawful," but not all things build up.

Porque yo te mando hoy que ames a Jehová tu Dios, que andes en sus caminos, y guardes sus mandamientos, sus estatutos y sus decretos, para que vivas y seas multiplicado, y Jehová tu Dios te bendiga en la tierra a la cual entras para tomar posesión de ella.

If you obey the commandments of the L

ord

your God that I command you today, by loving the L

ord

your God, by walking in his ways, and by keeping his commandments and his statutes and his rules, then you shall live and multiply, and the L

ord

your God will bless you in the land that you are entering to take possession of it.

Y el segundo es semejante: Amarás a tu prójimo como a ti mismo. No hay otro mandamiento mayor que éstos.

The second is this: 'You shall love your neighbor as yourself.' There is no other commandment greater than these.

Mas el fruto del Espíritu es amor, gozo, paz, paciencia, benignidad, bondad, fe, mansedumbre, templanza; contra tales cosas no hay ley.

But the fruit of the Spirit is love, joy, peace, patience, kindness, goodness, faithfulness, gentleness, self-control; against such things there is no law.

Nunca se apartará de tu boca este libro de la ley, sino que de día y de noche meditarás en él, para que guardes y hagas conforme a todo lo que en él está escrito; porque entonces harás prosperar tu camino, y todo te saldrá bien.

This Book of the Law shall not depart from your mouth, but you shall meditate on it day and night, so that you may be careful to do according to all that is written in it. For then you will make your way prosperous, and then you will have good success.

Ya que por las obras de la ley ningún ser humano será justificado delante de él; porque por medio de la ley es el conocimiento del pecado.

For by works of the law no human being will be justified in his sight, since through the law comes knowledge of sin.

Acontecerá que si oyeres atentamente la voz de Jehová tu Dios, para guardar y poner por obra todos sus mandamientos que yo te prescribo hoy, también Jehová tu Dios te exaltará sobre todas las naciones de la tierra.

And if you faithfully obey the voice of the L

ord

your God, being careful to do all his commandments that I command you today, the L

ord

your God will set you high above all the nations of the earth.

No debáis a nadie nada, sino el amaros unos a otros; porque el que ama al prójimo, ha cumplido la ley.

Owe no one anything, except to love each other, for the one who loves another has fulfilled the law.

Porque toda la ley en esta sola palabra se cumple: Amarás a tu prójimo como a ti mismo.

For the whole law is fulfilled in one word: "You shall love your neighbor as yourself."

Así que, todas las cosas que queráis que los hombres hagan con vosotros, así también haced vosotros con ellos; porque esto es la ley y los profetas.

So whatever you wish that others would do to you, do also to them, for this is the Law and the Prophets.

Mas la misericordia de Jehová es desde la eternidad y hasta la eternidad sobre los que le temen, Y su justicia sobre los hijos de los hijos; Sobre los que guardan su pacto, Y los que se acuerdan de sus mandamientos para ponerlos por obra.

But the steadfast love of the L

ord

is from everlasting to everlasting on those who fear him, and his righteousness to children's children, to those who keep his covenant and remember to do his commandments.

No os unáis en yugo desigual con los incrédulos; porque ¿qué compañerismo tiene la justicia con la injusticia? ¿Y qué comunión la luz con las tinieblas?

Do not be unequally yoked with unbelievers. For what partnership has righteousness with lawlessness? Or what fellowship has light with darkness?

Ahora, pues, Israel, ¿qué pide Jehová tu Dios de ti, sino que temas a Jehová tu Dios, que andes en todos sus caminos, y que lo ames, y sirvas a Jehová tu Dios con todo tu corazón y con toda tu alma; que guardes los mandamientos de Jehová y sus estatutos, que yo te prescribo hoy, para que tengas prosperidad?

And now, Israel, what does the L

ord

your God require of you, but to fear the L

ord

your God, to walk in all his ways, to love him, to serve the L

ord

your God with all your heart and with all your soul, and to keep the commandments and statutes of the L

ord

, which I am commanding you today for your good?

Y vosotros, padres, no provoquéis a ira a vuestros hijos, sino criadlos en disciplina y amonestación del Señor.

Fathers, do not provoke your children to anger, but bring them up in the discipline and instruction of the Lord.

Sobrellevad los unos las cargas de los otros, y cumplid así la ley de Cristo.

Bear one another's burdens, and so fulfill the law of Christ.

Este es mi mandamiento: Que os améis unos a otros, como yo os he amado.

This is my commandment, that you love one another as I have loved you.

Oh hombre, él te ha declarado lo que es bueno, y qué pide Jehová de ti: solamente hacer justicia, y amar misericordia, y humillarte ante tu Dios.

He has told you, O man, what is good; and what does the L

ord

require of you but to do justice, and to love kindness, and to walk humbly with your God?

Con todo mi corazón te he buscado; No me dejes desviarme de tus mandamientos.

With my whole heart I seek you; let me not wander from your commandments!

Solamente que con diligencia cuidéis de cumplir el mandamiento y la ley que Moisés siervo de Jehová os ordenó: que améis a Jehová vuestro Dios, y andéis en todos sus caminos; que guardéis sus mandamientos, y le sigáis a él, y le sirváis de todo vuestro corazón y de toda vuestra alma.

Only be very careful to observe the commandment and the law that Moses the servant of the L

ord

commanded you, to love the L

ord

your God, and to walk in all his ways and to keep his commandments and to cling to him and to serve him with all your heart and with all your soul.

Pero corra el juicio como las aguas, y la justicia como impetuoso arroyo.

But let justice roll down like waters, and righteousness like an ever-flowing stream.

Porque todos los que sin ley han pecado, sin ley también perecerán; y todos los que bajo la ley han pecado, por la ley serán juzgados.

For all who have sinned without the law will also perish without the law, and all who have sinned under the law will be judged by the law.

Escogí el camino de la verdad; He puesto tus juicios delante de mí.

I have chosen the way of faithfulness; I set your rules before me.

Amados, si nuestro corazón no nos reprende, confianza tenemos en Dios; y cualquiera cosa que pidiéremos la recibiremos de él, porque guardamos sus mandamientos, y hacemos las cosas que son agradables delante de él.

Beloved, if our heart does not condemn us, we have confidence before God; and whatever we ask we receive from him, because we keep his commandments and do what pleases him.
Y perdónanos nuestras deudas, como también nosotros perdonamos a nuestros deudores.
Plan de lectura de la Biblia
Registrar y configurar su plan de lectura de la Biblia que desea ver su progreso y el siguiente capítulo para leer aquí!