Versículos de la Biblia sobre los Niños
«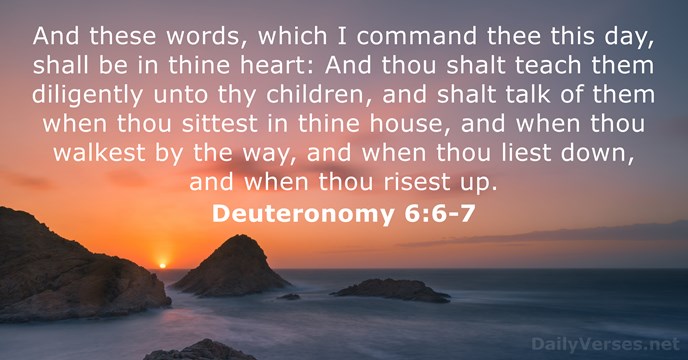 »
Y estas palabras que yo te mando hoy, estarán sobre tu corazón; y las repetirás a tus hijos, y hablarás de ellas estando en tu casa, y andando por el camino, y al acostarte, y cuando te levantes.

And these words, which I command thee this day, shall be in thine heart: And thou shalt teach them diligently unto thy children, and shalt talk of them when thou sittest in thine house, and when thou walkest by the way, and when thou liest down, and when thou risest up.

Pero Jesús dijo: Dejad a los niños venir a mí, y no se lo impidáis; porque de los tales es el reino de los cielos.

But Jesus said, Suffer little children, and forbid them not, to come unto me: for of such is the kingdom of heaven.

Instruye al niño en su camino, Y aun cuando fuere viejo no se apartará de él.

Train up a child in the way he should go: and when he is old, he will not depart from it.

¿Se olvidará la mujer de lo que dio a luz, para dejar de compadecerse del hijo de su vientre? Aunque olvide ella, yo nunca me olvidaré de ti. He aquí que en las palmas de las manos te tengo esculpida; delante de mí están siempre tus muros.

Can a woman forget her sucking child, that she should not have compassion on the son of her womb? yea, they may forget, yet will I not forget thee. Behold, I have graven thee upon the palms of my hands; thy walls are continually before me.

Es verdad que ninguna disciplina al presente parece ser causa de gozo, sino de tristeza; pero después da fruto apacible de justicia a los que en ella han sido ejercitados.

Now no chastening for the present seemeth to be joyous, but grievous: nevertheless afterward it yieldeth the peaceable fruit of righteousness unto them which are exercised thereby.

Y vosotros, padres, no provoquéis a ira a vuestros hijos, sino criadlos en disciplina y amonestación del Señor.

And, ye fathers, provoke not your children to wrath: but bring them up in the nurture and admonition of the Lord.

Corona de los viejos son los nietos, Y la honra de los hijos, sus padres.

Children's children are the crown of old men; and the glory of children are their fathers.

Hijitos, guardaos de los ídolos. Amén.

Little children, keep yourselves from idols. Amen.

Sed, pues, imitadores de Dios como hijos amados.

Be ye therefore followers of God, as dear children.

Bienaventurados los pacificadores, porque ellos serán llamados hijos de Dios.

Blessed are the peacemakers: for they shall be called the children of God.

Ellos dijeron: Cree en el Señor Jesucristo, y serás salvo, tú y tu casa.

And they said, Believe on the Lord Jesus Christ, and thou shalt be saved, and thy house.

Pues todos sois hijos de Dios por la fe en Cristo Jesús; porque todos los que habéis sido bautizados en Cristo, de Cristo estáis revestidos.

For ye are all the children of God by faith in Christ Jesus. For as many of you as have been baptized into Christ have put on Christ.

El necio menosprecia el consejo de su padre; Mas el que guarda la corrección vendrá a ser prudente.

A fool despiseth his father's instruction: but he that regardeth reproof is prudent.

Porque todos los que son guiados por el Espíritu de Dios, éstos son hijos de Dios.

For as many as are led by the Spirit of God, they are the sons of God.

Mirad cuál amor nos ha dado el Padre, para que seamos llamados hijos de Dios; por esto el mundo no nos conoce, porque no le conoció a él.

Behold, what manner of love the Father hath bestowed upon us, that we should be called the sons of God: therefore the world knoweth us not, because it knew him not.

No tengo yo mayor gozo que este, el oír que mis hijos andan en la verdad.

I have no greater joy than to hear that my children walk in truth.

Porque si alguno no provee para los suyos, y mayormente para los de su casa, ha negado la fe, y es peor que un incrédulo.

But if any provide not for his own, and specially for those of his own house, he hath denied the faith, and is worse than an infidel.

Mas a todos los que le recibieron, a los que creen en su nombre, les dio potestad de ser hechos hijos de Dios.

But as many as received him, to them gave he power to become the sons of God, even to them that believe on his name.

Porque el anhelo ardiente de la creación es el aguardar la manifestación de los hijos de Dios.

For the earnest expectation of the creature waiteth for the manifestation of the sons of God.

Amados, ahora somos hijos de Dios, y aún no se ha manifestado lo que hemos de ser; pero sabemos que cuando él se manifieste, seremos semejantes a él, porque le veremos tal como él es. Y todo aquel que tiene esta esperanza en él, se purifica a sí mismo, así como él es puro.

Beloved, now are we the sons of God, and it doth not yet appear what we shall be: but we know that, when he shall appear, we shall be like him; for we shall see him as he is. And every man that hath this hope in him purifieth himself, even as he is pure.

Pues no habéis recibido el espíritu de esclavitud para estar otra vez en temor, sino que habéis recibido el espíritu de adopción, por el cual clamamos: !!Abba, Padre!

For ye have not received the spirit of bondage again to fear; but ye have received the Spirit of adoption, whereby we cry, Abba, Father.

El Espíritu mismo da testimonio a nuestro espíritu, de que somos hijos de Dios.

The Spirit itself beareth witness with our spirit, that we are the children of God.

Y guarda sus estatutos y sus mandamientos, los cuales yo te mando hoy, para que te vaya bien a ti y a tus hijos después de ti, y prolongues tus días sobre la tierra que Jehová tu Dios te da para siempre.

Thou shalt keep therefore his statutes, and his commandments, which I command thee this day, that it may go well with thee, and with thy children after thee, and that thou mayest prolong thy days upon the earth, which the L

ord

thy God giveth thee, for ever.

!!Quién diera que tuviesen tal corazón, que me temiesen y guardasen todos los días todos mis mandamientos, para que a ellos y a sus hijos les fuese bien para siempre!

O that there were such an heart in them, that they would fear me, and keep all my commandments always, that it might be well with them, and with their children for ever!
En tu mano están mis tiempos; Líbrame de la mano de mis enemigos y de mis perseguidores.
Plan de lectura de la Biblia
Registrar y configurar su plan de lectura de la Biblia que desea ver su progreso y el siguiente capítulo para leer aquí!