Versículos de la Biblia sobre el Pecado
«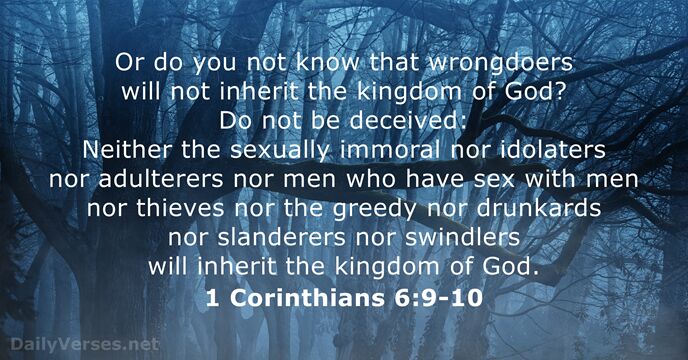 »
¿No sabéis que los injustos no heredarán el reino de Dios? No erréis; ni los fornicarios, ni los idólatras, ni los adúlteros, ni los afeminados, ni los que se echan con varones, ni los ladrones, ni los avaros, ni los borrachos, ni los maldicientes, ni los estafadores, heredarán el reino de Dios.

Or do you not know that wrongdoers will not inherit the kingdom of God? Do not be deceived: Neither the sexually immoral nor idolaters nor adulterers nor men who have sex with men nor thieves nor the greedy nor drunkards nor slanderers nor swindlers will inherit the kingdom of God.

Si confesamos nuestros pecados, él es fiel y justo para perdonar nuestros pecados, y limpiarnos de toda maldad.

If we confess our sins, he is faithful and just and will forgive us our sins and purify us from all unrighteousness.

Por cuanto todos pecaron, y están destituidos de la gloria de Dios, siendo justificados gratuitamente por su gracia, mediante la redención que es en Cristo Jesús.

For all have sinned and fall short of the glory of God, and all are justified freely by his grace through the redemption that came by Christ Jesus.

Haced morir, pues, lo terrenal en vosotros: fornicación, impureza, pasiones desordenadas, malos deseos y avaricia, que es idolatría.

Put to death, therefore, whatever belongs to your earthly nature: sexual immorality, impurity, lust, evil desires and greed, which is idolatry.

¿Qué, pues? ¿Pecaremos, porque no estamos bajo la ley, sino bajo la gracia? En ninguna manera.

What then? Shall we sin because we are not under the law but under grace? By no means!

Por tanto, si tu hermano peca contra ti, ve y repréndele estando tú y él solos; si te oyere, has ganado a tu hermano.

If your brother or sister sins, go and point out their fault, just between the two of you. If they listen to you, you have won them over.

Ordena mis pasos con tu palabra, Y ninguna iniquidad se enseñoree de mí.

Direct my footsteps according to your word; let no sin rule over me.

!!Oh almas adúlteras! ¿No sabéis que la amistad del mundo es enemistad contra Dios? Cualquiera, pues, que quiera ser amigo del mundo, se constituye enemigo de Dios.

You adulterous people, don't you know that friendship with the world means enmity against God? Therefore, anyone who chooses to be a friend of the world becomes an enemy of God.

¿Y por qué miras la paja que está en el ojo de tu hermano, y no echas de ver la viga que está en tu propio ojo?

Why do you look at the speck of sawdust in your brother's eye and pay no attention to the plank in your own eye?

Ten piedad de mí, oh Dios, conforme a tu misericordia; Conforme a la multitud de tus piedades borra mis rebeliones. Lávame más y más de mi maldad, Y límpiame de mi pecado.

Have mercy on me, O God, according to your unfailing love; according to your great compassion blot out my transgressions. Wash away all my iniquity and cleanse me from my sin.

El que camina en integridad anda confiado; Mas el que pervierte sus caminos será quebrantado.

Whoever walks in integrity walks securely, but whoever takes crooked paths will be found out.

Y ante todo, tened entre vosotros ferviente amor; porque el amor cubrirá multitud de pecados.

Above all, love each other deeply, because love covers over a multitude of sins.

El hombre bueno, del buen tesoro de su corazón saca lo bueno; y el hombre malo, del mal tesoro de su corazón saca lo malo; porque de la abundancia del corazón habla la boca.

A good man brings good things out of the good stored up in his heart, and an evil man brings evil things out of the evil stored up in his heart. For the mouth speaks what the heart is full of.

Si decimos que tenemos comunión con él, y andamos en tinieblas, mentimos, y no practicamos la verdad.

If we claim to have fellowship with him and yet walk in the darkness, we lie and do not live out the truth.

Y no participéis en las obras infructuosas de las tinieblas, sino más bien reprendedlas; porque vergonzoso es aun hablar de lo que ellos hacen en secreto.

Have nothing to do with the fruitless deeds of darkness, but rather expose them. It is shameful even to mention what the disobedient do in secret.

Hermanos, si alguno fuere sorprendido en alguna falta, vosotros que sois espirituales, restauradle con espíritu de mansedumbre, considerándote a ti mismo, no sea que tú también seas tentado.

Brothers and sisters, if someone is caught in a sin, you who live by the Spirit should restore that person gently. But watch yourselves, or you also may be tempted.

Bienaventurado el varón que no anduvo en consejo de malos, Ni estuvo en camino de pecadores, Ni en silla de escarnecedores se ha sentado.

Blessed is the one who does not walk in step with the wicked or stand in the way that sinners take or sit in the company of mockers.

Quien llevó él mismo nuestros pecados en su cuerpo sobre el madero, para que nosotros, estando muertos a los pecados, vivamos a la justicia; y por cuya herida fuisteis sanados.

"He himself bore our sins" in his body on the cross, so that we might die to sins and live for righteousness; "by his wounds you have been healed."

Acercaos a Dios, y él se acercará a vosotros. Pecadores, limpiad las manos; y vosotros los de doble ánimo, purificad vuestros corazones.

Come near to God and he will come near to you. Wash your hands, you sinners, and purify your hearts, you double-minded.

Porque si perdonáis a los hombres sus ofensas, os perdonará también a vosotros vuestro Padre celestial.

For if you forgive other people when they sin against you, your heavenly Father will also forgive you.

De una misma boca proceden bendición y maldición. Hermanos míos, esto no debe ser así.

Out of the same mouth come praise and cursing. My brothers and sisters, this should not be.

Así también Cristo fue ofrecido una sola vez para llevar los pecados de muchos; y aparecerá por segunda vez, sin relación con el pecado, para salvar a los que le esperan.

So Christ was sacrificed once to take away the sins of many; and he will appear a second time, not to bear sin, but to bring salvation to those who are waiting for him.

Pero fornicación y toda inmundicia, o avaricia, ni aun se nombre entre vosotros, como conviene a santos.

But among you there must not be even a hint of sexual immorality, or of any kind of impurity, or of greed, because these are improper for God's holy people.

Acuérdate, oh Jehová, de tus piedades y de tus misericordias, Que son perpetuas. De los pecados de mi juventud, y de mis rebeliones, no te acuerdes; Conforme a tu misericordia acuérdate de mí, Por tu bondad, oh Jehová.

Remember, L

ord

, your great mercy and love, for they are from of old. Do not remember the sins of my youth and my rebellious ways; according to your love remember me, for you, L

ord

, are good.

Ya que por las obras de la ley ningún ser humano será justificado delante de él; porque por medio de la ley es el conocimiento del pecado.

Therefore no one will be declared righteous in God's sight by the works of the law; rather, through the law we become conscious of our sin.
El que sigue la justicia y la misericordia
Hallará la vida, la justicia y la honra.
El que sigue la justicia y la misericordia
Hallará la vida, la justicia y la honra.
El que sigue la justicia y la misericordia Hallará la vida, la justicia y la honra.
Plan de lectura de la Biblia
Registrar y configurar su plan de lectura de la Biblia que desea ver su progreso y el siguiente capítulo para leer aquí!