23 Versículos de la Biblia acerca de Recibir
«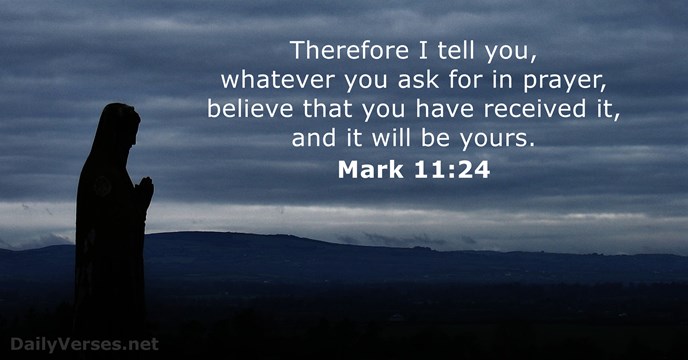 »
Por tanto, os digo que todo lo que pidiereis orando, creed que lo recibiréis, y os vendrá.

Therefore I tell you, whatever you ask for in prayer, believe that you have received it, and it will be yours.

Y todo lo que hagáis, hacedlo de corazón, como para el Señor y no para los hombres; sabiendo que del Señor recibiréis la recompensa de la herencia, porque a Cristo el Señor servís.

Whatever you do, work at it with all your heart, as working for the Lord, not for human masters, since you know that you will receive an inheritance from the Lord as a reward. It is the Lord Christ you are serving.

Hasta ahora nada habéis pedido en mi nombre; pedid, y recibiréis, para que vuestro gozo sea cumplido.

Until now you have not asked for anything in my name. Ask and you will receive, and your joy will be complete.

Pedid, y se os dará; buscad, y hallaréis; llamad, y se os abrirá.

Ask and it will be given to you; seek and you will find; knock and the door will be opened to you.

Dad, y se os dará; medida buena, apretada, remecida y rebosando darán en vuestro regazo; porque con la misma medida con que medís, os volverán a medir.

Give, and it will be given to you. A good measure, pressed down, shaken together and running over, will be poured into your lap. For with the measure you use, it will be measured to you.

Y poderoso es Dios para hacer que abunde en vosotros toda gracia, a fin de que, teniendo siempre en todas las cosas todo lo suficiente, abundéis para toda buena obra.

And God is able to bless you abundantly, so that in all things at all times, having all that you need, you will abound in every good work.

Y si alguno de vosotros tiene falta de sabiduría, pídala a Dios, el cual da a todos abundantemente y sin reproche, y le será dada.

If any of you lacks wisdom, you should ask God, who gives generously to all without finding fault, and it will be given to you.

Extendí mis manos a ti, Mi alma a ti como la tierra sedienta. Selah

I spread out my hands to you; I thirst for you like a parched land.

Sanad enfermos, limpiad leprosos, resucitad muertos, echad fuera demonios; de gracia recibisteis, dad de gracia.

Heal the sick, raise the dead, cleanse those who have leprosy, drive out demons. Freely you have received; freely give.

Bienaventurados los que tienen hambre y sed de justicia, porque ellos serán saciados.

Blessed are those who hunger and thirst for righteousness, for they will be filled.

Pero la unción que vosotros recibisteis de él permanece en vosotros, y no tenéis necesidad de que nadie os enseñe; así como la unción misma os enseña todas las cosas, y es verdadera, y no es mentira, según ella os ha enseñado, permaneced en él.

As for you, the anointing you received from him remains in you, and you do not need anyone to teach you. But as his anointing teaches you about all things and as that anointing is real, not counterfeit—just as it has taught you, remain in him.

Por tanto, no desmayamos; antes aunque este nuestro hombre exterior se va desgastando, el interior no obstante se renueva de día en día.

Therefore we do not lose heart. Though outwardly we are wasting away, yet inwardly we are being renewed day by day.

El que no escatimó ni a su propio Hijo, sino que lo entregó por todos nosotros, ¿cómo no nos dará también con él todas las cosas?

He who did not spare his own Son, but gave him up for us all—how will he not also, along with him, graciously give us all things?

Yo he conocido que no hay para ellos cosa mejor que alegrarse, y hacer bien en su vida; y también que es don de Dios que todo hombre coma y beba, y goce el bien de toda su labor.

I know that there is nothing better for people than to be happy and to do good while they live. That each of them may eat and drink, and find satisfaction in all their toil—this is the gift of God.

Y la esperanza no avergüenza; porque el amor de Dios ha sido derramado en nuestros corazones por el Espíritu Santo que nos fue dado.

And hope does not put us to shame, because God's love has been poured out into our hearts through the Holy Spirit, who has been given to us.

Asimismo, a todo hombre a quien Dios da riquezas y bienes, y le da también facultad para que coma de ellas, y tome su parte, y goce de su trabajo, esto es don de Dios.

Moreover, when God gives someone wealth and possessions, and the ability to enjoy them, to accept their lot and be happy in their toil—this is a gift of God.

Mas el que bebiere del agua que yo le daré, no tendrá sed jamás; sino que el agua que yo le daré será en él una fuente de agua que salte para vida eterna.

But whoever drinks the water I give them will never thirst. Indeed, the water I give them will become in them a spring of water welling up to eternal life.

Y nosotros somos testigos suyos de estas cosas, y también el Espíritu Santo, el cual ha dado Dios a los que le obedecen.

We are witnesses of these things, and so is the Holy Spirit, whom God has given to those who obey him.

Como todas las cosas que pertenecen a la vida y a la piedad nos han sido dadas por su divino poder, mediante el conocimiento de aquel que nos llamó por su gloria y excelencia.

His divine power has given us everything we need for a godly life through our knowledge of him who called us by his own glory and goodness.

Alumbrando los ojos de vuestro entendimiento, para que sepáis cuál es la esperanza a que él os ha llamado, y cuáles las riquezas de la gloria de su herencia en los santos.

I pray that the eyes of your heart may be enlightened in order that you may know the hope to which he has called you, the riches of his glorious inheritance in his holy people.

Pero yo os digo la verdad: Os conviene que yo me vaya; porque si no me fuera, el Consolador no vendría a vosotros; mas si me fuere, os lo enviaré.

But very truly I tell you, it is for your good that I am going away. Unless I go away, the Advocate will not come to you; but if I go, I will send him to you.

Entonces Jehová dijo a Moisés: Sube a mí al monte, y espera allá, y te daré tablas de piedra, y la ley, y mandamientos que he escrito para enseñarles.

The L

ord

said to Moses, "Come up to me on the mountain and stay here, and I will give you the tablets of stone with the law and commandments I have written for their instruction."

He aquí, pues, el bien que yo he visto: que lo bueno es comer y beber, y gozar uno del bien de todo su trabajo con que se fatiga debajo del sol, todos los días de su vida que Dios le ha dado; porque esta es su parte.

This is what I have observed to be good: that it is appropriate for a person to eat, to drink and to find satisfaction in their toilsome labor under the sun during the few days of life God has given them—for this is their lot.
Hay camino que al hombre le parece derecho;
Pero su fin es camino de muerte.
Regocijaos en el Señor siempre. Otra vez digo: !!Regocijaos!
Hay camino que al hombre le parece derecho; Pero su fin es camino de muerte.
Plan de lectura de la Biblia
Registrar y configurar su plan de lectura de la Biblia que desea ver su progreso y el siguiente capítulo para leer aquí!