18 Versetti della Bibbia sull'Innocente
«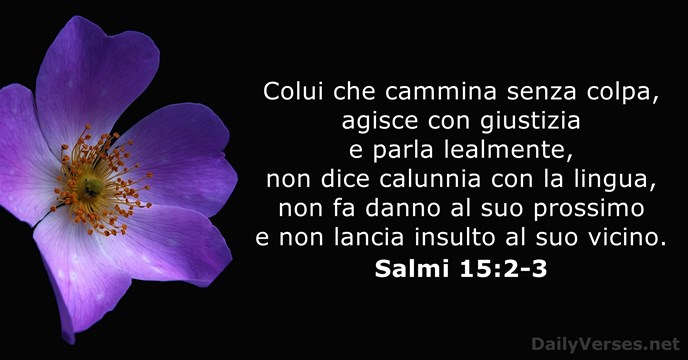 »
Colui che cammina senza colpa, agisce con giustizia e parla lealmente, non dice calunnia con la lingua, non fa danno al suo prossimo e non lancia insulto al suo vicino.

The one whose walk is blameless, who does what is righteous, who speaks the truth from their heart; whose tongue utters no slander, who does no wrong to a neighbor, and casts no slur on others.

Poiché tutti quanti manchiamo in molte cose. Se uno non manca nel parlare, è un uomo perfetto, capace di tenere a freno anche tutto il corpo.

We all stumble in many ways. Anyone who is never at fault in what they say is perfect, able to keep their whole body in check.

Fate tutto senza mormorazioni e senza critiche, perché siate irreprensibili e semplici, figli di Dio immacolati in mezzo a una generazione perversa e degenere, nella quale dovete splendere come astri nel mondo, tenendo alta la parola di vita.

Do everything without grumbling or arguing, so that you may become blameless and pure, children of God without fault in a warped and crooked generation. Then you will shine among them like stars in the sky as you hold firmly to the word of life.

Al di sopra di tutto poi vi sia la carità, che è il vincolo di perfezione.

And over all these virtues put on love, which binds them all together in perfect unity.

Non conformatevi alla mentalità di questo secolo, ma trasformatevi rinnovando la vostra mente, per poter discernere la volontà di Dio, ciò che è buono, a lui gradito e perfetto.

Do not conform to the pattern of this world, but be transformed by the renewing of your mind. Then you will be able to test and approve what God's will is—his good, pleasing and perfect will.

Guardatevi dal rendere male per male ad alcuno; ma cercate sempre il bene tra voi e con tutti.

Make sure that nobody pays back wrong for wrong, but always strive to do what is good for each other and for everyone else.

Vi esorto pertanto, fratelli, per il nome del Signore nostro Gesù Cristo, ad essere tutti unanimi nel parlare, perché non vi siano divisioni tra voi, ma siate in perfetta unione di pensiero e d'intenti.

I appeal to you, brothers and sisters, in the name of our Lord Jesus Christ, that all of you agree with one another in what you say and that there be no divisions among you, but that you be perfectly united in mind and thought.

La via di Dio è diritta, la parola del Signore è provata al fuoco; egli è scudo per chi in lui si rifugia.

As for God, his way is perfect: The L

ord

's word is flawless; he shields all who take refuge in him.

Alleluia. Beato l'uomo di integra condotta, che cammina nella legge del Signore.

Blessed are those whose ways are blameless, who walk according to the law of the L

ord

.

Finora non avete chiesto nulla nel mio nome. Chiedete e otterrete, perché la vostra gioia sia piena.

Until now you have not asked for anything in my name. Ask and you will receive, and your joy will be complete.

Poiché egli conosce la mia condotta, se mi prova al crogiuolo, come oro puro io ne esco. Alle sue orme si è attaccato il mio piede, al suo cammino mi sono attenuto e non ho deviato.

But he knows the way that I take; when he has tested me, I will come forth as gold. My feet have closely followed his steps; I have kept to his way without turning aside.

Una religione pura e senza macchia davanti a Dio nostro Padre è questa: soccorrere gli orfani e le vedove nelle loro afflizioni e conservarsi puri da questo mondo.

Religion that God our Father accepts as pure and faultless is this: to look after orphans and widows in their distress and to keep oneself from being polluted by the world.

Egli riserva ai giusti la sua protezione, è scudo a coloro che agiscono con rettitudine.

He holds success in store for the upright, he is a shield to those whose walk is blameless.

Gli disse Gesù: «Se vuoi essere perfetto, và, vendi quello che possiedi, dallo ai poveri e avrai un tesoro nel cielo; poi vieni e seguimi».

Jesus answered, "If you want to be perfect, go, sell your possessions and give to the poor, and you will have treasure in heaven. Then come, follow me."

La via di Dio è perfetta; la parola del Signore è integra; egli è scudo per quanti si rifugiano in lui.

As for God, his way is perfect: The L

ord

's word is flawless; he shields all who take refuge in him.

Ogni buon regalo e ogni dono perfetto viene dall'alto e discende dal Padre della luce, nel quale non c'è variazione né ombra di cambiamento.

Every good and perfect gift is from above, coming down from the Father of the heavenly lights, who does not change like shifting shadows.

Questo vi ho detto perché la mia gioia sia in voi e la vostra gioia sia piena.

I have told you this so that my joy may be in you and that your joy may be complete.

E, reso perfetto, divenne causa di salvezza eterna per tutti coloro che gli obbediscono.

And, once made perfect, he became the source of eternal salvation for all who obey him.
Al mattino fammi sentire la tua grazia,
poiché in te confido.
Fammi conoscere la strada da percorrere,
perché a te si innalza l'anima mia.
Dio è per noi rifugio e forza,
aiuto sempre vicino nelle angosce.
Leggi altro
Al mattino fammi sentire la tua grazia, poiché in te confido. Fammi conoscere la strada da percorrere, perché a te si innalza l'anima mia.
Piano di lettura personale della Bibbia
Crea un account per configurare il tuo piano di lettura della Bibbia, potrai vedere i tuoi progressi e il prossimo capitolo da leggere qui!
Consigliati
Consigliati