Versetti della Bibbia sulla Paura
«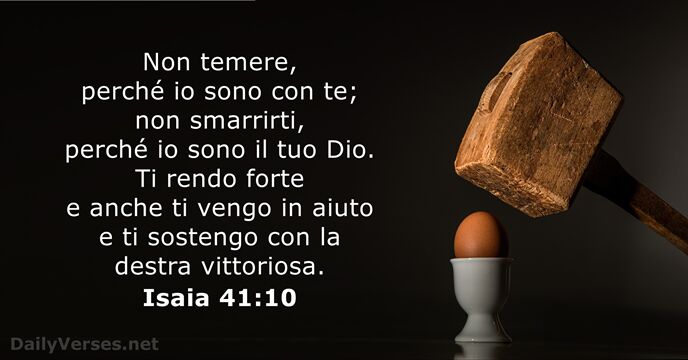 »
Non temere, perché io sono con te; non smarrirti, perché io sono il tuo Dio. Ti rendo forte e anche ti vengo in aiuto e ti sostengo con la destra vittoriosa.

So do not fear, for I am with you; do not be dismayed, for I am your God. I will strengthen you and help you; I will uphold you with my righteous right hand.

Nell'ora della paura, io in te confido.

When I am afraid, I put my trust in you.

Non ti ho io comandato: Sii forte e coraggioso? Non temere dunque e non spaventarti, perché è con te il Signore tuo Dio, dovunque tu vada.

Have I not commanded you? Be strong and courageous. Do not be afraid; do not be discouraged, for the L

ord

your God will be with you wherever you go.

Non angustiatevi per nulla, ma in ogni necessità esponete a Dio le vostre richieste, con preghiere, suppliche e ringraziamenti; e la pace di Dio, che sorpassa ogni intelligenza, custodirà i vostri cuori e i vostri pensieri in Cristo Gesù.

Do not be anxious about anything, but in every situation, by prayer and petition, with thanksgiving, present your requests to God. And the peace of God, which transcends all understanding, will guard your hearts and your minds in Christ Jesus.

Poiché io sono il Signore tuo Dio che ti tengo per la destra e ti dico: «Non temere, io ti vengo in aiuto».

For I am the L

ord

your God who takes hold of your right hand and says to you, Do not fear; I will help you.

Il Signore è con me, non ho timore; che cosa può farmi l'uomo?

The L

ord

is with me; I will not be afraid. What can mere mortals do to me?

Nell'amore non c'è timore, al contrario l'amore perfetto scaccia il timore, perché il timore suppone un castigo e chi teme non è perfetto nell'amore.

There is no fear in love. But perfect love drives out fear, because fear has to do with punishment. The one who fears is not made perfect in love.

Se dovessi camminare in una valle oscura, non temerei alcun male, perché tu sei con me. Il tuo bastone e il tuo vincastro mi danno sicurezza.

Even though I walk through the darkest valley, I will fear no evil, for you are with me; your rod and your staff, they comfort me.

Gettando in lui ogni vostra preoccupazione, perché egli ha cura di voi.

Cast all your anxiety on him because he cares for you.

Dio infatti non ci ha dato uno Spirito di timidezza, ma di forza, di amore e di saggezza.

For the Spirit God gave us does not make us timid, but gives us power, love and self-discipline.

Il temere gli uomini pone in una trappola; ma chi confida nel Signore è al sicuro.

Fear of man will prove to be a snare, but whoever trusts in the L

ord

is kept safe.

Il Signore è mia luce e mia salvezza, di chi avrò paura? Il Signore è difesa della mia vita, di chi avrò timore?

The L

ord

is my light and my salvation— whom shall I fear? The L

ord

is the stronghold of my life— of whom shall I be afraid?

Ho cercato il Signore e mi ha risposto e da ogni timore mi ha liberato.

I sought the L

ord

, and he answered me; he delivered me from all my fears.

Siate forti, fatevi animo, non temete e non vi spaventate di loro, perché il Signore tuo Dio cammina con te; non ti lascerà e non ti abbandonerà.

Be strong and courageous. Do not be afraid or terrified because of them, for the L

ord

your God goes with you; he will never leave you nor forsake you.

Il Signore stesso cammina davanti a te; egli sarà con te, non ti lascerà e non ti abbandonerà; non temere e non ti perdere d'animo!

The L

ord

himself goes before you and will be with you; he will never leave you nor forsake you. Do not be afraid; do not be discouraged.

Non sia turbato il vostro cuore. Abbiate fede in Dio e abbiate fede anche in me.

Do not let your hearts be troubled. You believe in God; believe also in me.

E voi non avete ricevuto uno spirito da schiavi per ricadere nella paura, ma avete ricevuto uno spirito da figli adottivi per mezzo del quale gridiamo: «Abbà, Padre!».

The Spirit you received does not make you slaves, so that you live in fear again; rather, the Spirit you received brought about your adoption to sonship. And by him we cry, "Abba, Father."

Due passeri non si vendono forse per un soldo? Eppure neanche uno di essi cadrà a terra senza che il Padre vostro lo voglia. Quanto a voi, perfino i capelli del vostro capo sono tutti contati; non abbiate dunque timore: voi valete più di molti passeri!

Are not two sparrows sold for a penny? Yet not one of them will fall to the ground outside your Father's care. And even the very hairs of your head are all numbered. So don't be afraid; you are worth more than many sparrows.

Così possiamo dire con fiducia: Il Signore è il mio aiuto, non temerò. Che mi potrà fare l'uomo?

So we say with confidence, "The Lord is my helper; I will not be afraid. What can mere mortals do to me?"

Essi, vedendolo camminare sul mare, pensarono: «E' un fantasma», e cominciarono a gridare, perché tutti lo avevano visto ed erano rimasti turbati. Ma egli subito rivolse loro la parola e disse: «Coraggio, sono io, non temete!».

But when they saw him walking on the lake, they thought he was a ghost. They cried out, because they all saw him and were terrified. Immediately he spoke to them and said, "Take courage! It is I. Don't be afraid."

Non temere, piccolo gregge, perché al Padre vostro è piaciuto di darvi il suo regno.

Do not be afraid, little flock, for your Father has been pleased to give you the kingdom.

E se anche doveste soffrire per la giustizia, beati voi! Non vi sgomentate per paura di loro, né vi turbate.

But even if you should suffer for what is right, you are blessed. "Do not fear their threats; do not be frightened."

In Dio, di cui lodo la parola, in Dio confido, non avrò timore: che cosa potrà farmi un uomo?

In God, whose word I praise— in God I trust and am not afraid. What can mere mortals do to me?

L'angelo le disse: «Non temere, Maria, perché hai trovato grazia presso Dio. Ecco concepirai un figlio, lo darai alla luce e lo chiamerai Gesù.»

But the angel said to her, "Do not be afraid, Mary; you have found favor with God. You will conceive and give birth to a son, and you are to call him Jesus."

Come un padre ha pietà dei suoi figli, così il Signore ha pietà di quanti lo temono.

As a father has compassion on his children, so the L

ord

has compassion on those who fear him.
Tutto posso in colui che mi dà la forza.
Piano di lettura personale della Bibbia
Crea un account per configurare il tuo piano di lettura della Bibbia, potrai vedere i tuoi progressi e il prossimo capitolo da leggere qui!
Consigliati