Versetti della Bibbia sulla Pazienza
«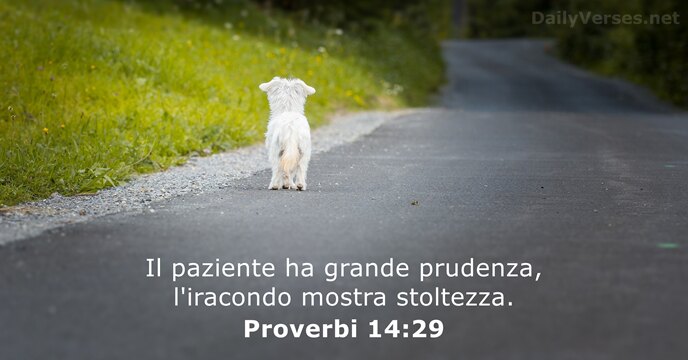 »
Il paziente ha grande prudenza, l'iracondo mostra stoltezza.

Whoever is slow to anger has great understanding, but he who has a hasty temper exalts folly.

La carità è paziente, è benigna la carità; non è invidiosa la carità, non si vanta, non si gonfia, non manca di rispetto, non cerca il suo interesse, non si adira, non tiene conto del male ricevuto.

Love is patient and kind; love does not envy or boast; it is not arrogant or rude. It does not insist on its own way; it is not irritable or resentful.

Siate lieti nella speranza, forti nella tribolazione, perseveranti nella preghiera.

Rejoice in hope, be patient in tribulation, be constant in prayer.

Con ogni umiltà, mansuetudine e pazienza, sopportandovi a vicenda con amore.

With all humility and gentleness, with patience, bearing with one another in love.

Ma se speriamo quello che non vediamo, lo attendiamo con perseveranza.

But if we hope for what we do not see, we wait for it with patience.

E non stanchiamoci di fare il bene; se infatti non desistiamo, a suo tempo mieteremo.

And let us not grow weary of doing good, for in due season we will reap, if we do not give up.

Il paziente val più di un eroe, chi domina se stesso val più di chi conquista una città.

Whoever is slow to anger is better than the mighty, and he who rules his spirit than he who takes a city.

Stà in silenzio davanti al Signore e spera in lui; non irritarti per chi ha successo, per l'uomo che trama insidie.

Be still before the L

ord

and wait patiently for him; fret not yourself over the one who prospers in his way, over the man who carries out evil devices!

Spera nel Signore, sii forte, si rinfranchi il tuo cuore e spera nel Signore.

Wait for the L

ord

; be strong, and let your heart take courage; wait for the L

ord

!

Il Signore combatterà per voi, e voi starete tranquilli.

The L

ord

will fight for you, and you have only to be silent.

Il Signore non ritarda nell'adempiere la sua promessa, come certuni credono; ma usa pazienza verso di voi, non volendo che alcuno perisca, ma che tutti abbiano modo di pentirsi.

The Lord is not slow to fulfill his promise as some count slowness, but is patient toward you, not wishing that any should perish, but that all should reach repentance.

Rivestitevi dunque, come amati di Dio, santi e diletti, di sentimenti di misericordia, di bontà, di umiltà, di mansuetudine, di pazienza.

Put on then, as God's chosen ones, holy and beloved, compassionate hearts, kindness, humility, meekness, and patience.

E il Dio della perseveranza e della consolazione vi conceda di avere gli uni verso gli altri gli stessi sentimenti ad esempio di Cristo Gesù.

May the God of endurance and encouragement grant you to live in such harmony with one another, in accord with Christ Jesus.

Perché la sua collera dura un istante, la sua bontà per tutta la vita. Alla sera sopraggiunge il pianto e al mattino, ecco la gioia.

For his anger is but for a moment, and his favor is for a lifetime. Weeping may tarry for the night, but joy comes with the morning.

Al mattino ascolta la mia voce; fin dal mattino t'invoco e sto in attesa.

O L

ord

, in the morning you hear my voice; in the morning I prepare a sacrifice for you and watch.

Eppure il Signore aspetta per farvi grazia, per questo sorge per aver pietà di voi, perché un Dio giusto è il Signore; beati coloro che sperano in lui!

Therefore the L

ord

waits to be gracious to you, and therefore he exalts himself to show mercy to you. For the L

ord

is a God of justice; blessed are all those who wait for him.

Buono e pietoso è il Signore, lento all'ira e grande nell'amore.

The L

ord

is merciful and gracious, slow to anger and abounding in steadfast love.

Ma appunto per questo ho ottenuto misericordia, perché Gesù Cristo ha voluto dimostrare in me, per primo, tutta la sua magnanimità, a esempio di quanti avrebbero creduto in lui per avere la vita eterna.

But I received mercy for this reason, that in me, as the foremost, Jesus Christ might display his perfect patience as an example to those who were to believe in him for eternal life.

Una cosa però non dovete perdere di vista, carissimi: davanti al Signore un giorno è come mille anni e mille anni come un giorno solo.

But do not overlook this one fact, beloved, that with the Lord one day is as a thousand years, and a thousand years as one day.

Vegliate dunque, perché non sapete in quale giorno il Signore vostro verrà.

Therefore, stay awake, for you do not know on what day your Lord is coming.

Ma chi persevererà sino alla fine, sarà salvato.

But the one who endures to the end will be saved.

Annunzia la parola, insisti in ogni occasione opportuna e non opportuna, ammonisci, rimprovera, esorta con ogni magnanimità e dottrina.

Preach the word; be ready in season and out of season; reprove, rebuke, and exhort, with complete patience and teaching.

Verrò presto. Tieni saldo quello che hai, perché nessuno ti tolga la corona.

I am coming soon. Hold fast what you have, so that no one may seize your crown.

Laceratevi il cuore e non le vesti, ritornate al Signore vostro Dio, perchè egli è misericordioso e benigno, tardo all'ira e ricco di benevolenza e si impietosisce riguardo alla sventura.

And rend your hearts and not your garments. Return to the L

ord

your God, for he is gracious and merciful, slow to anger, and abounding in steadfast love; and he relents over disaster.

L'attesa dei giusti finirà in gioia, ma la speranza degli empi svanirà.

The hope of the righteous brings joy, but the expectation of the wicked will perish.
Con il cuore infatti si crede per ottenere la giustizia e con la bocca si fa la professione di fede per avere la salvezza.
Piano di lettura personale della Bibbia
Crea un account per configurare il tuo piano di lettura della Bibbia, potrai vedere i tuoi progressi e il prossimo capitolo da leggere qui!
Consigliati