12 Versetti della Bibbia sul Riposare
«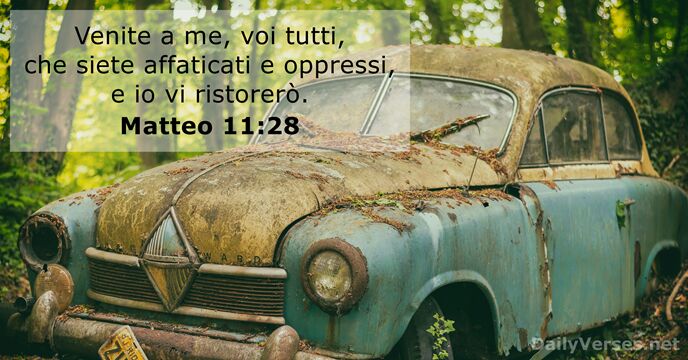 »
Venite a me, voi tutti, che siete affaticati e oppressi, e io vi ristorerò.

Come to me, all you who are weary and burdened, and I will give you rest.

Solo in Dio riposa l'anima mia; da lui la mia salvezza.

Truly my soul finds rest in God; my salvation comes from him.

In pace mi corico e subito mi addormento: tu solo, Signore, al sicuro mi fai riposare.

In peace I will lie down and sleep, for you alone, L

ord

, make me dwell in safety.

Così il Signore: «Fermatevi nelle strade e guardate, informatevi circa i sentieri del passato, dove sta la strada buona e prendetela, così troverete pace per le anime vostre». Ma essi risposero: «Non la prenderemo!».

This is what the L

ord

says: Stand at the crossroads and look; ask for the ancient paths, ask where the good way is, and walk in it, and you will find rest for your souls. But you said, 'We will not walk in it.'

Il Signore è il mio pastore: non manco di nulla; su pascoli erbosi mi fa riposare ad acque tranquille mi conduce.

The L

ord

is my shepherd, I lack nothing. He makes me lie down in green pastures, he leads me beside quiet waters.

Tu che abiti al riparo dell'Altissimo e dimori all'ombra dell'Onnipotente, dì al Signore: «Mio rifugio e mia fortezza, mio Dio, in cui confido».

Whoever dwells in the shelter of the Most High will rest in the shadow of the Almighty. I will say of the L

ord

, "He is my refuge and my fortress, my God, in whom I trust."

Gustate e vedete quanto è buono il Signore; beato l'uomo che in lui si rifugia.

Taste and see that the L

ord

is good; blessed is the one who takes refuge in him.

Prendete il mio giogo sopra di voi e imparate da me, che sono mite e umile di cuore, e troverete ristoro per le vostre anime. Il mio giogo infatti è dolce e il mio carico leggero.

Take my yoke upon you and learn from me, for I am gentle and humble in heart, and you will find rest for your souls. For my yoke is easy and my burden is light.

E' dunque riservato ancora un riposo sabatico per il popolo di Dio. Chi è entrato infatti nel suo riposo, riposa anch'egli dalle sue opere, come Dio dalle proprie.

There remains, then, a Sabbath-rest for the people of God; for anyone who enters God's rest also rests from their works, just as God did from his.

La fine di tutte le cose è vicina. Siate dunque moderati e sobri, per dedicarvi alla preghiera.

The end of all things is near. Therefore be alert and of sober mind so that you may pray.

Affrettiamoci dunque ad entrare in quel riposo, perché nessuno cada nello stesso tipo di disobbedienza.

Let us, therefore, make every effort to enter that rest, so that no one will perish by following their example of disobedience.

Osserva il giorno di sabato per santificarlo, come il Signore Dio tuo ti ha comandato. Sei giorni faticherai e farai ogni lavoro, ma il settimo giorno è il sabato per il Signore tuo Dio: non fare lavoro alcuno né tu, né tuo figlio, né tua figlia, né il tuo schiavo, né la tua schiava, né il tuo bue, né il tuo asino, né alcuna delle tue bestie, né il forestiero, che sta entro le tue porte, perché il tuo schiavo e la tua schiava si riposino come te.

Observe the Sabbath day by keeping it holy, as the L

ord

your God has commanded you. Six days you shall labor and do all your work, but the seventh day is a sabbath to the L

ord

your God. On it you shall not do any work, neither you, nor your son or daughter, nor your male or female servant, nor your ox, your donkey or any of your animals, nor any foreigner residing in your towns, so that your male and female servants may rest, as you do.
Fatevi dunque imitatori di Dio, quali figli carissimi.
Gesù rispose: «Io sono il pane della vita; chi viene a me non avrà più fame e chi crede in me non avrà più sete».
Leggi altro
Fatevi dunque imitatori di Dio, quali figli carissimi.
Piano di lettura personale della Bibbia
Crea un account per configurare il tuo piano di lettura della Bibbia, potrai vedere i tuoi progressi e il prossimo capitolo da leggere qui!
Consigliati
Consigliati