Versetti della Bibbia sulla Vita
«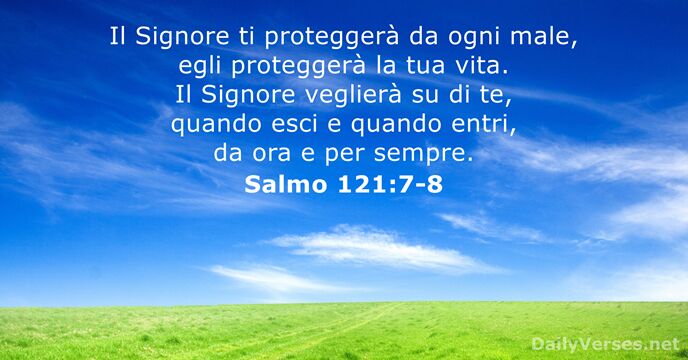 »
Il Signore ti proteggerà da ogni male, egli proteggerà la tua vita. Il Signore veglierà su di te, quando esci e quando entri, da ora e per sempre.

The L

ord

will keep you from all harm— he will watch over your life; the L

ord

will watch over your coming and going both now and forevermore.

Vigilate dunque attentamente sulla vostra condotta, comportandovi non da stolti, ma da uomini saggi; profittando del tempo presente, perché i giorni sono cattivi.

Be very careful, then, how you live—not as unwise but as wise, making the most of every opportunity, because the days are evil.

Come un volto differisce da un altro, così i cuori degli uomini differiscono fra di loro.

As water reflects the face, so one's life reflects the heart.

Camminiamo nella fede e non ancora in visione.

For we live by faith, not by sight.

Qualunque cosa facciate, fatela di cuore come per il Signore e non per gli uomini, sapendo che come ricompensa riceverete dal Signore l'eredità. Servite a Cristo Signore.

Whatever you do, work at it with all your heart, as working for the Lord, not for human masters, since you know that you will receive an inheritance from the Lord as a reward. It is the Lord Christ you are serving.

Chi segue la giustizia e la misericordia troverà vita e gloria.

Whoever pursues righteousness and love finds life, prosperity and honor.

Che giova infatti all'uomo guadagnare il mondo intero, se poi perde la propria anima?

What good is it for someone to gain the whole world, yet forfeit their soul?

Vengono meno la mia carne e il mio cuore; ma la roccia del mio cuore è Dio, è Dio la mia sorte per sempre.

My flesh and my heart may fail, but God is the strength of my heart and my portion forever.

Infatti: Chi vuole amare la vita e vedere giorni felici, trattenga la sua lingua dal male e le sue labbra da parole d'inganno; eviti il male e faccia il bene, cerchi la pace e la segua.

For, "Whoever would love life and see good days must keep their tongue from evil and their lips from deceitful speech. They must turn from evil and do good; they must seek peace and pursue it."

Tu sei la mia roccia e il mio baluardo, per il tuo nome dirigi i miei passi.

Since you are my rock and my fortress, for the sake of your name lead and guide me.

Con ogni cura vigila sul cuore perché da esso sgorga la vita.

Above all else, guard your heart, for everything you do flows from it.

Per ogni cosa c'è il suo momento, il suo tempo per ogni faccenda sotto il cielo.

There is a time for everything, and a season for every activity under the heavens.

Fammi conoscere, Signore, le tue vie, insegnami i tuoi sentieri.

Show me your ways, L

ord

, teach me your paths.

Non conformatevi alla mentalità di questo secolo, ma trasformatevi rinnovando la vostra mente, per poter discernere la volontà di Dio, ciò che è buono, a lui gradito e perfetto.

Do not conform to the pattern of this world, but be transformed by the renewing of your mind. Then you will be able to test and approve what God's will is—his good, pleasing and perfect will.

Gesù rispose: «Io sono il pane della vita; chi viene a me non avrà più fame e chi crede in me non avrà più sete.»

Then Jesus declared, "I am the bread of life. Whoever comes to me will never go hungry, and whoever believes in me will never be thirsty."

Stà in silenzio davanti al Signore e spera in lui; non irritarti per chi ha successo, per l'uomo che trama insidie.

Be still before the L

ord

and wait patiently for him; do not fret when people succeed in their ways, when they carry out their wicked schemes.

Chi sorveglia la sua bocca conserva la vita, chi apre troppo le labbra incontra la rovina.

Those who guard their lips preserve their lives, but those who speak rashly will come to ruin.

Felicità e grazia mi saranno compagne tutti i giorni della mia vita, e abiterò nella casa del Signore per lunghissimi anni.

Surely your goodness and love will follow me all the days of my life, and I will dwell in the house of the L

ord

forever.

Poiché io oggi ti comando di amare il Signore tuo Dio, di camminare per le sue vie, di osservare i suoi comandi, le sue leggi e le sue norme, perché tu viva e ti moltiplichi e il Signore tuo Dio ti benedica nel paese che tu stai per entrare a prendere in possesso.

For I command you today to love the L

ord

your God, to walk in obedience to him, and to keep his commands, decrees and laws; then you will live and increase, and the L

ord

your God will bless you in the land you are entering to possess.

Chi crede in me; come dice la Scrittura: fiumi di acqua viva sgorgheranno dal suo seno.

Whoever believes in me, as Scripture has said, rivers of living water will flow from within them.

Sono stato crocifisso con Cristo e non sono più io che vivo, ma Cristo vive in me. Questa vita nella carne, io la vivo nella fede del Figlio di Dio, che mi ha amato e ha dato se stesso per me.

I have been crucified with Christ and I no longer live, but Christ lives in me. The life I now live in the body, I live by faith in the Son of God, who loved me and gave himself for me.

Non domandare: «Come mai i tempi antichi erano migliori del presente?», poiché una tale domanda non è ispirata da saggezza.

Do not say, "Why were the old days better than these?" For it is not wise to ask such questions.

E' sulla via della vita chi osserva la disciplina, chi trascura la correzione si smarrisce.

Whoever heeds discipline shows the way to life, but whoever ignores correction leads others astray.

Chi acquista senno ama se stesso e chi agisce con prudenza trova fortuna.

The one who gets wisdom loves life; the one who cherishes understanding will soon prosper.

Cercate la pace con tutti e la santificazione, senza la quale nessuno vedrà mai il Signore.

Make every effort to live in peace with everyone and to be holy; without holiness no one will see the Lord.
E tutto quello che chiederete con fede nella preghiera, lo otterrete.
Piano di lettura personale della Bibbia
Crea un account per configurare il tuo piano di lettura della Bibbia, potrai vedere i tuoi progressi e il prossimo capitolo da leggere qui!
Consigliati