«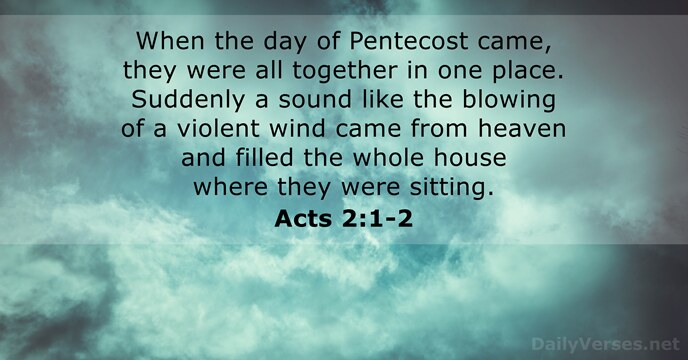 »
| | |
| --- | --- |
| When the day of Pentecost came, they were all together in one place. Suddenly a sound like the blowing of a violent wind came from heaven and filled the whole house where they were sitting. | And when the day of Pentecost was fully come, they were all with one accord in one place. And suddenly there came a sound from heaven as of a rushing mighty wind, and it filled all the house where they were sitting. |
| They saw what seemed to be tongues of fire that separated and came to rest on each of them. All of them were filled with the Holy Spirit and began to speak in other tongues as the Spirit enabled them. | And there appeared unto them cloven tongues like as of fire, and it sat upon each of them. And they were all filled with the Holy Ghost, and began to speak with other tongues, as the Spirit gave them utterance. |
| And everyone who calls on the name of the Lord will be saved. | And it shall come to pass, that whosoever shall call on the name of the Lord shall be saved. |
| Exalted to the right hand of God, he has received from the Father the promised Holy Spirit and has poured out what you now see and hear. | Therefore being by the right hand of God exalted, and having received of the Father the promise of the Holy Ghost, he hath shed forth this, which ye now see and hear. |
| Peter replied, "Repent and be baptized, every one of you, in the name of Jesus Christ for the forgiveness of your sins. And you will receive the gift of the Holy Spirit." | Then Peter said unto them, Repent, and be baptized every one of you in the name of Jesus Christ for the remission of sins, and ye shall receive the gift of the Holy Ghost. |
| Those who accepted his message were baptized, and about three thousand were added to their number that day. | Then they that gladly received his word were baptized: and the same day there were added unto them about three thousand souls. |
| They devoted themselves to the apostles' teaching and to fellowship, to the breaking of bread and to prayer. | And they continued stedfastly in the apostles' doctrine and fellowship, and in breaking of bread, and in prayers. |
| Every day they continued to meet together in the temple courts. They broke bread in their homes and ate together with glad and sincere hearts, praising God and enjoying the favor of all the people. And the Lord added to their number daily those who were being saved. | And they, continuing daily with one accord in the temple, and breaking bread from house to house, did eat their meat with gladness and singleness of heart, Praising God, and having favour with all the people. And the Lord added to the church daily such as should be saved. |
For in Christ Jesus neither circumcision nor uncircumcision has any value. The only thing that counts is faith expressing itself through love.
Personal Bible reading plan
Create an account to configure your Bible reading plan and you will see your progress and the next chapter to read here!
Read more...