14 Versículos de la Biblia sobre Cantar
«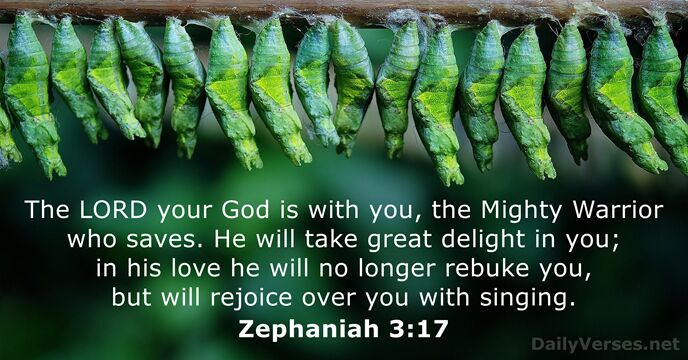 »
Jehová está en medio de ti, poderoso, él salvará; se gozará sobre ti con alegría, callará de amor, se regocijará sobre ti con cánticos.

The L

ord

your God is with you, the Mighty Warrior who saves. He will take great delight in you; in his love he will no longer rebuke you, but will rejoice over you with singing.

Pero a medianoche, orando Pablo y Silas, cantaban himnos a Dios; y los presos los oían.

About midnight Paul and Silas were praying and singing hymns to God, and the other prisoners were listening to them.

Tú eres mi refugio; me guardarás de la angustia; Con cánticos de liberación me rodearás. Selah

You are my hiding place; you will protect me from trouble and surround me with songs of deliverance.

Pero yo cantaré de tu poder, Y alabaré de mañana tu misericordia; Porque has sido mi amparo Y refugio en el día de mi angustia.

But I will sing of your strength, in the morning I will sing of your love; for you are my fortress, my refuge in times of trouble.

La palabra de Cristo more en abundancia en vosotros, enseñándoos y exhortándoos unos a otros en toda sabiduría, cantando con gracia en vuestros corazones al Señor con salmos e himnos y cánticos espirituales.

Let the message of Christ dwell among you richly as you teach and admonish one another with all wisdom through psalms, hymns, and songs from the Spirit, singing to God with gratitude in your hearts.

Porque mejor es tu misericordia que la vida; Mis labios te alabarán. Así te bendeciré en mi vida; En tu nombre alzaré mis manos.

Because your love is better than life, my lips will glorify you. I will praise you as long as I live, and in your name I will lift up my hands.

Cantad a Dios, cantad salmos a su nombre; Exaltad al que cabalga sobre los cielos.

JAH

es su nombre; alegraos delante de él. Padre de huérfanos y defensor de viudas Es Dios en su santa morada.
Sing to God, sing in praise of his name, extol him who rides on the clouds; rejoice before him — his name is the L

ord

. A father to the fatherless, a defender of widows, is God in his holy dwelling.

Mas yo en tu misericordia he confiado; Mi corazón se alegrará en tu salvación. Cantaré a Jehová, Porque me ha hecho bien.

But I trust in your unfailing love; my heart rejoices in your salvation. I will sing the L

ord

's praise, for he has been good to me.

A él clamé con mi boca, Y fue exaltado con mi lengua.

I cried out to him with my mouth; his praise was on my tongue.

Te alabaré, oh Jehová, entre los pueblos; A ti cantaré salmos entre las naciones.

I will praise you, L

ord

, among the nations; I will sing of you among the peoples.

Me alegraré y me regocijaré en ti; Cantaré a tu nombre, oh Altísimo.

I will be glad and rejoice in you; I will sing the praises of your name, O Most High.

Mis labios se alegrarán cuando cante a ti, Y mi alma, la cual redimiste.

My lips will shout for joy when I sing praise to you— I whom you have delivered.

Dios hace habitar en familia a los desamparados; Saca a los cautivos a prosperidad; Mas los rebeldes habitan en tierra seca.

God sets the lonely in families, he leads out the prisoners with singing; but the rebellious live in a sun-scorched land.

Porque yo libraba al pobre que clamaba, Y al huérfano que carecía de ayudador. La bendición del que se iba a perder venía sobre mí, Y al corazón de la viuda yo daba alegría.

Because I rescued the poor who cried for help, and the fatherless who had none to assist them. The one who was dying blessed me; I made the widow's heart sing.
Este es el mensaje que hemos oído de él, y os anunciamos: Dios es luz, y no hay ningunas tinieblas en él.
Y ante todo, tened entre vosotros ferviente amor; porque el amor cubrirá multitud de pecados.
Este es el mensaje que hemos oído de él, y os anunciamos: Dios es luz, y no hay ningunas tinieblas en él.
Plan de lectura de la Biblia
Registrar y configurar su plan de lectura de la Biblia que desea ver su progreso y el siguiente capítulo para leer aquí!