Versículos de la Biblia sobre la Gracia
«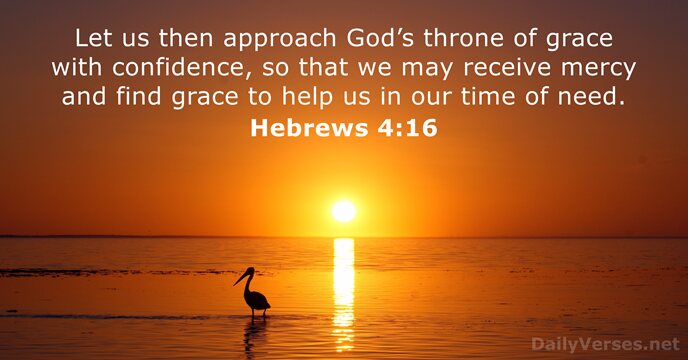 »
Acerquémonos, pues, confiadamente al trono de la gracia, para alcanzar misericordia y hallar gracia para el oportuno socorro.

Let us then approach God's throne of grace with confidence, so that we may receive mercy and find grace to help us in our time of need.

Jehová te bendiga, y te guarde; Jehová haga resplandecer su rostro sobre ti, y tenga de ti misericordia; Jehová alce sobre ti su rostro, y ponga en ti paz.

The L

ord

bless you and keep you; the L

ord

make his face shine on you and be gracious to you; the L

ord

turn his face toward you and give you peace.

Pero Dios, que es rico en misericordia, por su gran amor con que nos amó, aun estando nosotros muertos en pecados, nos dio vida juntamente con Cristo (por gracia sois salvos).

But because of his great love for us, God, who is rich in mercy, made us alive with Christ even when we were dead in transgressions—it is by grace you have been saved.

Misericordioso y clemente es Jehová; Lento para la ira, y grande en misericordia.

The L

ord

is compassionate and gracious, slow to anger, abounding in love.

Mas el Dios de toda gracia, que nos llamó a su gloria eterna en Jesucristo, después que hayáis padecido un poco de tiempo, él mismo os perfeccione, afirme, fortalezca y establezca.

And the God of all grace, who called you to his eternal glory in Christ, after you have suffered a little while, will himself restore you and make you strong, firm and steadfast.

Porque la gracia de Dios se ha manifestado para salvación a todos los hombres, enseñándonos que, renunciando a la impiedad y a los deseos mundanos, vivamos en este siglo sobria, justa y piadosamente.

For the grace of God has appeared that offers salvation to all people. It teaches us to say "No" to ungodliness and worldly passions, and to live self-controlled, upright and godly lives in this present age.

Quien nos salvó y llamó con llamamiento santo, no conforme a nuestras obras, sino según el propósito suyo y la gracia que nos fue dada en Cristo Jesús antes de los tiempos de los siglos.

He has saved us and called us to a holy life—not because of anything we have done but because of his own purpose and grace. This grace was given us in Christ Jesus before the beginning of time.

Por tanto, Jehová esperará para tener piedad de vosotros, y por tanto, será exaltado teniendo de vosotros misericordia; porque Jehová es Dios justo; bienaventurados todos los que confían en él.

Yet the L

ord

longs to be gracious to you; therefore he will rise up to show you compassion. For the L

ord

is a God of justice. Blessed are all who wait for him!

Porque el pecado no se enseñoreará de vosotros; pues no estáis bajo la ley, sino bajo la gracia.

For sin shall no longer be your master, because you are not under the law, but under grace.

Porque si perdonáis a los hombres sus ofensas, os perdonará también a vosotros vuestro Padre celestial.

For if you forgive other people when they sin against you, your heavenly Father will also forgive you.

La gracia de nuestro Señor Jesucristo sea con todos vosotros. Amén.

The grace of the Lord Jesus be with God's people. Amen.

Porque por gracia sois salvos por medio de la fe; y esto no de vosotros, pues es don de Dios; no por obras, para que nadie se gloríe.

For it is by grace you have been saved, through faith—and this is not from yourselves, it is the gift of God—not by works, so that no one can boast.

Por cuanto todos pecaron, y están destituidos de la gloria de Dios, siendo justificados gratuitamente por su gracia, mediante la redención que es en Cristo Jesús.

For all have sinned and fall short of the glory of God, and all are justified freely by his grace through the redemption that came by Christ Jesus.

¿Qué, pues? ¿Pecaremos, porque no estamos bajo la ley, sino bajo la gracia? En ninguna manera.

What then? Shall we sin because we are not under the law but under grace? By no means!

Sea la luz de Jehová nuestro Dios sobre nosotros, Y la obra de nuestras manos confirma sobre nosotros; Sí, la obra de nuestras manos confirma.

May the favor of the Lord our God rest on us; establish the work of our hands for us— yes, establish the work of our hands.

Porque Jehová vuestro Dios es clemente y misericordioso, y no apartará de vosotros su rostro, si vosotros os volviereis a él.

For the L

ord

your God is gracious and compassionate. He will not turn his face from you if you return to him.

Y me ha dicho: Bástate mi gracia; porque mi poder se perfecciona en la debilidad. Por tanto, de buena gana me gloriaré más bien en mis debilidades, para que repose sobre mí el poder de Cristo.

But he said to me, "My grace is sufficient for you, for my power is made perfect in weakness." Therefore I will boast all the more gladly about my weaknesses, so that Christ's power may rest on me.

La gracia de nuestro Señor Jesucristo sea con vuestro espíritu. Amén.

The grace of the Lord Jesus Christ be with your spirit.

Ciertamente el bien y la misericordia me seguirán todos los días de mi vida, Y en la casa de Jehová moraré por largos días.

Surely your goodness and love will follow me all the days of my life, and I will dwell in the house of the L

ord

forever.

Porque de tal manera amó Dios al mundo, que ha dado a su Hijo unigénito, para que todo aquel que en él cree, no se pierda, mas tenga vida eterna.

For God so loved the world that he gave his one and only Son, that whoever believes in him shall not perish but have eternal life.

Por tanto, ceñid los lomos de vuestro entendimiento, sed sobrios, y esperad por completo en la gracia que se os traerá cuando Jesucristo sea manifestado.

Therefore, with minds that are alert and fully sober, set your hope on the grace to be brought to you when Jesus Christ is revealed at his coming.

Pero el don no fue como la transgresión; porque si por la transgresión de aquel uno murieron los muchos, abundaron mucho más para los muchos la gracia y el don de Dios por la gracia de un hombre, Jesucristo.

But the gift is not like the trespass. For if the many died by the trespass of the one man, how much more did God's grace and the gift that came by the grace of the one man, Jesus Christ, overflow to the many!

Para que así como el pecado reinó para muerte, así también la gracia reine por la justicia para vida eterna mediante Jesucristo, Señor nuestro.

So that, just as sin reigned in death, so also grace might reign through righteousness to bring eternal life through Jesus Christ our Lord.

De lo profundo, oh Jehová, a ti clamo. Señor, oye mi voz; Estén atentos tus oídos A la voz de mi súplica.

Out of the depths I cry to you, L

ord

; Lord, hear my voice. Let your ears be attentive to my cry for mercy.

Pero de ninguna cosa hago caso, ni estimo preciosa mi vida para mí mismo, con tal que acabe mi carrera con gozo, y el ministerio que recibí del Señor Jesús, para dar testimonio del evangelio de la gracia de Dios.

However, I consider my life worth nothing to me; my only aim is to finish the race and complete the task the Lord Jesus has given me—the task of testifying to the good news of God's grace.
Como todas las cosas que pertenecen a la vida y a la piedad nos han sido dadas por su divino poder, mediante el conocimiento de aquel que nos llamó por su gloria y excelencia.
Plan de lectura de la Biblia
Registrar y configurar su plan de lectura de la Biblia que desea ver su progreso y el siguiente capítulo para leer aquí!