Versículos de la Biblia sobre el Orgullo
«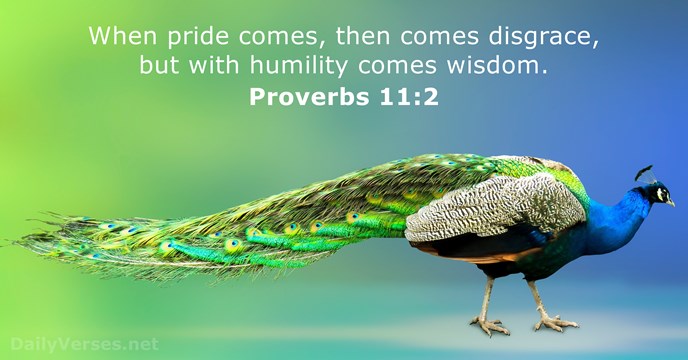 »
Cuando viene la soberbia, viene también la deshonra; Mas con los humildes está la sabiduría.

When pride comes, then comes disgrace, but with humility comes wisdom.

El temor de Jehová es aborrecer el mal; La soberbia y la arrogancia, el mal camino, Y la boca perversa, aborrezco.

To fear the L

ord

is to hate evil; I hate pride and arrogance, evil behavior and perverse speech.

Unánimes entre vosotros; no altivos, sino asociándoos con los humildes. No seáis sabios en vuestra propia opinión.

Live in harmony with one another. Do not be proud, but be willing to associate with people of low position. Do not be conceited.

La soberbia del hombre le abate; Pero al humilde de espíritu sustenta la honra.

Pride brings a person low, but the lowly in spirit gain honor.

Mas el que se gloría, gloríese en el Señor; porque no es aprobado el que se alaba a sí mismo, sino aquel a quien Dios alaba.

But, "Let the one who boasts boast in the Lord." For it is not the one who commends himself who is approved, but the one whom the Lord commends.

Y Jehová respondió a Samuel: No mires a su parecer, ni a lo grande de su estatura, porque yo lo desecho; porque Jehová no mira lo que mira el hombre; pues el hombre mira lo que está delante de sus ojos, pero Jehová mira el corazón.

But the L

ord

said to Samuel, "Do not consider his appearance or his height, for I have rejected him. The L

ord

does not look at the things people look at. People look at the outward appearance, but the L

ord

looks at the heart."

Antes del quebrantamiento se eleva el corazón del hombre, Y antes de la honra es el abatimiento.

Before a downfall the heart is haughty, but humility comes before honor.

Pero decía, que lo que del hombre sale, eso contamina al hombre. Porque de dentro, del corazón de los hombres, salen los malos pensamientos, los adulterios, las fornicaciones, los homicidios, los hurtos, las avaricias, las maldades, el engaño, la lascivia, la envidia, la maledicencia, la soberbia, la insensatez. Todas estas maldades de dentro salen, y contaminan al hombre.

He went on: "What comes out of a person is what defiles them. For it is from within, out of a person's heart, that evil thoughts come—sexual immorality, theft, murder, adultery, greed, malice, deceit, lewdness, envy, slander, arrogance and folly. All these evils come from inside and defile a person."

Porque todo lo que hay en el mundo, los deseos de la carne, los deseos de los ojos, y la vanagloria de la vida, no proviene del Padre, sino del mundo.

For everything in the world—the lust of the flesh, the lust of the eyes, and the pride of life—comes not from the Father but from the world.

Y lo vil del mundo y lo menospreciado escogió Dios, y lo que no es, para deshacer lo que es, a fin de que nadie se jacte en su presencia.

God chose the lowly things of this world and the despised things—and the things that are not—to nullify the things that are, so that no one may boast before him.

El hermano que es de humilde condición, gloríese en su exaltación; pero el que es rico, en su humillación; porque él pasará como la flor de la hierba.

Believers in humble circumstances ought to take pride in their high position. But the rich should take pride in their humiliation—since they will pass away like a wild flower.

Ahora yo Nabucodonosor alabo, engrandezco y glorifico al Rey del cielo, porque todas sus obras son verdaderas, y sus caminos justos; y él puede humillar a los que andan con soberbia.

Now I, Nebuchadnezzar, praise and exalt and glorify the King of heaven, because everything he does is right and all his ways are just. And those who walk in pride he is able to humble.

A los ricos de este siglo manda que no sean altivos, ni pongan la esperanza en las riquezas, las cuales son inciertas, sino en el Dios vivo, que nos da todas las cosas en abundancia para que las disfrutemos.

Command those who are rich in this present world not to be arrogant nor to put their hope in wealth, which is so uncertain, but to put their hope in God, who richly provides us with everything for our enjoyment.

Y si repartiese todos mis bienes para dar de comer a los pobres, y si entregase mi cuerpo para ser quemado, y no tengo amor, de nada me sirve.

If I give all I possess to the poor and give over my body to hardship that I may boast, but do not have love, I gain nothing.
Nadie tiene mayor amor que este, que uno ponga su vida por sus amigos.
Plan de lectura de la Biblia
Registrar y configurar su plan de lectura de la Biblia que desea ver su progreso y el siguiente capítulo para leer aquí!