21 Versículos de la Biblia sobre la Proximidad
«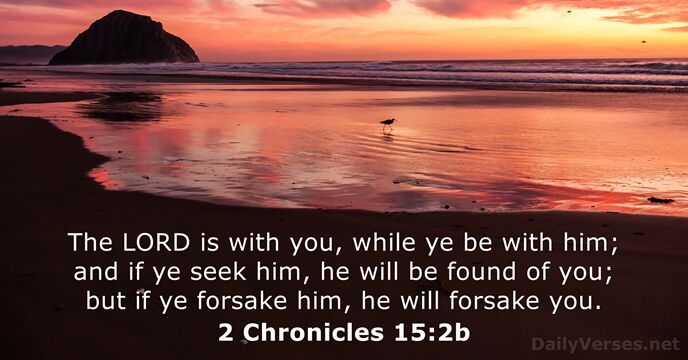 »
Jehová estará con vosotros, si vosotros estuviereis con él; y si le buscareis, será hallado de vosotros; mas si le dejareis, él también os dejará.

The L

ord

is with you, while ye be with him; and if ye seek him, he will be found of you; but if ye forsake him, he will forsake you.

Buscad a Jehová y su poder; Buscad su rostro continuamente.

Seek the L

ord

and his strength, seek his face continually.

Claman los justos, y Jehová oye, Y los libra de todas sus angustias. Cercano está Jehová a los quebrantados de corazón; Y salva a los contritos de espíritu.

The righteous cry, and the L

ord

heareth, and delivereth them out of all their troubles. The L

ord

is nigh unto them that are of a broken heart; and saveth such as be of a contrite spirit.

Vuestra gentileza sea conocida de todos los hombres. El Señor está cerca.

Let your moderation be known unto all men. The Lord is at hand.

Y el mismo Señor de paz os dé siempre paz en toda manera. El Señor sea con todos vosotros.

Now the Lord of peace himself give you peace always by all means. The Lord be with you all.

Me mostrarás la senda de la vida; En tu presencia hay plenitud de gozo; Delicias a tu diestra para siempre.

Thou wilt shew me the path of life: in thy presence is fulness of joy; at thy right hand there are pleasures for evermore.

Una cosa he demandado a Jehová, ésta buscaré; Que esté yo en la casa de Jehová todos los días de mi vida, Para contemplar la hermosura de Jehová, y para inquirir en su templo.

One thing have I desired of the L

ord

, that will I seek after; that I may dwell in the house of the L

ord

all the days of my life, to behold the beauty of the L

ord

, and to enquire in his temple.

En esto conocemos que permanecemos en él, y él en nosotros, en que nos ha dado de su Espíritu.

Hereby know we that we dwell in him, and he in us, because he hath given us of his Spirit.

Ciertamente el bien y la misericordia me seguirán todos los días de mi vida, Y en la casa de Jehová moraré por largos días.

Surely goodness and mercy shall follow me all the days of my life: and I will dwell in the house of the L

ord

for ever.

Pero ahora en Cristo Jesús, vosotros que en otro tiempo estabais lejos, habéis sido hechos cercanos por la sangre de Cristo.

But now in Christ Jesus ye who sometimes were far off are made nigh by the blood of Christ.

No os dejaré huérfanos; vendré a vosotros.

I will not leave you comfortless: I will come to you.

Buscad a Jehová y su poder; Buscad siempre su rostro.

Seek the L

ord

, and his strength: seek his face evermore.

Buscad a Jehová mientras puede ser hallado, llamadle en tanto que está cercano.

Seek ye the L

ord

while he may be found, call ye upon him while he is near.

Esté con nosotros Jehová nuestro Dios, como estuvo con nuestros padres, y no nos desampare ni nos deje.

The L

ord

our God be with us, as he was with our fathers: let him not leave us, nor forsake us.

Y sanad a los enfermos que en ella haya, y decidles: Se ha acercado a vosotros el reino de Dios.

And heal the sick that are therein, and say unto them, The kingdom of God is come nigh unto you.

Por lo demás, hermanos, tened gozo, perfeccionaos, consolaos, sed de un mismo sentir, y vivid en paz; y el Dios de paz y de amor estará con vosotros.

Finally, brethren, farewell. Be perfect, be of good comfort, be of one mind, live in peace; and the God of love and peace shall be with you.

Porque mejor es un día en tus atrios que mil fuera de ellos. Escogería antes estar a la puerta de la casa de mi Dios, Que habitar en las moradas de maldad.

For a day in thy courts is better than a thousand. I had rather be a doorkeeper in the house of my God, than to dwell in the tents of wickedness.

A Dios nadie le vio jamás; el unigénito Hijo, que está en el seno del Padre, él le ha dado a conocer.

No man hath seen God at any time, the only begotten Son, which is in the bosom of the Father, he hath declared him.

Mas por tus muchas misericordias no los consumiste, ni los desamparaste; porque eres Dios clemente y misericordioso.

Nevertheless for thy great mercies' sake thou didst not utterly consume them, nor forsake them; for thou art a gracious and merciful God.

Y él estuvo allí con Jehová cuarenta días y cuarenta noches; no comió pan, ni bebió agua; y escribió en tablas las palabras del pacto, los diez mandamientos.

And he was there with the L

ord

forty days and forty nights; he did neither eat bread, nor drink water. And he wrote upon the tables the words of the covenant, the ten commandments.

El que come mi carne y bebe mi sangre, en mí permanece, y yo en él.

He that eateth my flesh, and drinketh my blood, dwelleth in me, and I in him.
El da esfuerzo al cansado,
y multiplica las fuerzas al que no tiene ningunas.
Y sobre todas estas cosas vestíos de amor, que es el vínculo perfecto.
El da esfuerzo al cansado, y multiplica las fuerzas al que no tiene ningunas.
Plan de lectura de la Biblia
Registrar y configurar su plan de lectura de la Biblia que desea ver su progreso y el siguiente capítulo para leer aquí!