27 Versículos de la Biblia sobre la Seguridad
«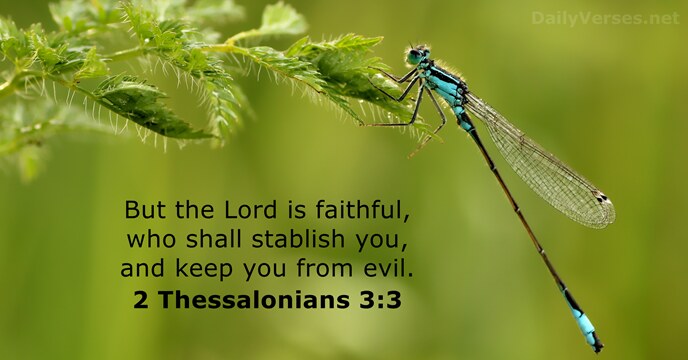 »
Pero fiel es el Señor, que os afirmará y guardará del mal.

But the Lord is faithful, who shall stablish you, and keep you from evil.

Jehová es mi luz y mi salvación; ¿de quién temeré? Jehová es la fortaleza de mi vida; ¿de quién he de atemorizarme?

The L

ord

is my light and my salvation; whom shall I fear? the L

ord

is the strength of my life; of whom shall I be afraid?

El que habita al abrigo del Altísimo Morará bajo la sombra del Omnipotente. Diré yo a Jehová: Esperanza mía, y castillo mío; Mi Dios, en quien confiaré.

He that dwelleth in the secret place of the most High shall abide under the shadow of the Almighty. I will say of the L

ord

, He is my refuge and my fortress: my God; in him will I trust.

Dios es nuestro amparo y fortaleza, Nuestro pronto auxilio en las tribulaciones.

God is our refuge and strength, a very present help in trouble.

Tú eres mi refugio; me guardarás de la angustia; Con cánticos de liberación me rodearás. Selah
Thou art my hiding place; thou shalt preserve me from trouble; thou shalt compass me about with songs of deliverance. Selah

En paz me acostaré, y asimismo dormiré; Porque solo tú, Jehová, me haces vivir confiado.

I will both lay me down in peace, and sleep: for thou, L

ord

, only makest me dwell in safety.

Jehová es bueno, fortaleza en el día de la angustia; y conoce a los que en él confían.

The L

ord

is good, a strong hold in the day of trouble; and he knoweth them that trust in him.

Echa sobre Jehová tu carga, y él te sustentará; No dejará para siempre caído al justo.

Cast thy burden upon the L

ord

, and he shall sustain thee: he shall never suffer the righteous to be moved.

El avisado ve el mal y se esconde; Mas los simples pasan y llevan el daño.

A prudent man foreseeth the evil, and hideth himself; but the simple pass on, and are punished.

Con sus plumas te cubrirá, Y debajo de sus alas estarás seguro; Escudo y adarga es su verdad.

He shall cover thee with his feathers, and under his wings shalt thou trust: his truth shall be thy shield and buckler.

Tú guardarás en completa paz a aquel cuyo pensamiento en ti persevera; porque en ti ha confiado.

Thou wilt keep him in perfect peace, whose mind is stayed on thee: because he trusteth in thee.

No ruego que los quites del mundo, sino que los guardes del mal.

I pray not that thou shouldest take them out of the world, but that thou shouldest keep them from the evil.

El que camina en integridad anda confiado; Mas el que pervierte sus caminos será quebrantado.

He that walketh uprightly walketh surely: but he that perverteth his ways shall be known.

Jehová cumplirá su propósito en mí; Tu misericordia, oh Jehová, es para siempre; No desampares la obra de tus manos.

The L

ord

will perfect that which concerneth me: thy mercy, O L

ord

, endureth for ever: forsake not the works of thine own hands.

Por tanto, no durmamos como los demás, sino velemos y seamos sobrios.

Therefore let us not sleep, as do others; but let us watch and be sober.

Mejor es confiar en Jehová Que confiar en el hombre.

It is better to trust in the L

ord

than to put confidence in man.

Torre fuerte es el nombre de Jehová; A él correrá el justo, y será levantado.

The name of the L

ord

is a strong tower: the righteous runneth into it, and is safe.

Porque satisfaré al alma cansada, y saciaré a toda alma entristecida.

For I have satiated the weary soul, and I have replenished every sorrowful soul.

Confía en Jehová, y haz el bien; Y habitarás en la tierra, y te apacentarás de la verdad.

Trust in the L

ord

, and do good; so shalt thou dwell in the land, and verily thou shalt be fed.

El solamente es mi roca y mi salvación; Es mi refugio, no resbalaré mucho.

He only is my rock and my salvation; he is my defence; I shall not be greatly moved.

Someteos, pues, a Dios; resistid al diablo, y huirá de vosotros.

Submit yourselves therefore to God. Resist the devil, and he will flee from you.

Jehová será refugio del pobre, Refugio para el tiempo de angustia.

The L

ord

also will be a refuge for the oppressed, a refuge in times of trouble.
Cantad a Dios, cantad salmos a su nombre; Exaltad al que cabalga sobre los cielos.

JAH

es su nombre; alegraos delante de él. Padre de huérfanos y defensor de viudas Es Dios en su santa morada.

Sing unto God, sing praises to his name: extol him that rideth upon the heavens by his name Jah, and rejoice before him. A father of the fatherless, and a judge of the widows, is God in his holy habitation.

Estableceré mi pacto con vosotros, y no exterminaré ya más toda carne con aguas de diluvio, ni habrá más diluvio para destruir la tierra.

And I will establish my covenant with you, neither shall all flesh be cut off any more by the waters of a flood; neither shall there any more be a flood to destroy the earth.

Sáname, oh Jehová, y seré sano; sálvame, y seré salvo; porque tú eres mi alabanza.

Heal me, O L

ord

, and I shall be healed; save me, and I shall be saved: for thou art my praise.
Nadie se engañe a sí mismo; si alguno entre vosotros se cree sabio en este siglo, hágase ignorante, para que llegue a ser sabio.
Y me buscaréis y me hallaréis, porque me buscaréis de todo vuestro corazón.
Nadie se engañe a sí mismo; si alguno entre vosotros se cree sabio en este siglo, hágase ignorante, para que llegue a ser sabio.
Plan de lectura de la Biblia
Registrar y configurar su plan de lectura de la Biblia que desea ver su progreso y el siguiente capítulo para leer aquí!