Versículos de la Biblia sobre la Verdad
«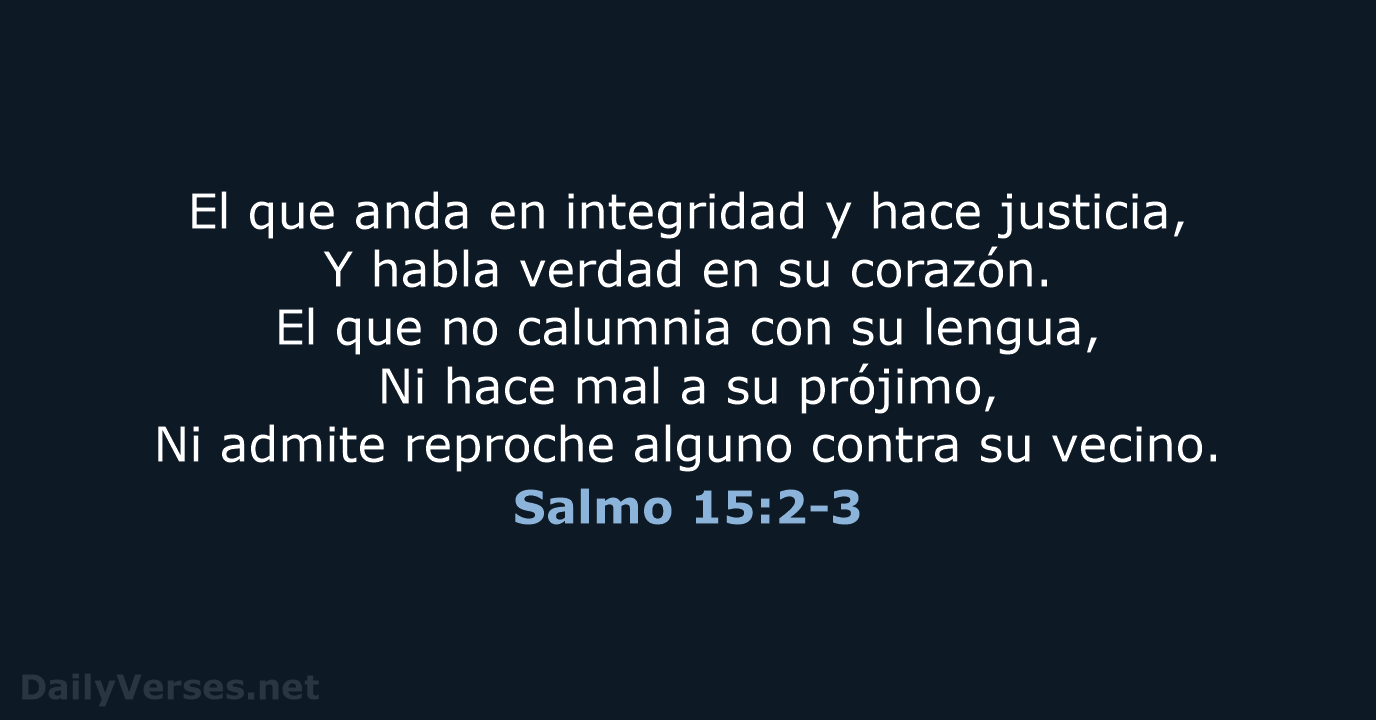 »
El que anda en integridad y hace justicia, Y habla verdad en su corazón. El que no calumnia con su lengua, Ni hace mal a su prójimo, Ni admite reproche alguno contra su vecino.

He who walks blamelessly and does what is right and speaks truth in his heart; who does not slander with his tongue and does no evil to his neighbor, nor takes up a reproach against his friend.

Hijitos míos, no amemos de palabra ni de lengua, sino de hecho y en verdad.

Little children, let us not love in word or talk but in deed and in truth.

No tengo yo mayor gozo que este, el oír que mis hijos andan en la verdad.

I have no greater joy than to hear that my children are walking in the truth.

Si decimos que tenemos comunión con él, y andamos en tinieblas, mentimos, y no practicamos la verdad.

If we say we have fellowship with him while we walk in darkness, we lie and do not practice the truth.

Dijo entonces Jesús a los judíos que habían creído en él: Si vosotros permaneciereis en mi palabra, seréis verdaderamente mis discípulos; y conoceréis la verdad, y la verdad os hará libres.

So Jesus said to the Jews who had believed him, "If you abide in my word, you are truly my disciples, and you will know the truth, and the truth will set you free."

Por lo demás, hermanos, todo lo que es verdadero, todo lo honesto, todo lo justo, todo lo puro, todo lo amable, todo lo que es de buen nombre; si hay virtud alguna, si algo digno de alabanza, en esto pensad.

Finally, brothers, whatever is true, whatever is honorable, whatever is just, whatever is pure, whatever is lovely, whatever is commendable, if there is any excellence, if there is anything worthy of praise, think about these things.

Jesús le dijo: Yo soy el camino, y la verdad, y la vida; nadie viene al Padre, sino por mí.

Jesus said to him, "I am the way, and the truth, and the life. No one comes to the Father except through me."

Sino que siguiendo la verdad en amor, crezcamos en todo en aquel que es la cabeza, esto es, Cristo.

Rather, speaking the truth in love, we are to grow up in every way into him who is the head, into Christ.

Procura con diligencia presentarte a Dios aprobado, como obrero que no tiene de qué avergonzarse, que usa bien la palabra de verdad.

Do your best to present yourself to God as one approved, a worker who has no need to be ashamed, rightly handling the word of truth.

Encamíname en tu verdad, y enséñame, Porque tú eres el Dios de mi salvación; En ti he esperado todo el día.

Lead me in your truth and teach me, for you are the God of my salvation; for you I wait all the day long.

Los labios del justo saben hablar lo que agrada; Mas la boca de los impíos habla perversidades.

The lips of the righteous know what is acceptable, but the mouth of the wicked, what is perverse.

Guarda tu lengua del mal, Y tus labios de hablar engaño.

Keep your tongue from evil and your lips from speaking deceit.

Es, pues, la fe la certeza de lo que se espera, la convicción de lo que no se ve.

Now faith is the assurance of things hoped for, the conviction of things not seen.

Dios es Espíritu; y los que le adoran, en espíritu y en verdad es necesario que adoren.

God is spirit, and those who worship him must worship in spirit and truth.

Escogí el camino de la verdad; He puesto tus juicios delante de mí.

I have chosen the way of faithfulness; I set your rules before me.

Toda palabra de Dios es limpia; El es escudo a los que en él esperan.

Every word of God proves true; he is a shield to those who take refuge in him.

Pero sobre todo, hermanos míos, no juréis, ni por el cielo, ni por la tierra, ni por ningún otro juramento; sino que vuestro sí sea sí, y vuestro no sea no, para que no caigáis en condenación.

But above all, my brothers, do not swear, either by heaven or by earth or by any other oath, but let your "yes" be yes and your "no" be no, so that you may not fall under condemnation.

Pero la unción que vosotros recibisteis de él permanece en vosotros, y no tenéis necesidad de que nadie os enseñe; así como la unción misma os enseña todas las cosas, y es verdadera, y no es mentira, según ella os ha enseñado, permaneced en él.

But the anointing that you received from him abides in you, and you have no need that anyone should teach you. But as his anointing teaches you about everything, and is true, and is no lie—just as it has taught you, abide in him.

El, de su voluntad, nos hizo nacer por la palabra de verdad, para que seamos primicias de sus criaturas.

Of his own will he brought us forth by the word of truth, that we should be a kind of firstfruits of his creatures.

Pero sabemos que el Hijo de Dios ha venido, y nos ha dado entendimiento para conocer al que es verdadero; y estamos en el verdadero, en su Hijo Jesucristo. Este es el verdadero Dios, y la vida eterna.

And we know that the Son of God has come and has given us understanding, so that we may know him who is true; and we are in him who is true, in his Son Jesus Christ. He is the true God and eternal life.

Aparta de ti la perversidad de la boca, Y aleja de ti la iniquidad de los labios.

Put away from you crooked speech, and put devious talk far from you.

Porque recta es la palabra de Jehová, Y toda su obra es hecha con fidelidad.

For the word of the L

ord

is upright, and all his work is done in faithfulness.

Los labios mentirosos son abominación a Jehová; Pero los que hacen verdad son su contentamiento.

Lying lips are an abomination to the L

ord

, but those who act faithfully are his delight.

Y aquel Verbo fue hecho carne, y habitó entre nosotros (y vimos su gloria, gloria como del unigénito del Padre), lleno de gracia y de verdad.

And the Word became flesh and dwelt among us, and we have seen his glory, glory as of the only Son from the Father, full of grace and truth.

Pero cuando venga el Consolador, a quien yo os enviaré del Padre, el Espíritu de verdad, el cual procede del Padre, él dará testimonio acerca de mí.

But when the Helper comes, whom I will send to you from the Father, the Spirit of truth, who proceeds from the Father, he will bear witness about me.
Convertíos, y apartaos de todas vuestras transgresiones, y no os será la iniquidad causa de ruina.
Plan de lectura de la Biblia
Registrar y configurar su plan de lectura de la Biblia que desea ver su progreso y el siguiente capítulo para leer aquí!