Bible Verses about Fasting
«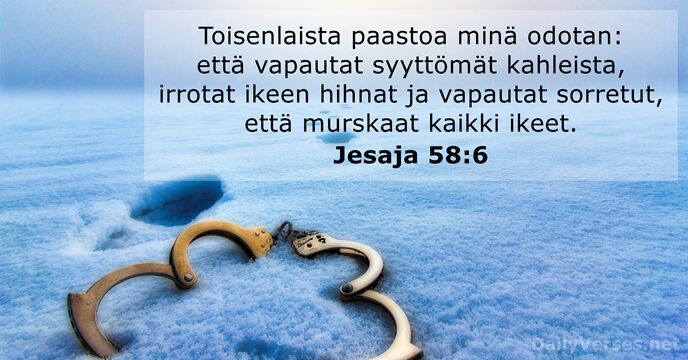 »
Is this not the fast that I have chosen: To loose the bonds of wickedness, To undo the heavy burdens, To let the oppressed go free, And that you break every yoke?

Toisenlaista paastoa minä odotan: että vapautat syyttömät kahleista, irrotat ikeen hihnat ja vapautat sorretut, että murskaat kaikki ikeet.

So we fasted and entreated our God for this, and He answered our prayer.

Niin me paastosimme ja pyysimme apua Jumalalta, ja hän kuuli meidän rukouksemme.

But you, when you fast, anoint your head and wash your face, so that you do not appear to men to be fasting, but to your Father who is in the secret place; and your Father who sees in secret will reward you openly.

Kun sinä paastoat, voitele hiuksesi ja pese kasvosi. Silloin sinun paastoasi eivät näe ihmiset, vaan Isäsi, joka on salassa. Isäsi, joka näkee myös sen, mikä on salassa, palkitsee sinut.

"Now, therefore," says the L

ord

, "Turn to Me with all your heart, With fasting, with weeping, and with mourning."

Vielä nytkin Herra sanoo: – Kääntykää minun puoleeni, tehkää niin koko sydämestänne, paastotkaa, itkekää ja valittakaa.

Moreover, when you fast, do not be like the hypocrites, with a sad countenance. For they disfigure their faces that they may appear to men to be fasting. Assuredly, I say to you, they have their reward.

Kun paastoatte, älkää olko synkän näköisiä niin kuin tekopyhät. He muuttavat muotonsa surkeaksi, jotta kaikki varmasti huomaisivat heidän paastoavan. Totisesti: he ovat jo palkkansa saaneet.

I ate no pleasant food, no meat or wine came into my mouth, nor did I anoint myself at all, till three whole weeks were fulfilled.

Kolmeen viikkoon en syönyt tuoretta leipää, en pannut suuhuni lihaa enkä viiniä enkä voidellut itseäni öljyllä.

Then, having fasted and prayed, and laid hands on them, they sent them away.

Niin he paastosivat ja rukoilivat, ja sitten he panivat kätensä näiden kahden päälle ja lähettivät heidät matkaan.

Then Jesus, being filled with the Holy Spirit, returned from the Jordan and was led by the Spirit into the wilderness, being tempted for forty days by the devil. And in those days He ate nothing, and afterward, when they had ended, He was hungry.

Jeesus lähti Jordanilta Pyhää Henkeä täynnä. Hengen johdattamana hän kulki autiomaassa neljäkymmentä päivää, ja Paholainen kiusasi häntä. Hän ei syönyt noina päivinä mitään, ja kun tämä aika oli kulunut, hänen tuli nälkä.

As they ministered to the Lord and fasted, the Holy Spirit said, "Now separate to Me Barnabas and Saul for the work to which I have called them."

Kerran, kun he olivat palvelemassa Herraa ja paastoamassa, Pyhä Henki sanoi: »Erottakaa Barnabas ja Saul minun työhöni, siihen tehtävään, johon minä olen heidät kutsunut.»

So he was there with the L

ord

forty days and forty nights; he neither ate bread nor drank water. And He wrote on the tablets the words of the covenant, the Ten Commandments.

Mooses viipyi vuorella Herran luona neljäkymmentä päivää ja neljäkymmentä yötä syömättä ja juomatta. Ja hän kirjoitti tauluihin liiton ehdot, nuo kymmenen käskyä.

Go, gather all the Jews who are present in Shushan, and fast for me; neither eat nor drink for three days, night or day. My maids and I will fast likewise. And so I will go to the king, which is against the law; and if I perish, I perish!

Kutsu koolle kaikki Susan juutalaiset paastoamaan minun puolestani. Älkää syökö älkääkä juoko mitään kolmeen päivään ja kolmeen yöhön. Minäkin paastoan samalla tavoin palvelijattarieni kanssa, ja sitten lähden kuninkaan luo, vaikka se onkin vastoin lakia. Kun minun kerran on kuoltava, niin kuolen.
Not unto us, O Lord, not unto us, But to Your name give glory, Because of Your mercy, Because of Your truth.
Personal Bible reading plan
Create an account to configure your Bible reading plan and you will see your progress and the next chapter to read here!
Read more...